14+ Business Proposals Examples & Templates
Business proposals are a tool that every businessman should learn how to use since it is often a key step in the complex sales process. In its simplest form, it will serve as a guide for your business, a road map that outlines your goals and details how you will achieve them. It pitches a business, product, or service to the market. With it, you can convince your clients, vendors, or suppliers that you are someone they should work with. With a good proposal, you can close any deal with anyone.
Elements of a Good Business Proposal
No matter how long you've been in operation, your business needs a plan. A good business plan can help you secure funding for your start-up, or expand your operation. Even if you aren't looking for a capital infusion right this moment, a business plan can still be a great deal of help. The process of creating a business plan forces you to look at your business and evaluate what's working and what isn't. It can help you focus on the right things and give you a road map to future success.
Your well-thought-out business proposal lets others know you're serious, and that you can handle all that running a business entails. It can also give you a solid road map to help you navigate the tricky waters. The following are the seven elements you must have in your business proposal.
1. The Executive Summary: The executive summary is basically the elevator pitch for your business. It's a high-level look at everything and should include information that summarizes the other sections of your plan. One of the best ways to approach writing the executive summary is to finish it last so that you can include the important ideas from other sections.
2. Business Description: This is your chance to describe your company and what it does. Include a look at when the business was formed,  as well as your mission statement. These are the things that tell your story and allow others to connect to you.
3. Market Analysis: Your market analysis is an exercise in seeing where you fit in the market and how you are superior to the competition. As you create your market analysis, you need to make sure to include information on your core target market, profiles of your ideal customers, and other market research. You can also include testimonials if you have them.
4. Organization and Management: Use this section of your business plan to show off your team superstars. Venture capitalists want to know that you have a competent team that has the grit to stick it out. You are more likely to be successful and pivot if needed when you have the right management and organization for your company.
5. Sales Strategies: This section is all about explaining your price strategy and describing the relationship between your price point and everything else at the company. You should also detail the promotional strategies you are using now, along with strategies you hope to implement later. This includes your social media efforts and how you use press releases and other appearances to raise your brand awareness and encourage people to buy or sign up for your products or services.
6. Funding Requirements: Here's where you ask for the amount of money you need. Make sure you are being as realistic as possible. You can create a range of numbers if you don't want to try to pinpoint an exact number. Include information for a best-case scenario and a worst-case scenario. You should also put together a timeline so your potential funders have an idea of what to expect.
7. Financial Projections: Make sure you summarize any successes up to this point. This is especially important if you hope to secure fund for expansion of your existing business. Your forward-looking projections should be based on information about your revenue growth and market trends. You want to be able to use information about what is happening, combined with your sales strategies, to create realistic projections that let others know when they can expect to see returns.
14+ Business Proposal Templates & Examples
Photography Business Proposal
Template Details
Size: 8.5×11 inches
Business Partnership Proposal Template
Template Details
Size: 8.5×11 inches
Real Estate Business Proposal Template
Template Details
Size: 8.5×11 inches
Business Proposal Template
Template Details
Size: 8.5×11 inches
Travel Business Proposal
Template Details
Size: 8.5×11 inches
Catering Business Proposal Template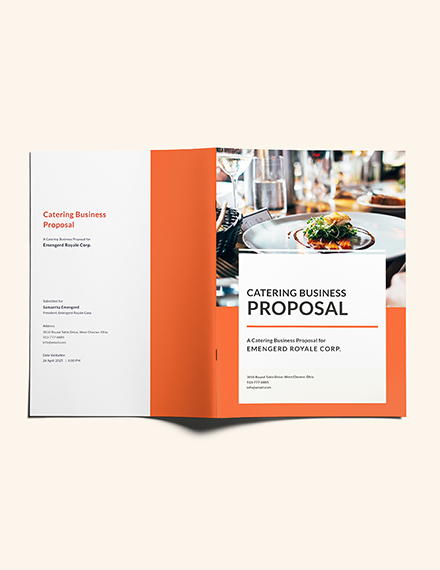 Template Details
Size: 8.5×11 inches
Cleaning Business Proposal Template
Template Details
Size: 8.5×11 inches
Small Business Proposal Template
Template Details
Size: 8.5×11 inches
Marketing Proposal Template
Template Details
Size: 8.5×11 inches
Corporate Training Proposal
Template Details
Size: 8.5×11 inches
Sample Business Proposal for Restaurant
documentariesforchange.org
Business Proposal
freedrivers.org
Small Business Plan
documentariesforchange.org
HR Business Proposal Template
businessproposaltemplated.org
Simple Tips for an Excellent Business Proposal Layout
You already know that writing a winning business proposal is kind of a big deal. It can make or break the start of a long and profitable business relationship between you and your client. No pressure, but you can't afford to fail in this. Luckily, we've got you covered with some critical insights to help you create a proposal that will knock your client's socks off.
1. Choose the right tone of voice: It's not just what you say that matters, it's how you say it. The tone of voice you use in writing helps prospects connect with you on an emotional level and keeps them engaged throughout your proposal. Such connection can be difficult to create, but, with the right choice of words and the overall presentability of your proposal, there's really no deal you cannot close.
2. Get to the point quickly: A business proposal is not the place to write a long-form piece of content. Remember who you are talking to. Most business professionals are extremely busy and don't have the time for your eloquence. Two best practices for clear and concise writing are shorter paragraphs and shorter sentences. Long, drawn-out sentences with lots of filler words and fluff just confuses and frustrates your reader.You may also see partnership proposal examples
3. Use plain and concrete language: We have established that there are those few that prefer business communication that is technical, dry, and boring. For your proposal, just keep things simple. But this doesn't mean that you should dumb it down. Just use words and phrases that the average adult doesn't need a dictionary to translate. Your prospects should be able to follow what you are saying and remember key points easily.
4. Use the right design elements: Although you've got a large selection of professionally designed customized templates to choose from, there are still a few design elements you need to keep in mind. Each format includes an option to personalize it for your business, which can help you add a unique flavor to your proposal. But don't get too carried away, or your design will run the risk of looking unprofessional.
How to Create a Business Proposal
Here are the five easy steps to writing a successful business proposal:
1. Gather the information you need: With a hot business opportunity becomes available, you may feel pressured into getting your proposal sent over as soon as possible. While you certainly want to send it sooner than later, taking some time to learn about the client and project first will help you craft a proposal that's more likely to be accepted.
2. Outline the scope of the project: Before you start typing out the proposal itself, take a moment to reflect on the project. Answer the who, what, where, how, when, and why. Writing these out will give you a head start on your proposal since these answers will make up the bulk of your body. It also gives you final confirmation that you have the necessary resources to complete the project, or it can point out any major snags before you get too involved.
3. Start writing your business proposal: Now it's time to dive into the actual proposal document. Proposals tend to follow a loose formula: they start with an intro that summarizes your business and the project, followed by a body that fleshes out all the detail, and a conclusion that tells the customer how to proceed.
4. Edit your business proposal: First and foremost: proofread. Whenever possible, send it to somebody else to read over. The second set of eyes can catch errors you may not notice. Second, you need to pay attention to the tone and length of your proposal. In particular, make sure your proposal is short enough to read in a single sitting and contains language that is professional yet clear.
5. Send out your business proposal and follow up: If you've written a proposal before, you know the work is hardly over after you click send. Following up with a client to give them a reminder and to answer questions is a key part of the proposal process.
Types of Business Proposals
There are different types of business proposals that are used in the business world, depending on their purpose and the result desired by the sender.
1. Formally Solicited Business Proposals. In most of the organizations, formally solicited proposals are written as a response of given requirements by the buyer. In order to meet the needs of the proposal, it is categorized into two: Request for Proposal (RFP) contains a brief information related to the offer of the customers to make sure that the seller completely fits the needs and demands; while the Request for Quotation (RFQ) is issued by the customer when there is need of a larger quantity of goods. In such cases, prices are not the only thing to consider, but other services also matter, such as the availability of commodities and the quality of services.
2. Unsolicited Business Proposals. The unsolicited type of business proposals is like a marketing brochure which contains necessary information about the needs of the seller. In this type of proposal, there is no direct connection between the sellers and the customers. It is also termed as "leave-behind" or "give away" in the last moments of any meeting. The main reason for issuing an unsolicited business proposal is to increase the chances of sales.
3. Informally Solicited Business Proposals. These types of business proposals is an output of oral conversation between the retailer and the customer. It is also known as the Sole-Source Proposal because it does not possess any requirement to meet, just a little meeting and capture the deal.
Solidify your connections with business colleagues and perfect the art of closing deals with a well-written business proposal.