Are you someone who wants to write articles but doesn't know where to start? Or are you a seasoned writer looking to take your article writing to the next level? Whatever your level of experience, this guide will provide you with everything you need to know about writing articles. From the definition of an article to step-by-step instructions on how to write one, we've got you covered. We'll also explore different article writing examples, article proposals, sentences, informal letters, short obituaries, journal paper formats, introductions, conclusions, dialogues, books, and simple subjects. So, let's get started.
1. Article Review Template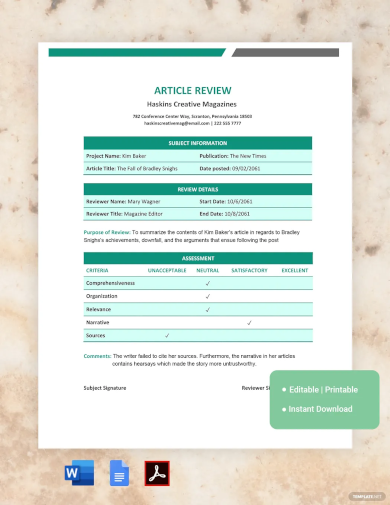 2. Article Summary Template
3. Articles of Association Template
4. Science Article Magazine Template
5. Sports Article Magazine Template
6. Technical Article Writing Example
7. Short Article Writing 
Example
8. Sample Article Writing 
Example
9. Free SEO Article Writing 
Example
10. Persuasive Article Travel 
Example
11. Feature Article Writing Worksheet Example
12. Simple Article Writing
wps.pearsoned.com
13. Sample Research Article
amherst.edu
14. Summarize a Research Article
writingcenter.uconn.edu
15. Scientific Research Articles
sjsu.edu
16. Research Articles Guidelines
journals.sagepub.com
17. Basic Scientific Article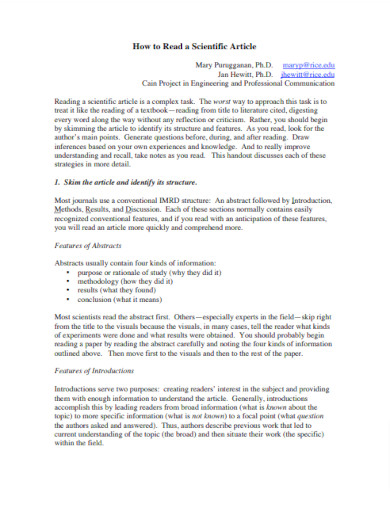 owlnet.rice.edu
18. Printable Research Article
downloads.hindawi.com
19. Guidelines for Student Articles
jpspeakoutchallenge.com
20. Standard Student Article
ster.ie
21. Critiquing Research Articles
students.flinders.edu.au
22. Popular Science Articles
ched.uct.ac.za
23. Modern Scientific Article Review
twp.duke.edu
24. Creative Scientific Article
owlnet.rice.edu
What is an Article
An article is a written composition on a particular topic, typically published in a newspaper, magazine, or website. It aims to inform or persuade the reader about a topic of interest, providing insight, analysis, and sometimes an opinion on the subject matter. Articles can take on different forms and styles, depending on the purpose and the intended audience.
How to Write an Article
Writing an article can seem like a daunting task, but with the right approach, anyone can do it. Here's a step-by-step guide on how to write an article:
Step 1: Choose a topic
Determine what you want to write about and conduct research to gather information on your chosen subject.
Step 2: Develop an outline
Create a structure for your article that includes an introduction, body, and conclusion. Your outline should also include the main points you want to cover and the supporting evidence you'll use to back them up.
Step 3: Write the introduction
Start with a hook to grab your reader's attention, and then provide background information on your topic. Your introduction should set the stage for the rest of your article and give readers an idea of what to expect.
Step 4: Write the body
Organize your research into paragraphs that develop your argument or provide insight into your subject. Each paragraph should focus on a single point, and you should use transition words to link them together.
Step 5: Write the conclusion
Summarize your main points and leave the reader with a clear takeaway. Your conclusion should provide closure to your article and reiterate your main message.
Step 6: Edit and revise
Polish your article by reviewing for grammar, punctuation, and spelling errors, and consider revising for clarity, flow, and structure.
FAQs
What is an article proposal?
An article proposal is a pitch that outlines the main ideas, purpose, and potential impact of an article. It is typically sent to an editor or publisher to persuade them to commission the article.
How do I write sentences for my article?
Use clear and concise sentences that convey your point effectively. Vary sentence length and structure to keep your reader engaged.
What is an informal letter?
An informal letter is a personal communication that is written in a conversational style. It can be used to express opinions, share news, or provide updates to friends and family.
Writing an article can seem daunting at first, but with the right approach, anyone can do it. Start by choosing a topic, developing an outline, and following the step-by-step guide to write a compelling article. With practice, you'll be able to explore different article types, such as proposals, sentences, informal letters, short obituaries, journal paper formats, introductions, conclusions, dialogues, books, and simple subjects, and continue to refine your skills. Happy writing!