A receipt has different purposes; it is used as an effective communication tool, reference for accurate tracking of sales and revenue, proof or certification for returns and exchange, and so on. In this sense, a rental receipt should be given to a tenant/renter after paying for the initial deposit or the full price of the product, service, or property. Therefore, as a rental business, you should have a receipt that provides all the necessary details relevant to the transaction. Should you need design ideas, we have rental receipt templates and examples that you can use.
Rental Receipt Templates and Examples
1. Car Rental Receipt
If you have a car rental business, it is important that you have a receipt that records all the relevant information of every rental transaction. The receipt should include the name of the customer, name of transaction, the amount paid, car model or unit number, name of cashier or receiver, and so on.
2. Editable Rent Receipt
In order to certify that the tenant has paid the amount for his or her monthly rent, the landlord will issue a rent receipt. But more than just a proof or certification, the receipt is also used as a part of the tenant's record for the duration of his/her tenancy. That way, computations can be easily made for the next due date or when the tenant moves out.
3. Restaurant Rental Receipt
Restaurants account their books every after shift; hence, having a receipt for every transaction can help in making the internal accounting more efficient and accurate. When a customer rents your restaurant for a certain event, you should give him or her a restaurant rental receipt, similar to this template, to ensure that there is transparency.
4. Apartment Rent Receipt
The apartment rent receipt you give to your tenants should be complete and comprehensive. This means it should bear the name of the tenant, the date the payment was made, the specific amount, name of the receiver, and so on. When creating the receipt, you can also include the name of your property/business name to make it more credible.
5. Annual Rent Receipt
To help you in creating a comprehensive rent receipt, we have here an annual rent receipt template that you can use as your main outline. You can easily change the layout, format, contents, colors, images, illustration, and so on. Using this template will offer you convenience and efficiency when you create your own receipt.
6. Room Rent Receipt
Ensuring that there is proof for payment is essential if you want to maintain an accurate record of rental transactions. With the help of receipts and good accounting, you can keep track if your tenants have been diligent in paying their room rent. Should you need a template for this, you can download this editable room rent receipt template.
7. Shop Rent Receipt
Aside from residential properties, commercial spaces can also be rented out by other businesses. Depending on what is stated on the rental agreement, the tenant can pay the rent on a monthly, quarterly, or yearly basis. The receipt used for this should reflect the agreed amount, names of both the tenant and landlord, and so on.
8. Rent Deposit Receipt
Requiring tenants to pay for a deposit can help you financially secure the property should the tenant cause damage or forget to pay the rent. Thus, it is important to have a rent deposit receipt to specify that the payment issued by the tenant is for deposit and not for the actual rent. If you need a template, you can download this one for free.
9. Monthly Room Rent Receipt
As mentioned, a tenant can pay the rent on a monthly, quarterly, or yearly basis depending on what you have agreed on. If you agree on paying on a monthly basis, you can use this monthly room rent receipt template to help you efficiently create a comprehensive receipt to use for your every payment transaction.
10. Office Rent Receipt
Renting out office properties means that there is a huge amount of money involved and the client will require you to issue an official receipt to ensure that they have proof you have received the payment they have issued. The office rent receipt you use should have a professional layout and format, and all the essential details similar to this template.
11. Hostel Rent Receipt
Owning a hostel means that you will have unique accommodations requested by different guests daily. Using a receipt that can record all the important information such as the name of the guest, the number of days and nights they will be checking in, type of accommodation or room, amount, date, etc. is essential. If you want to use a template for this, you can download and customize this hostel rent receipt template.
12. Monthly House Rent Receipt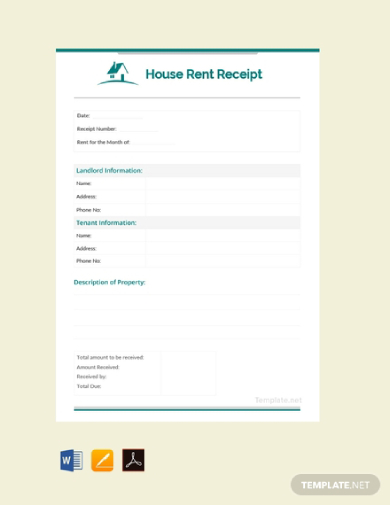 Looking for a template to use as an outline when creating a monthly house rent receipt? Then this one is a perfect choice. This template has accounted for the necessary inclusions of a receipt to make it more clear and comprehensive. Since it is editable, you can easily replace some texts, alter its layout or format, change colors, and so on.
13. Property Rental Receipt
If you want to start from scratch when creating your rental receipt, you can use this property rental receipt example as your guide and reference. This example has complete details, perfect for recording important tenant and landlord information as well as other rental payment details.