In the competitive world of job applications, where the first impression counts, having a well-crafted Curriculum Vitae (CV) format can make all the difference. It's the gateway to presenting your skills, qualifications, and experiences to potential employers, creating intrigue and paving the way for success. In this article, we'll dive into the intricacies of CV formatting, exploring its definition, essential steps, frequently asked questions, and more. So, whether you're a seasoned professional or just starting out, get ready to unlock the secrets of an outstanding CV format.
1. Curriculum Vitae Worksheet
anderson.edu
2. Curriculum Vitae Category Headings
training.nih.gov
3. Academic Curriculum Vitae
uwm.edu
4. Basic Curriculum Vitae
odu.edu
5. Curriculum Vitae Content
snc.edu
6. Curriculum Vitae Example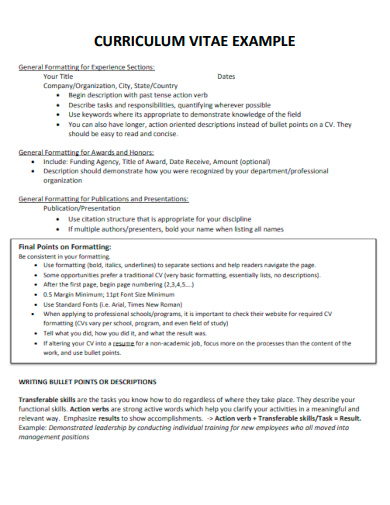 ufl.edu
7. Creating Your Curriculum Vitae
pepperdine.edu
8. Curriculum Vitae for Research Roles
smith.edu
9. Undergraduate Curriculum Vitae
ucsc.edu
10. Sample Curriculum Vitae
acp.org
11. Creative Curriculum Vitae
cmu.edu
12. Tips for Formatting Curriculum Vitae
nd.edu
13. Curriculum Vitae Structure and Format
missouristate.edu
14. Curriculum Vitae & Competencies
clemson.edu
15. Curriculum Vitae Format & Style
utm.edu
16. Curriculum Vitae Format Layout
marietta.edu
17. Curriculum Vitae Outline
mdanderson.org
18. Modern Curriculum Vitae
necmusic.edu
19. Curriculum Vitae Template
armyuniversity.edu
20. Standard Curriculum Vitae
rwc.byu.edu
21. Professional Development Curriculum Vitae
southwestern.edu
22. School of Medicine Curriculum Vitae
medfaculty.pitt.edu
23. Curriculum Vitae Guidelines
do.usembassy.gov
24. Curriculum Vitae and Bibliography Format
ssom.luc.edu
25. Blank Curriculum Vitae Format
nyu.edu
What is a Curriculum Vitae Format?
A Curriculum Vitae (CV) format is a structured document that summarizes an individual's professional achievements, education, skills, and experiences. It serves as a comprehensive snapshot of one's qualifications and serves as a marketing tool to highlight relevant information to potential employers. Unlike a job cover letter, which focuses on a specific position, the CV format encompasses a broader overview of one's entire career journey, making it a crucial component in the job application process.
How to Format a Curriculum Vitae
Formatting your Curriculum Vitae (CV) can be a daunting task, but with a systematic approach, you can create a visually appealing and well-organized document that effectively communicates your qualifications. Follow these five steps to master the art of CV formatting and increase your chances of landing that dream job.
Step 1: Gather and Organize Information:
Before diving into the formatting process, take some time to gather and organize all the relevant information you want to include in your CV. This includes your personal details, education background, work experience, skills, certifications, and any additional sections that are relevant to your industry or career objectives.
Step 2: Choose the Right CV Format:
When it comes to CV formats, there are several options to choose from, including chronological, functional, combination, or targeted formats. Select a format that best suits your qualifications and the position you're applying for, ensuring that it effectively showcases your strengths and achievements.
Step 3: Craft a Compelling Career Objective:
A career objective is a concise statement at the beginning of your CV that summarizes your professional goals and aspirations. It provides employers with insight into your motivations and helps them gauge your compatibility with their organization. Tailor your career objective to each job application, emphasizing how your skills align with the position and the company's values.
Step 4: Organize Your CV Sections:
To ensure clarity and easy readability, organize your CV into distinct sections such as personal details, education, work experience, skills, certifications, and any additional relevant sections. Use appropriate headings, bullet points, and subheadings to highlight key information and make it easily accessible for employers.
Step 5: Pay Attention to Formatting and Design:
The visual appeal of your CV is just as important as its content. Use a clean and professional font, maintain consistent formatting throughout the document, and ensure appropriate spacing. Include bullet points, bold or italicized text, and section dividers to enhance readability. Consider the use of white space and avoid cluttering the page with excessive information.
What is the difference between a CV and a resume?
A CV is typically longer and more detailed than a resume, focusing on an individual's complete professional history and academic achievements. It includes information such as publications, research projects, and presentations. On the other hand, a resume is a concise document tailored to a specific job, highlighting relevant skills and experiences for that particular position. While a CV is commonly used in academic and research fields, a resume is more prevalent in business and corporate settings.
Should I include a curriculum vitae summary?
Yes, including a curriculum vitae summary can be beneficial, especially if you have extensive experience or a diverse range of skills. A CV summary provides a brief overview of your qualifications, key achievements, and career highlights. It allows employers to quickly grasp your suitability for a position and encourages them to delve deeper into your CV for more detailed information.
Do I need to follow a specific CV format?
While there are recommended formats for CVs, there isn't a one-size-fits-all approach. The choice of CV format depends on various factors, including your industry, career level, and personal preference. Chronological, functional, and combination formats are commonly used. Tailor your CV format to effectively showcase your qualifications and make it easy for employers to navigate and find the information they need.
Crafting an impressive Curriculum Vitae (CV) format is an art that requires attention to detail, organization, and effective communication. By understanding the purpose of a CV, following the essential steps, and customizing it to suit your career objectives, you can create a powerful document that stands out from the crowd. Remember, your CV is your passport to exciting opportunities, so invest time and effort into its creation. Combine it with a compelling job cover letter, and you'll be well on your way to securing your dream position. So, embrace the art of CV formatting, unlock your potential, and let your professional journey flourish.
As you continue your writing journey, don't forget to explore other essential topics such as APA style papers, text structure, conclusion writing techniques, research paper formats, and journals to enhance your understanding of the broader academic and professional landscape.