As a professional painter, it's imperative that you find an effective solution on how to bill your clients. But the problem is that creating an invoice from the scratch every time you need one can be a little tedious. Being a painter, you may not even know how to go about it. The answer is to use invoice templates. These are increasingly becoming popular and for good reasons.
For starters, they greatly simplify invoice making process.  Also, they let you prepare standardized documents that are consistent and very high quality. Another advantage is that they can be customized easily by simply adding your company name and business logo. Here are 6+ painting invoice examples & templates you can use to generate your own invoice in only a matter of minutes.
Painting Invoice Examples & Templates
1. Painting Invoice Template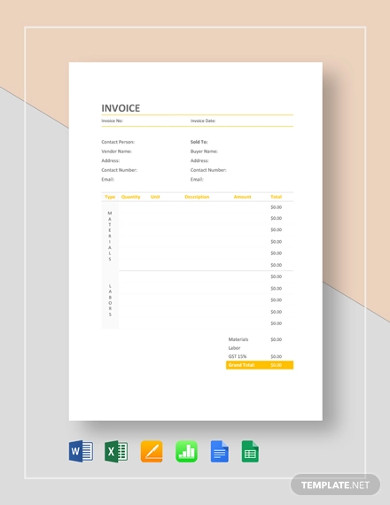 Every stroke of your paint brush leads to a paycheck. But how do you effectively bill your clients? This painting invoice template is designed to make your work easier. Available in multiple formats like MS Word, Excel, Page, Numbers, Google Sheets and Google Docs, this template comes readymade so you only provide the relevant information to make it complete. It is created by industry professionals meaning that it doesn't leave anything out. Also, it's very easy to customize this template as all you need to do is to add your logo and business name and have a document that reflects your brand identity. The template will enable you to produce your invoice in only a few minutes, and has specifically been designed for those in the painting industry. Download it to discover how easy it is to create a professional-looking template.
2. Painting Services Invoice Template
Your painting job doesn't leave you with much time of creating a top-notch template from the scratch. This would only eat into your time, and can affect your deadlines. But with this painting service invoice template, your problem is completely solved. This template enables you to generate standard documents in only a few minutes. Usually, these templates are designed and made by industry professionals. They are researched extensively and thoroughly proofed so there is absolutely no chance that you can end up with an invoice that has mistakes or that lacks an important element. The templates are easily downloadable and you can customize easily through adding your company name and logo. Download today and experience the new way to create impeccable documents in minutes.
3. Professional Painting Invoice
Whether you paint portraits or you are your work involves painting masterpieces, you deserve every coin that you are paid. Proper invoicing will ensure that you get commensurate remuneration for your hard work and talent. This professional painting invoice template is easily customizable to your painting business, and is available on instant download. You can access it anywhere, anytime without strictly being in your office. It is pre-created and the only thing left is for you to enter your information. Once you have done that, you have your invoice ready to send to your client. It saves you time and makes your work a lot easier as you can produce a top invoice in just a few simple steps. Also, you can customize the invoice to your business by adding your logo and company name.
4. Sample Painting Invoice
Are you finding hard to develop an invoice for billing your clients after a paint job? This doesn't have to be the case. In this day and age, many professionals are resorting to using readymade invoice templates to create their documents instead of developing them from the ground up. A template like this one saves a great deal of time, leaving you to fully concentrate on your paint job and worry less about invoice creation. Also, you can customize the template to reflect your business identity. You only need to add your logo and company name and have a document that is ready to share with your clients. This template ensures that you get paid quickly as it offers a professional way of billing your clients.
5. Painting Tax Invoice Sample
After delivering a painting masterpiece, the next thing is to be paid for your exploits. Just send a professional-looking document to your clients and you will get paid. Through an invoice, you detail the services you offer and the total amount you are owed. When the client finally pays you, it will be against the invoice that you have created. This is why it's important that you generate a proper invoice that gets you paid fully for your work.
This painting tax invoice template helps simplify the process of generating your own document. It shows your clients the tax amounts that are due. Use this template to prepare an invoice fast and save time which you can then divert to your actual work of painting. Download today and discover how simple it is to prepare a professional invoice!
6. Face Painting Invoice and Service Agreement
This invoice template for face painting services is a much cheaper option of creating your invoices. After paying a onetime for a template, you can reuse it every time you want to generate your invoice. You just need to delete the details of the previous client and enter fresh details. It's way easier than creating a new invoice every time you want to bill a new client. Download this face painting invoice and use it to create a professional-grade document to bill your clients.
7. Paint & Materials Invoice
 If you want to include the painting and materials cost, this is the invoice that you need. It provides a space where you enter an
itemized list of materials
that you bought for the painting job, and their unit prices. At the end, you get the total for both painting and materials.
The template is available on instant download, and can be customized to represent your own business. It saves you time because through it, you only need a few minutes to generate a top-notch document. Capture all your painting supplies and hours you put into the task to calculate a fair value for your compensation.