No matter how hard one tries, sometimes, illnesses are just out of everybody's control. Some diseases are just minor and still bearable, while some are just too severe for an employee to go to work or a student to attend school. As a result, one may take a break from work or studies and pay attention to his/her health issues.
Whether it's the truth or just a bluff, practically, employers would surely ask for proof. As a physician, it's your job to verify these instances, and you can do these by writing a medical leave certificate to help your patients with their needs.
Medical Leave Certificate Examples & Templates
If you are just getting started in writing the papers for your patients or wanting a new way of composing them, this article would greatly give you the greatest start-up. Here is the collection of the best samples and templates of medical leave certificates.
1. Medical Certificate for Sick Leave Example
Let's suppose that you're still new in the medical industry and still don't have a medical certificate for leave, which is very important. Is looking for a template regarding this paper taking you too much time? This simply designed editable certificate template is just a click away from you. Aside from graphical elements, this template also considers its literal content with expertise.
2. Medical Leave Certificate Template
3. Employee Medical Certificate Format for Sick Leave Template
4. Medical Certificate Template for Leave or Extension
5. Student Medical Certificate for Sick Leave Template
6. School/ College Leave Medical Certificate Template from Doctor
7. Modern Medical Leave Certificate Example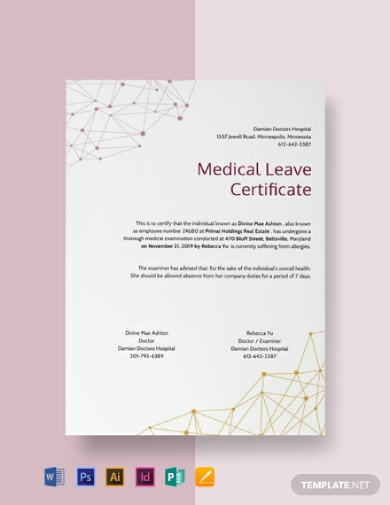 Creativity is not really a major issue here; however, professionalism is. Hence, provide your patients with a simple and modern certificate for medical leave that would greatly mark a wonderful impression to them too. Thinking about it: it may be hard, but with this template, you can do it effortlessly. Furthermore, this is also print-ready so the whole process is assured problem-free.
8. Medical Certificate for Casual Leave
In some countries, there are some types of leaves that enable employees to be absent without the loss in their pay. One of these is the casual leave which is given in urgent and unforeseen events, basically like emergencies. However, if it's related to something that requires medical attention, medical leave certificates could also testify these occasions. This editable template would be perfect for that.
9. Medical Certificate for Sick Leave
A medical leave certificate that would truly fit people who love to keep everything simple and neat. This certificate template is completely editable and printable; thus, necessary pieces of information pertaining to your patient will surely be included. Furthermore, customizing this would never be difficult since its suggestive wordings are written by professionals.
10. Modern Medical Certificate for Sick Leave
As mentioned above, there are some types of leaves that allow employees to be absent without deducting their pay. Other than casual leaves, sick leaves are also one of them. Since sick leaves strictly involve illnesses, this medical certificate for leave should be assessed only by professionals. With this modern customizable template, that aspect of your job shall certainly be shown.
11. Simple Medical Leave Certificate
Want to make your medical leave certificate barely from scratch? This sample may be able to help you. Disregarding the spectacles, let's focus more on the written content. This medical certificate for leave, specifically made for the use of teachers, shows you its basic structure. Furthermore, an extra good health certificate sample is also provided to verify that a patient is already in good condition.
12. Partial Medical Leave Certificate
Before proceeding, you might ask what partial leave is. To illustrate, here is a school scenario: Assuming that in a day you are supposed to take four subjects; however, you suddenly feel ill and want to go home. As a result, you only finished two of your subjects. This is what you call partial leave, and here, a medical leave certificate is still required. See this sample certificate to understand more.
13. Plain Medical Leave Certificate
Another sample that could present the basics of this document is this plain medical leave certificate. Though it does not have any decorations, it is composed of all the statements you'll be needing in constructing one. Moreover, it is made simple so understanding its structure would never be a fuss. It also includes a medical certificate of fitness to return to duty, just in case you need one as well.
14. Gazetted Officer Medical Leave Certificate
In India, to be specific, a gazetted officer is a chief official whose appointment is published in the government bulletin. Conclusively, the schedules of these people are so important. However, we can't deny that they may also experience physical ailments or sicknesses. This sample shows you a medical leave certificate particularly written for them. View this sample to have an overview.
15. Civil Service Medical Leave Certificate
Imagine all of the professional administrating branches of the government, and omit the military and judicial branches and the appointed politicians. Now, all of the remaining people are who we call the civil service. This branch is deemed to be very important since it plays a vital role in making and implementing policies for a country. If you're up to making a medical leave certificate, specially intended for this profession, this sample is worth your viewing.
16. Personal Medical Leave Certificate
If you are one of the companies that really need extensive manpower and sees this factor very crucial, it is important that your employees are well informed about the necessary actions they should do in case of their absence. This sample would be a great one that would show you how to compose an extremely detailed medical certificate for leave.
Whether it's in one's career or student life, there are times that medical actions are truly needed. However, to certify these cases, a medical leave certificate must be shown. As a physician or a medically qualified professional, it is your job to issue one. Samples and templates shown above are just some of the assistive finds we have for you. You can browse through our website for more.