Every aspiring actor or actress dreamed about walking on a red carpet during a movie premiere, owning a mansion on top of Beverly Hills, and earning a spot in the Hollywood Walk of Fame. To achieve it, you need to be patient. A report from Chron states that there's only a 0.4 % chance of someone becoming famous in his or her profession, and that includes acting. In your case, that "somewhere humble" is to audition for local acting jobs with the help of our acting resume examples. Check them out!
10+ Acting Resume Examples
1. Free Beginner Acting Resume Template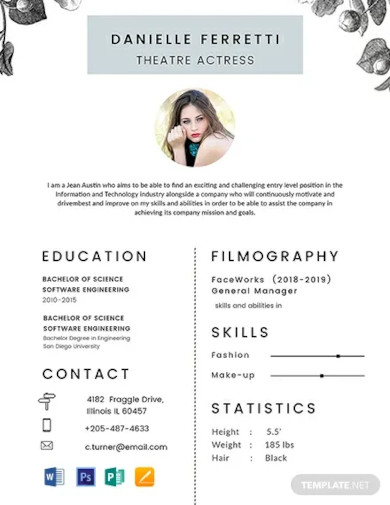 2. Free Acting Teacher Resume Template
3. Beginner Acting Resume Template
4. Beginner Acting Resume Format
5. Basic Acting Resume Template
6. Acting Resume Example
7. Sample Acting Resume Template
8. Formal Actor Resume Template
9. Printable Acting Resume Template
10. Child Artist Resume Template
11. Standard Beginners Acting Resume
What Is an Acting Resume?
An acting resume is just like any other basic resume that we all know. What sets it apart is that it focuses on someone's acting career and aspirations. When you audition for an acting role, be it on a theatrical film, short film, stage play, or music video, casting directors will look for your actor resume or actress resume. They'll want to know about your background, and your professional resume will provide for that. With those said, you should have an acting resume if you're serious about becoming an actor or actress.
How to Make An Acting Resume
Making a resume for an acting job is just like making other types of resume samples. Despite that, there are essential tips that you need to follow in creating one. We'll share them with you here.
Step 1: Be Honest
It's a big no-no to falsify your personal information to paint yourself as the perfect actor or actress for a role. There are cases of celebrities doing that, but most of them were able to impress their directors. However, it doesn't put away the fact that they did something unethical. So, for an aspiring actor or actress like you, be honest in what you put in your resume. Falsifying your info will likely put you in hot water.

Step 2: Highlight Your Career Objective
It might seem unimportant, but your career objective could help you land an acting role. Through it, a casting director will get a glimpse of how dedicated you'll be to the role. And it's also a way to show some of your personality. Place your career objective at the beginning of your resume. Make it two to three sentences max. For the longer version of your career objective, you need a resume cover letter. Write one and pair it with your acting resume.

Step 3: Limit Your Resume to One Page
Your acting resume should be a one-page resume. Casting directors don't have time to read a multi-page resume. Most of the time, they only view the auditionee's physical characteristics and work experience. So keep yours short as much as you can. Resumes that are too long makes you seem pretentious.

Step 4: Use an Unfiltered Photo
In your example of an acting resume, make sure to attach an unfiltered photo of yourself. Show the casting directors what you really look like in the flesh. If you use a filtered photo, they'll be disappointed that you look drastically different in person. This relates to the first tip about being honest.

FAQs
How to list previous roles in an acting resume?
List down your previous acting stints in chronological order. That gives casting directors a clear overview of your entire acting career. When you list them down, include the story's title and what your role in it was, whether you were a lead actor or actress, supporting, or extra. Include also the name of the director and production company.
What are the essential acting skills?
These are the skills you must have to become a fully-competent actor or actress: Strong vocals, can embody different types of personalities seamlessly, can memorize dialogue quickly, can handle stage freight, can work well with others, and has the ability to adopt new skills for particular roles.
How should I know if I have a knack for acting?
If you're not so sure about becoming an actor or actress, but you're having strong considerations about it, you should look out for these signs. They're a strong indicator of whether you have a knack for acting. Every time you watch a movie, you have this urge to want to play some of its characters. You see acting as a fun activity instead of a job. You like performing in front of people. You appreciate the art of filmmaking, especially when it comes to writing complex characters. You can naturally read essays and monologues with a dramatic tone.
Acting is a branch of performing arts that will never go out of style. We, as humans, are story-telling beings. We love stories in generals, and we appreciate them more when actors and actresses are embodying them. That said, you should feel honored that you have this opportunity to pursue an acting career. So start your journey by devising your acting resume!