A restaurant's menu should further entice diners to order your food; easier said than done, though. Creating a menu is not as straightforward as one might think. It involves a long thought process regarding the menu's design, layout, and size. Some people judge restaurants according to this factor alone. That is why it is vital that you have the proper restaurant menu that enables you to showcase your food. This is the quickest, most sure-fire way to help your food business grow. Browse through our restaurant menu template collection below and see how you can create an eye-catching restaurant menu, along with a few tips.
5. Restaurant Food and Drinks Menu Example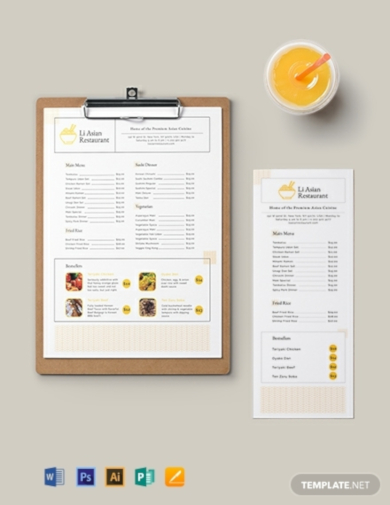 17. American Bar and Grill Restaurant
A restaurant menu is one of the first things that your customers will interact with when they step foot in your restaurant. It also adds to the whole customer experience spectrum. Menus influences your brand and shows just how much diners are going to spend. They are also a superb advertising tool that demands your customers' attention, which can increase your business' value or decrease it. Overall, menus are one of the most important factors in the restaurant industry and must not be overlooked. The success of your restaurant can start with something as simple as a menu.
1. Layout Matters
First off, is the menu's layout. The layout of the menu can impact the sales of your dishes. It is vital that you design your menu that can guide menu scanners towards the right dishes. For example, the back of the menu is one of the first things diners check after receiving their menus. This would be a perfect place to put specials. Another example is making use of large headers. These can help guide customers to the proper course (Appetizers, Starters, Desserts, etc.).
2. Careful with Photos
Images of food on menus are either a hit or miss, there is no in between. However, if you decide to put photos on your menu, make sure that these are professionally taken, and must only be of images of your food. Aside from that, these photos must have superb lighting. In other words, they should be visually appetizing. And, keep them at a minimum. You do not want to put a lot of pictures of food, as these can make your menu more complicated than it should.
3. Provide Additional Information
The dishes and their prices are two of the highlights in a menu. However, it is important that you add valuable information about these dishes. Describe them as straightforward as you can; keep descriptions as short as possible while also not leaving anything out. On top of that, there are a lot of special diets that people follow, such as vegan, vegetarian, gluten-free, and more. So, it is important to label your dishes accordingly.
4. Choose the Right Font
Fonts do matter, especially if it is something related to reading. It helps customers understand what it is they are ordering. In addition to that, when selecting a font for your menu, choose something that relates to your brand. This helps keep a unified theme for your restaurant, which can help improve customer experience. Lastly, make sure to use your bold and italics properly. Bold fonts for important infos and italics for any additional information.
5. Make More Than One Menu
As we are living in a tech-centered world, most restaurants, cafes, diners, etc., all have their own websites or social media. Now, most customers would often check websites or social media pages to see what a restaurant serves and, of course, how much would a dish cost. So, aside from having a physical menu, you should also incorporate a menu on your website or page. Plus, it also helps if you have certain dishes displayed on a wall, whether it be painted to it or written on a board, whichever fits your style.
Basically, a menu is a list of food or beverages that a restaurant serves for its customers on a daily basis. It also includes the prices of all dishes and beverages. A restaurant's menu may vary depending on their brand or product that they are selling. That is why there are menus for desserts, drinks, breakfast, brunch, dinner, and more.
The five types of menu are a la carte menus, cycle menus, du jour menus, fixed menus, and static menus. An a la carte menu offers separate priced dishes that are not part of a set meal. Cycle menus are a series of menus that repeat itself after a period of time. Du jour menus are a special type of menu that is only served during a specific day or week. Fixed menus offer complete set meals, from appetizers to desserts. Lastly, static menus offer the same dishes all day everyday.
Did you know that colors can influence your decision making? In this case, red, yellow, or orange can trigger one's appetite. That is why most fast food restaurants have these colors painted on their building's exterior. If you are looking to design a restaurant menu, you can start with these colors. However, you also need to bear in mind that it needs to fit with your brand.
The physical size of a restaurant menu can vary depending on the style and brand of the restaurant. Some have large menus because they have several dishes, while others have smaller ones, since they only serve a few items. The latter is quite common for fine dining restaurants. However, study shows that the most common size of a menu is 9 inches by 12 inches.
When constructing a menu for your restaurant, there is a common order for what needs to be put first. Since appetizers are the first dishes served, they should be the first items on the menu. Sometimes, drinks are also among the first on the menu along with the appetizers. Soups, salads, entrees, and desserts follow right after that.