Academic institutions always provide writing exercises to students so that the level of understanding that the students can have about a particular subject manner is widened. One of the most common academic essay examples that's given as writing assignment to students is the comparative essay. A comparative essay, also known as comparison essay or compare and contrast essay, is the type of essay that specifically analyzes two subject matters. There are a lot of academic fields where writing a comparative essay can be beneficial to students and their educational undertaking.
A comparative essay can either compare or contrast two topics, theories, materials and other subjects of discussion. However, there are activities where both comparisons and contrasts are necessary to be presented. If you are required to write a comparative essay but is unaware on how you can do one effectively, you can browse through the samples that we have gathered for you so you can be more knowledgeable on how to structure both the content and layout of this kind of essay.
Comparative Essay Plan Template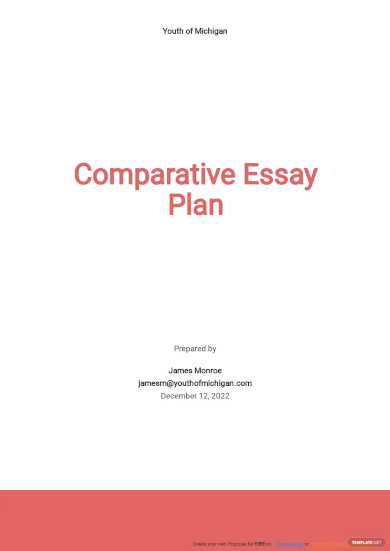 Compare and Contrast Sample Essay
Sample Comparative Essay Format
The Concept of Comparative Essays
Different college essay examples are written based on different sets of instructions. Depending on the writing task that you have at hand, the things that you may include in your comparative essay may vary. However, the concept of making a comparative essay remains the same. For it to be clearer in your mind, here is how a comparative essay works:
A comparative essay is an academic essay that requires students to create a comprehensive and precise comparative report about two things.
A comparative essay is an organized written material that is meant to provide a comparison that should be easily understood by the target readers. It is set to impress people by providing them the information that they need to be aware of about two subjects and how they differ and/or compare with each other.
A comparative essay can be written if you have two objects or subjects that can be compared in a level where their similarities and/or differences are relevant or meaningful for a specific purpose.
A comparative essay can be used in formal writing assignments and it can also be the basis for various research assessments.
A comparative essay is created through pertaining precise points of comparison. These points should be backed by actual researchers, factual information, and other reliable evidence.
Block Comparative Essay Example
Student Comparative Essay Sample
How to Develop the Content of Your Comparative Essay
Before writing a comparative essay, you first need to arm yourself with the information that you need. This will allow you to create a comparative essay that is filled with relevant and helpful information. More so, this can help you veer away from committing common essay mistakes if you are already in the process of actual content writing.
The way that you plan to present your ideas, especially if they are backed up with facts, can make your comparative essay more successful. Listed below are the steps that you may use when developing the content of your comparative essay.
The first thing that you need to do is to be aware of the question that you need to answer. You need to be aware of the essay prompt so you can address the needs of your readers. It is essential for you to be fully knowledgeable of the essence of the question so you can interpret it accordingly. The content that you will write will only be effective if it is related to the question and if it matches the purpose on why the essay is necessary to be written.
Know whether there are limits for your discussion. Always identify whether you need to know the similarities or the differences between your subjects. Also, you need to know whether the scope of your essay assignment requires you to do any of these or both.
Select the ideas that you would like to compare. It is important for you to have an in-depth understanding of the kind of comparison that you will write. The framework of your essay should be based on an actual evaluation that can point out how you were able to perceive the similarities or differences of the subject.
Assess whether you already have sufficient points for comparison. Your ability to present as many valid points as possible can make a lot of clarifications about the unanswered questions that you can enlighten your readers with.
Once the points of your comparison are already specified, list down whether they are under the similarities or differences of the two subjects. This step can help you be organized throughout the writing process. With easy access to how subjects are compared, you can be guided on how to use them in your content development.
Evaluate your list. Your list is only your initial view about the subjects being reviewed or assessed. Hence, further evaluation is necessary. Make sure that you will read through the entire list so you can rank them based on their impact and weight of thesis.
Chronologically arrange your list based on your basis of comparison. Make sure that you will follow a metric when examining the items that you will place in your actual comparative essay.
Know the approach that you will use when developing your essay content. Will you be theoretical? Will you focus on answering questions for comparison? It is essential for you to be aware of your basis so your approach can provide you with maximum benefits within the entirety of the content development process.
Research further about your subjects so you can verify whether your claims and initial claims are correct. This can help you create more topics and gather more evidence that can support your comparison.
Create a thesis statement where your discussion can set its foundation. This will enable you to start writing the comparative essay that you would like to achieve.
You may think that this is a very long process just for developing the ideas that you will present. In a way, you may be right. However, being prepared and ready on how you will attack and execute the writing assignment can make it easier for you to create a valid discussion.
Comparative Contrast Essay Template
Printable Comparative Essay Sample
Steps in Organizing Your Comparative Essay Discussion
Aside from knowing the idea of what you will write about, the structure of your essay or the organization of your essay's content can affect the smooth flow of your discussion. Even during last minute essay writing activities, you can still come up with an outstanding comparative essay if you are already knowledgeable on how you can organize your essay's idea, content, structure, and discussion. Listed below are some of the ways on how you can efficiently organize your comparative essay's content.
Refer to the outline of your comparisons. This is where the items that we have discussed above can be helpful. If you are already guided by your comparisons, then you can easily rank their relevance to the essay that you will write. Referencing your comparisons can make it easier for you to have a thesis statement that you can further discuss.
Organize your writing strategies. The strategies that you will incorporate into your discussion can make it easier for readers to relate to your point. You need to make sure that your strategies are aligned with your type of comparison and the subjects that you are comparing.
Properly address your comparisons. For your comparative essay to be highly-usable, you need to make sure that you will implement simplicity within your discussion. Do not make it complicated. The content of your comparative essay should be as simple as possible so that it can be furthermore understood.
Organize your paragraph structure. The way that you create your paragraph listing can be one of the factors that can either improve or destroy your comparative essay. You should create a draft that can specifically state the items that you will discuss per paragraph. Create statements that can address specific comparisons and divide them per paragraph. Each of your paragraphs should be talking about one subject so you can give focus per comparison aspect.
Evaluate whether your writing guide is already organized enough. It is essential for you to not overlap subjects of discussion. When organizing your statements, make sure to cover one subject at a time. This will help you create a comparative essay that contains a list of carefully arranged and curated evidence which are further discussed and broken down into relevant specification pieces.
Simple Essay of Comparison Sample
Sample Comparative Essay in PDF
Writing Guide in Creating the Actual Comparative Essay
Just like descriptive essay examples and other kinds of academic essays, a comparative essay can be created in different ways. Each writer has various techniques that can be applied when doing this particular kind of essay. Since there are no strict rules when it comes to crafting a comparative essay, all you need to ensure is that your comparative essay is comprehensive, understandable and credible. Here is how you can effectively write your actual comparative essay:
Create an introduction to the topic. Your thesis statement should contain the subjects that you will talk about. You also need to create an initial discussion of what your readers can expect to the reader within the content of your comparative essay. A strong validation of your comparison can make your readers more interested to browse through the entire essay document.
Develop your next paragraphs for discussion. As mentioned above, work per paragraph. Arrange your topics of discussion in a way that each paragraph can specifically state one comparison topic per time. You have to create an interesting discussion so you need to ensure that all your paragraphs are organized and well-written.
Finalize your comparative essay with a conclusion. Your last paragraph should contain the information about your final thoughts with regards the comparison. How different or similar are the two subjects from one another? How sure are you that your basis is factual and relevant? Create a great impact by having a conclusion that can put together all your points of discussion.
Compare Contrast Essay Sample
Sample Comparative Essay Guide
Factors to Consider When Writing a Comparative Essay
In comparison to evaluation essay examples, a comparative essay is more keen with regards the assessment of two subjects. If you will write a comparative essay, you need to have an idea of the impacts of different factors to the result that you may get at the end of the writing activity. Listed below are some of the elements or factors that you need to take into consideration when writing a comparative essay.
Your discussion's organization. Within the entirety of the comparative essay creation, it is very evident that organization is key to success. As a writer, you need to ensure that you have a skeletal plan that can create your discussion more polished and coherent. The discussion of your organization can greatly affect the impression of your readers with regards your knowledge about your topic as well as your level of understanding with what you are talking about.
Your thesis statement. When creating a comparative essay, you need to stick with an argument that can provide you the framework for the effective dissemination of information. Your thesis statement should be based on the results of your frame of references. You need to analyze your subjects properly so that you can create a stand on how you perceive them in levels of similarities and/or differences.
Your claims or grounds for comparison. You should always be aware of your selection processes. At the end of the writing activity, you need to validate the importance of comparing two subjects. Always have your grounds of comparison ready so you can ensure your readers that you have followed a particular set of criteria that can enable the objectivity between the selection of two items for comparison. The rationale that you have behind your subject selection can make your comparative essay more appealing.
Your reference frame. A comparative essay's frame of reference deals with the way that the writer has created the groupings for the comparison. May it be talking about the similarities, differences, or both of these factors; a comparative essay should be able to have a reference that can identify how the characteristics of ideas, themes, theories or even problems are arranged.
With the samples that we have in this post, it will be faster for you to identify the points of discussion that you need to provide. Again, comparative essays vary from one another in terms of content. Ensure that you are fully aware of the writing instructions given to you so you can plan your comparative essay's content and structure accordingly.
Always refer to the guidelines and tips that we have specified so you can create effective decisions in every step of your comparative essay development. Do not be afraid to write what your thoughts. As long as these thoughts are based on factual references, then it will be easy for you to have a comparative essay that can achieve its purpose or reason for creation.