Are you on the journey of understanding yourself a bit more? Answering self-evaluation questionnaires and unwinding by the beach isn't enough. You can learn more about yourself by discovering links in your family lineage. Although how can you do it if you don't even know who your great-great-great-grandparents are? Discover the names of your family members by filling in a large family tree.
6+ Large Family Tree Examples
1. Blank 10 Generation Family Tree
2. Blank Family Tree Example
3. Blank 3 Generation Family Tree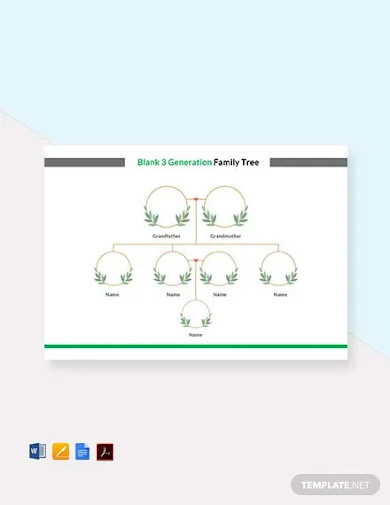 4. Large Family Tree Example
5. Editable Large Family Tree
6. Simple Large Family Tree
7. Non-Traditional Large Family Tree
What Is a Large Family Tree?
A family tree is a chart or a diagram that visually represents and links a family lineage. People who want to discover more about their family history can start by constructing a family tree. The size of your chart will depend on how far back do you want to go. 
How to Construct a Detailed Large Family Tree
Creating a visual diagram might appear easy to some, but it's more complex than it seems. A family tree that is not well-crafted, especially if it involves numerous subjects, might start to get complicated. Your main goal for creating your tree should be able to make it as comprehensive as possible. 
1. Collect Essential Information
The first thing to do in creating your family tree chart is to decide how many generations you would like to include. Since your constructing a large one, you can incorporate up to four to ten generations. After arriving at a decision, the next step is to collect information about your family history. Details like their names, their relationship with you, their birthdays, and a picture if possible. You can ask your siblings, parents, your grandparents or look for information in your old family records. 
2. Devise an Outline
Now that you have the names and appropriate information regarding your family from different generations, it's time to create an outline. You don't need to draw a creative organizational chart just yet. You can list their names on a blank outline instead. It will serve as your guideline that would help in making links in your chart simpler for you.
3. Choose an Organizational Chart
Although you're creating a family tree, you don't have to take it too literally and strictly follow a tree-shape diagram. You can explore other charts and look for one that would be easy to understand. Most tree charts follow the format of a vertical organizational chart. Despite that fact, you can still opt for a model that goes sideways. The choice is yours.
4. Fill In the Boxes
After choosing the design and structure of your graphic chart, the last thing left to do is to write the names on the boxes. Make sure to make each box big enough to fit their birth names. If you decide to include a picture of them, make sure your family tree chart is large enough to arrange that. You can also write their birthdays right below their names. 
FAQs
What are the differences between a family tree and a family genogram?
Even though the structure of a family genogram and a family tree can be similar, they differ on the information included in the flow chart. A genogram is a more detailed version of the other one mentioned. Details such as the medical history, career choices, and psychological factors are some of the elements you should include in the genogram chart.
What are some usual family tree designs?
If the person chooses to construct a smaller family tree organization chart, some choose to follow the tree design. On complicated family tree charts, others opt for basic organizational charts that are simple in appearance. People often get more creative when it comes to choosing the background. Although, you should remember to choose a background design that would still make your texts visible.
Where can I find records for my ancestry?
The most basic way of tracing records of your ancestor is asking your older family members and looking through early written texts, photographs, or journals that they possibly kept. There is also another way of tracing back your lineage. There are online sites that would offer you that service. Some of them are available for free, and some would require you to pay.
Constructing a family tree doesn't involve you planting something. Instead, it requires you to do research, organization and designing. Although it's a little complicated, getting to know more about your ancestors would equate to you getting to know yourself better. It's a win-win situation. Go ahead and start organizing yours now.