Back when we were still a kid, our parents will usually tell us that we "don't talk to strangers." That's for our safety, of course. But how do we supposed to make friends when we were not allowed to talk to strangers? Right? Funny, but that is actually the case here.
We have to eventually introduce ourselves to random strangers. We may not want to but we have to. The technique here is to have a good self-introduction speech. It may sound professional, but it is actually easy to do, it's more like creating a welcome speech. You don't have to hire a speech writer or acquire a high level of speech skills.
Self Introduction for an Interview
Professional Self Introduction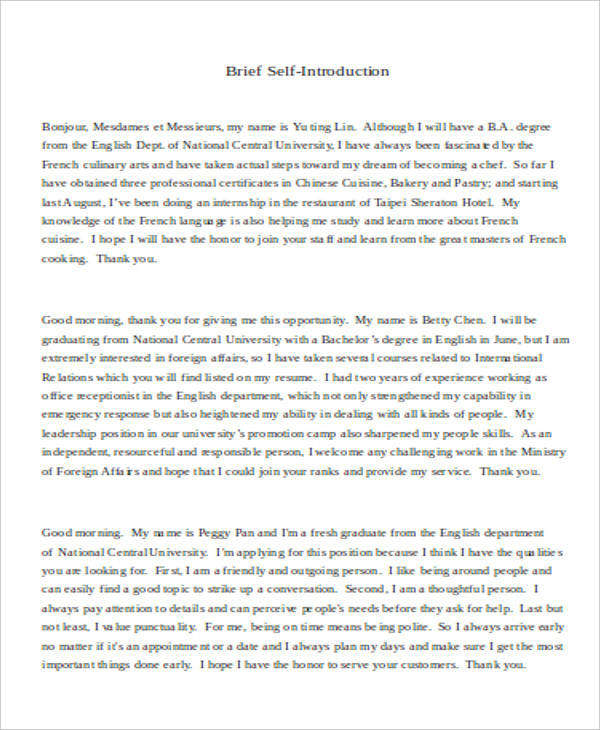 ncu.edu.tw
Student Self Introduction
What Is a Self-Introduction Speech?
A self-introduction speech is an act of introducing yourself to a large or small group of people. This speech is often called at most business and academic setting.
However, a self-introduction speech can also be used in one-on-one situations. A self-introduction speech can be one of the most requested speech in a meeting or gathering and if you are not prepared, it can catch you off-guard and would not give you a good first impression.
To help you with your self-introduction speech skills, you can get ideas in our self-introduction speech examples in PDF and Doc format here.
How to Start a Self-Introduction Speech?
Introducing yourself to a group of strangers can be intimidating and awkward. But you can avoid this by crafting a proper and good self-introduction speech.
Here's how to start a self-introduction speech.
Start by stating your full name clearly and your personal details. Say it out loud like you are giving a leadership speech.
Mention where you from or an organization you belong.
Give your personal and educational background. If it's necessary, tell your family background
Talk about your interest, hobbies or passion.
Formal Self Introduction
Self Introduction to Employers
Sample Self Introduction
Tips for Self-Introduction Speech
Self-introduction speeches can be quite tricky and hard to do. There are lots of things to consider to deliver a better self-introduction speech. Still, it is extremely important as it gives you a good first impression that will have a big impact on how people perceive you.
So, to steer you in the right direction, here are 6 helpful tips for self-introduction speeches.
Prepare ahead of time. It is always the right thing to do to save yourself from anxiety caused by inadequate preparedness.
Create an outline of your speech. Making a speech outline will help you simplify your self-introduction speech and guide you all the way through. Our speech template and examples can also help you.
Make your self-introduction speech short but informative. It is advisable that you make your speech as short as two to three sentences or five to seven minutes in length. But don't sacrifice important information.
Use simple language. Make your speech understandable and easy to recall.
Rehearse your self-introduction speech. So when the time comes, you don't look like you are memorizing your speech.
When you are about to deliver your speech, try to stay calm and relax as possible. This is to ease your nervousness and boost your confidence.