When Edwin Rolfe coined the undying line of "don't judge a book by its cover," it's evident that he means well. It's a powerful metaphor, but for budding writers and aspiring bestselling authors, book cover layouts are everything. Before you can sell your name, an irresistible cover would have to do the trick. A book might have the most legendary narrative in history, but in a commercial sense, it's a product that needs the attention of a consumer. A great book cover might be a writer's rocket to success. Browse through our creative cover collection and learn how you can create a great book cover with some relevant tips.
1. Professional Book Cover Template
2. Vintage Book Cover Template
3. Typography Book Cover Template
4. Thriller Book cover Template
5. Wattpad Book Cover Template
6. Notebook Book Cover Template
7. Novel Book Cover Template
8. Magazine Book Cover Template
9. Leafy Hard Cover Book Cover Design
10. Creative Book Mockup Cover Design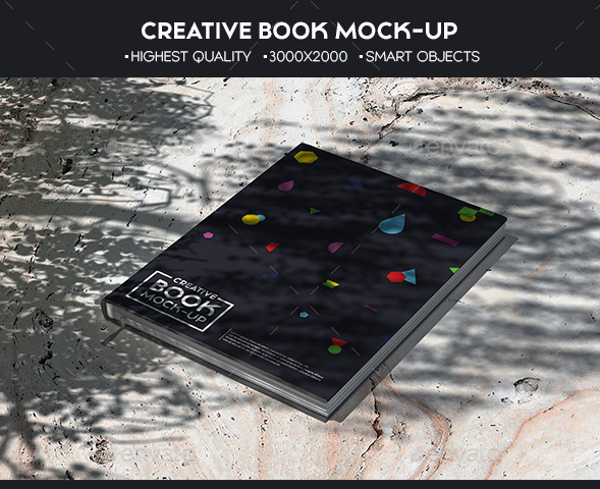 11. Classical Painting Hard Book Cover Design
12. Book Cover Design with Cross Stitch Pattern
13. Ribbon Soft Book Mock-up Cover Design
15. Violet Hard Book Mockup Cover Design
16. Custom Book Cover Design
17. Landscape Book Mockup Cover Design
18. Book Cover Design with Silhouette Couple
19. Soft Book Mockup Cover Design
20. Premade Book Cover Design
21. Evening-Themed Soft Book Cover Design
What Is the Significance of a Book Cover?
When you find yourself amidst the sea of shelves with hundreds of titles, which book would you pick first? The answers would vary for every person, but the prevalent response would be whatever catches your attention firsthand—this where the significance of covers comes in. Even though people, especially book enthusiasts, say that the story matters more than what's outside, they can't help but still judge book covers. According to Mark Coker, the founder of Smashwords, that a romance novel entitled "Playing for Keep" that only sold six copies a day suddenly increased to over a thousand copies per day because of a simple cover change. This is a real-life testament to what success a great cover can do.
5 Great Tips to Making Book Covers That Readers Can't Help But Pick Up
Whether you decide to get a professional book cover designer to get the job done or you take the task alone, here are some tips on how you can make your book cover designs an effective marketing tactic:
1. Incite Emotion
The best way to hook potential readers and get them to check out what your cover is all about is to get them to feel something. Your marketing book cover should incite an emotion of what the readers should expect to feel when they do decide to give your story a chance. Ransom Riggs Miss Peregrine's Home for Peculiar Children is an example that a cover can effectively convey emotions. A faded black and white picture of a floating girl will surely give anyone the creeps. When you successfully give them the "feels," they're more likely to take your book home.
2. Proudly Wear Your Genre
If you're writing young adult fiction, you can't possibly make your cover appear as if you're writing fantasy. Aside from the fact that it's not a perfect fit for your genre, it might mislead your readers. They might be buying the book because of its cover when it's actually different inside. Let your cover identify what your story is all about and draw the right audience to you.
3. Apply The Right Contrast
When making the layout for your cover, make sure that your title stands out from its background. This is why you should apply the right contrast to your outline. Make sure your palette blends in a way that doesn't hide your book title. A title has as much as a marketing value as the cover itself. In most cases, readers would refuse to pick up a title that doesn't arouse their interest and curiosity. Your book cover design should highlight your title, not hide it.
4. Be Generous With Your Space
Stephenie Meyer's Twilight series abides by this principle. Instead of using several design elements, Meyers (or her publisher) decided to declutter the cover, apply a strong black background and use a single visual element only. It successfully embodied the right emotion and genre with very limited elements.  The extra spaces helped the title to stand out, and made the entire layout stunning. It was minimal yet impactful.
5. Use Creative Typography
While some books would opt to have a simple, all bold and uppercase font for a book title like those in a formal document, creative typography could work as well. J.K. Rowling's Harry Potter series employed a very distinct typography style known as the Cochin font. It became iconic alog with the series' popularity rise. Don't be afraid to explore different typography options that would match your genre and your book cover idea.
FAQ
Does the writer own the book cover?
On most occasions, no. The publisher owns the copyright to a book's cover unless their contract says the opposite.
What are the different book cover sizes?
The following are the different standard book sizes: trade paperback, mass market paperback, fiction, nonfiction, textbook, novella, hardcover, and children's books.
Are there different book covers for the same book title?
Yes. Commonly, this depends on where and who the book will be targeted if it's releasing another book edition. As an example, a fantasy book may have two different covers to entice different audience groups. It might use colorful and creative illustrations to appeal to the younger generation, and the other design might use a darker and more mysterious front cover to attract older readers.
If there's anything that needs the protection of an anti-discrimination provision, it should be the book covers. People easily dismiss what is supposed to be a phenomenal story because the cover fails to meet the standard. Book covers speak as loud as the story itself. It shapes the story's identity, and it works as a mechanism to help the book gather the attention that it needs to be heard by a lot of people. If you need a professionally-made and high-quality book covers, our collection's here for you. Download now!