Budgeting is not only vital for your personal life, but also for your professional life as well. It prevents you from going overbudget. Now, there are a lot of factors that can contribute to organizations going way over their budget, including failure to meet deadlines and lack of professionalism. However, improper handling of a company's budget can lead to multiple issues. When your company goes beyond its budget, it will actually make you lose money, as well as strain on your relationship with your clients if ever it reaches their profit margins. Proper budget analysis is key whenever your business takes on a new budget. This not only helps you stay within your budget, but it also determines where you can save money in terms of costs. When it comes to handling numbers, such as company expenses, getting it organized is an absolute. You can get started right away now with our sample budget templates. See them all here:
Sample Budget Examples & Templates
1. Sample Budget Report Template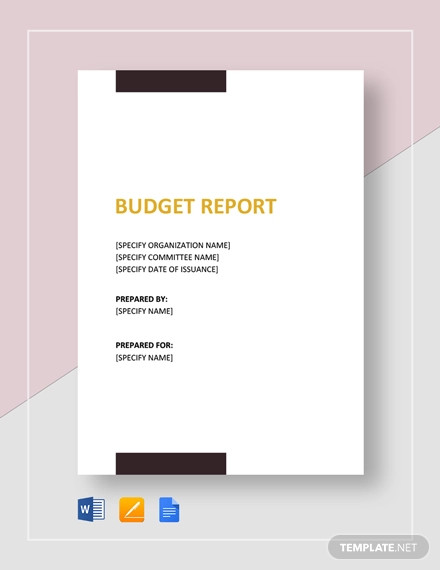 2. Monthly Budget Worksheet Template
3. Travel Budget Worksheet
4. Household Budget
5. Wedding Budget Worksheet
6. Monthly Budget Planner
7. Freelancer Budget Template
8. Middle School Budget Template
9. Business Budget Proposal Template
10. Event Budget Proposal
11. Board Resolution Approving Budget
12. Sample Budget Worksheet
13. Student's Sample Budget
14. Sample Budget For Large Event
15. Sample Monthly Budget for Adults & Families
16. Sample Budget Examples
17. Sample Proposed Budget
18. Sample Documentary Budget
19. Sample Budget Specifications
20. Sample Budget for Educational Activity
What is a Sample Budget?
In its most basic sense, a sample budget is a budgeting system wherein you already have a sample that you can copy as you create your budget. This covers all forms of budgeting systems – from a Christmas budget to a manufacturing budget. Having a sample budget can greatly increase efficiency when planning on the items on your budget. That is because, as we mentioned, you already have a blueprint to help you get started right away. On top of that, this also enables you to add factors to your budget, so that you won't worry about missing any vital items. However, creating a budget, whether for work or for yourself, is not an easy task. So, here are a few steps that you can take to ensure a comprehensive budgeting solution:
5 Steps to Create an Extensive Budget
Step #1: Determine Your Net Income
Before creating your budget, you need to calculate how much money is going in. The best way to know this is by calculating your net income. If you are unsure of the definition of net income, in essence, it is the amount of money that you receive from your salary after taxes and other deductions. For businesses, their net income is the revenue that is left after deducting taxes, costs, and expenses.
Step #2: Monitor Your Expenses
For a successful budgeting, you need to constantly track your expenses. This provides you with relevant data that can help you stay within your budget; it lets you see where your money is going. There are various free and paid applications available that aims to aid you in monitoring your spending. A few even offer budgeting tools with straightforward functionality.
Step #3: Set Short-Term and Long-Term Goals
When you are creating a budget, you already have a goal in mind. If not, you should formulate one or two. This helps you stay motivated when it comes to staying in budget. List down a few things that you want to achieve, both short-term and long-term. For short-term goals, their time frame should only be within one year for you to achieve them. For short-term goals, on the other hand, evidently will take a few more years to achieve. As an example, a party budget may fall under short-term budget goals, since they only require a short period of time.
Step #4: Create a Plan
Now that you know your net income or revenue, have a software that can help you track expenses, and have goals in place, the next step is to make a plan. Since you already know how much you make in a monthly or yearly basis, you can now predict how much you need to budget. In other words, you can identify solutions that can help you achieve the goals you set from the previous step. With a plan, you can clearly see your estimates.
Step #5: Adjust Your Spending Habits
If you are used to have the freedom of spending money on anything, this step is going to be the most challenging. That is because you can no longer spend on things that are beyond your budget. However, once you determined all the previous steps, this will be much easier. And on top of that, by adjusting your habits when it comes to your expenses, you can see which areas you can lower costs, which lets you save money.
FAQs
What is the 50 30 20 budget rule?
The 50 30 20 budget rule is one of the most popular budgeting formats today. In its most basic sense, this budgeting system requires you to put 50% of your net income into essentials, 30% to your wants, and 20% to your savings. This is the more common solution for those who are just starting to plan a budget.
What are the three basic budget categories?
When you are just planning on creating a budget, there are three categories that you need to bear in mind. These are the Fixed Expenses, Variable Expenses, and Non-Necessities. Fixed expenses are those payments that stay the same over time, such as your rent. Variable expenses are payments that do not remain static, such as food, water and electricity bills. Non-necessities, are your wants.
What should be included in a household budget?
 Groceries
Utility Bills
Insurance
Transportation
Housing
Loan Payments
Child Care
Debt Payments
Creating a solid budget plan is one of the more complicated tasks that you will face, and staying within its limits is even more challenging. However, our team believes that with the right tools and knowledge, achieving this is within your reach. To get started, take a look at our premier sample budget templates above. Choose one that best fits your budgeting preferences today.