Striving to improve workplace efficiency and effectiveness has been an inevitable part of every business operation. Given that a business operation constantly changes through time, numerous streamlining processes that define a business procedure, status, and improvement usually happen every time. With the luxury of an automated business-automation technology today, for sure, dealing with operation-streamlining processes is a whole lot easier. However, if we take back to the basics, no question that backing on a graphical representation that clearly defines a complex business process or a system—through a comprehensive company flowchart—is still an effective avenue for businesses. Hence, if you agree with our statement; then, our helpful tips below on creating an effective company flowchart is perfect for you.
Company Flow Chart Examples & Templates
1. Company Flowchart Template
 2. Aerospace Company Flowchart Template
3. Trading Company Flowchart Template
4. Food Company Flowchart Template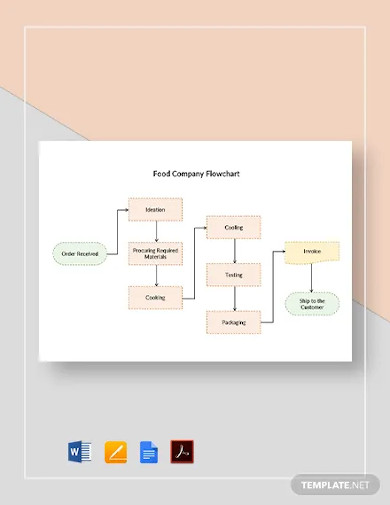 5. Car Company Flowchart Template
6. Real Estate Company Flowchart Template
7. Logistics Company Flowchart Template
8. Free Company Flowchart
9. Company Flow Chart Example
10. Company Flow Chart in PDF
11. Company Associated Flow Chart
12. Company Flow Chart Template
 13. Company Flow Chart Sample
14. Manufacturing Company Flowchart
What Is a Company Flowchart?
Like any other types of flowcharts, a company flowchart is a graphical representation of a process or a system that defines a company's workflow and processes. From its name itself, a company flowchart shows the progression of a particular process in a "flow" motion, through a directional line flows that best describe the step-by-step of the given process. Due to its versatility and variations, a company flowchart is best for describing a business, manufacturing, or administrative processes, for it bite-sizes pieces of information and presented through visuals.
Tips on How to Create a Company Flowchart
There is this fact that most of the time, it is more effective and easier to present something visually than through words. And that fact is, without a doubt, true, considering that almost 90% of information transmitted to an average brain is visual, as per MIT. In the most basic sense, a flowchart is a type of diagram visuals that best simplify and describe every information of a single step in a process. Thus, this type of platform becomes one of the go-to avenues for workflow presentation, thanks to its simplicity and effectiveness in presenting process functions. Without further ado, if you feel locked in to have one company flowchart for your business processes, we got here some simple tips on how you can start your flowchart actualization.
Tip 1: Determine Your Objective
Yes, you want to create a company flowchart for your business or operation. But the question here is; what is your objective of having one? Do you want to have one company flowchart for your operational workflow? Business improvement? Or have it for your employee workflow processes? Regardless of your aim, make sure that you have to establish first an exact objective for your company flowchart to seamlessly visualize the look, order, and type of process you want to integrate into your company flowchart.
Tip 2: Pick a Flowchart Type
After establishing your company flowchart's primary objective, you can now decide on what type of flowchart format you want to use. Take note that there are different types of flowchart that you can have in your company flowchart layout. For instance, if you want to create one company flowchart for your business' employee training; then, the best flowchart type you have to use is the workflow flowchart. To know more about the different flowchart types, feel free to refer to the FAQs below.
Tip 3: Map Out the Processes
Now that you already have the objective and type of flowchart format that you want to integrate into your company flowchart creation, you can now map out the process and other specifications that would complete your flowchart's progression. You can start it by drafting several major blocks that represent the essential steps in your company's flowchart processes. Referring to your chosen type of flowchart, carefully outline the blocks and lines until you can complete through the end of your desired flowchart process. Additionally, don't stress much about the technicalities of forming your company flowchart's processes. In fact, if you have the best idea about how you can innovate your flowchart's progression, you may include it in your mapping out processes.
Tip 4: Carefully Plot the Details
To wrap up your company flowchart creation, fill in the remaining steps by plotting all the necessary details that complete your flowchart. Upon filling in all the essential details, it is highly recommended not to overflow your blocks with much information. Place it wherein it works through its natural order of the process, and make sure that it is understandable by an average individual. You may also include adding more colors and different shapes in your flowchart to make it alluring and easier in one's eye.
FAQs
What are the types of flowcharts?
The Process Flowchart
The Workflow Chart
The Swimlane Flowchart
The Data Flowchart
What are the four basic flowchart symbols?
The Oval or Terminator
Rectangle
Arrow
Diamond
What benefits can I get in having one flowchart?
Flowcharts are known to be versatile tools that can be in various processes. Aside from company use, flowcharts can be utilized in:
Documenting processes
Presenting solutions
Brainstorming
Decision-making process
Designing a system
Now that you already have the gist of how flowchart impacts your processes, particularly for your company, for sure, you already consider having one for your company's end. With our tips and guides on how to create one company flowchart, you can now also create an effective flowchart in no time!