Acquiring an agreement is key, if not essential, if you want to secure your family's financial future. To live in your dream house, or drive your dream car, or run a family business you can pass down to the next generations is a way of life we all strive to achieve. You may currently be in a position where the financial prerequisites of such dreams are still far from your reach, but with proper counselling and wise mind-set, approaching banks for loans may just help you get closer to that dream. Not just for you, but for your children, and their future children too.
Family Loan Agreement Templates and Examples
1. Commercial Loan Agreement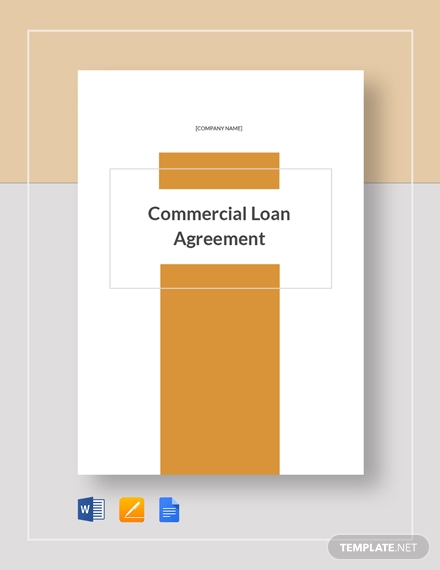 If you own a small family business, then you are fully aware that the infancy of a business is not exactly its most profitable period. It can be difficult for aspiring entrepreneurs to garner enough funds to even start a company, let alone keep it running. Through commercial loans, banks, or other forms of lenders can aid shoulder funding the capital and the day-to-day operating costs that your young company may not be able to afford at the time being.
2. Equipment Loan Agreement
This option is another alternative to help fund your family's young company. Due to unremarkable profits caused by lack of reputation and awareness and ultimately, fewer sales, it is fully understandable that your company may have a shortage of supplies and necessary materials. This loan agreement can be a remedy to help amend that problem.
3. Family Car Loan Agreement
Most young individuals dream of owning a luxury, or any attractive car when they grow up to become an adult. You too surely have also wanted such things. Maybe you are now in an age where your young self once pictured you being in that dream car. By applying for this loan agreement, you will be steps closer to driving that beautiful car. And perhaps, it will be the first car your child will drive in the future too.
4. Mortgage Loan Agreement
The most sought-after approach to owning a beautiful home. Though there are many different types of mortgage loans, most people who apply for the loan later repay it via monthly installments, while others mortgage their other properties and use the fund given by the lender to purchase their dream house. You can do the same through this loan agreement.
5. Personal Loan Agreement
This agreement loan is pretty straightforward. The lender will provide funds you can use for yourself and your family to use in whichever way you see fit, and repay the money in a given amount of time with interest. Though the loan may be directed towards you personally, hence the name, as a family man you can choose to utilize this fund to further your whole family's benefit.
6. Amendment No. 1 to Commercial Loan Agreement
This is a sample form of a commercial loan agreement between two corporations: a borrower and a lender. Details of receivables and payables, unpaid interests, closing dates, and exchangeable notes are mentioned here. Although there are multiple variations on how a commercial loan agreement looks like, most will have the same elements as this one.
7. Personal Loan Agreement Example
An example of a personal loan agreement form. It features terms and conditions, promise to pay deadlines, liabilities, repayment, and prepayment, among many others. Since this is a 'personal' loan, you can use this in any way you see fit.
8. Car Loan Agreement Example
An example of a car loan agreement form. Terms agreed upon like accountability, breakdowns, late payments, and security are projected in this form. The exact terms of the agreement will depend on the vehicle you will be loaning. Choose your family vehicle wisely, and make sure it is within your financial means.
9. Loan Agreement with Real Estate Mortgage
A mortgage agreement loan form. It discusses the terms of the loan, the description of the property, and the mortgage of the real estate property. Following this agreement loan will push your family a step closer towards owning your very own family home.
10. Family Loan Agreement Form
This loan agreement form is specific to family loans. You can also see in this form how some lenders give the borrowers the opportunity to decide their own payment scheme in repaying. Funds in this loan can be used by the family however they choose.
11. Student Loan Agreement
It is of massive importance for families to send their kids to college and have them finish school. Unfortunately, this is a luxury not everyone can afford. That is why a lot of families turn to the student loans agreement. The student loan agreement promises the payment of your child's college tuition and other miscellaneous fees, including allowance. The picture above is a sample form for this agreement.
Loan agreements are a good thing. Since not everyone is born with a silver spoon on their tongue, it is very helpful for people who want to accomplish something at a given time, but do not have the resources to do so. Always use this option wisely. Do not see these agreements as ways of salvation, but as stepping stones, because that is really all they are. A lot of people end up being buried in debt because of unpaid loans. It is your responsibility as an adult professional to be mindful of your finances. Use these loans to build on your future. Look around the market for property investments. Start your own business venture, and let it grow. Remember, this is for your family and your family's future. Invest wisely and timely.