For those of you who would like to create a document which involves two or more parties coming to an understanding on certain terms, then you'll want to make an agreement document. If you want to know to make an agreement which discusses the limitations on what either party may do or not do, then you can look for commercial agreement examples.
Commercial Lease Agreement Template
Vehicle Lease Agreement Template
Apartment Lease Agreement Template
Restaurant Lease Agreement Example
If you want an agreement which discusses how a company's management would handle particular duties, then be sure to learn about management agreements. So what if you want to make an agreement which discussed how a particular party would handled a lease that he or she has agreed to? This would mean that you'll need to come up with a lease agreement and this article is going to teach you how to do just that.
Commercial Sublease Agreement Template
Commercial Lease Termination Agreement Template
Car Lease Agreement Template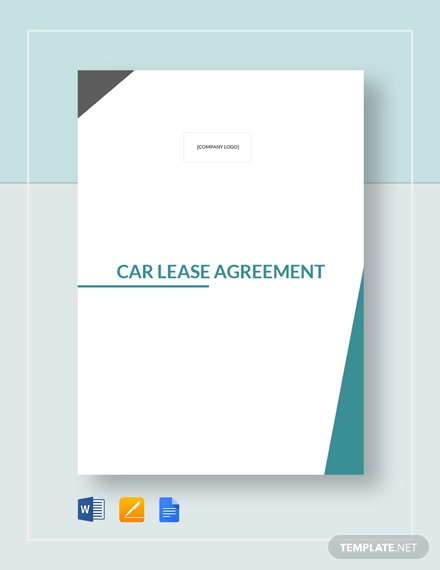 Furniture Lease Agreement Example
Property Lease Agreement Example
Master Lease Agreement
Hunting Lease Agreement Example
Option to Lease Agreement Example
Commercial Lease Agreement Template
Vehicle Lease Agreement Template
Office Lease Agreement Template
The Types of Lease Agreements You can Make
Much like other there are varieties of agreements such as commission agreement or attorney agreement, there are also a different number of lease agreements that one can possibly create. Whatever one party decides to lease to another, its important to come up with the right kind of agreement for the situation.
So here are a couple of examples of a lease agreement.
1. Residential Lease Agreement
This is pretty much similar to a rental agreement where one party is the owner of a particular residential property, while the other is the one that wishes to lease it. The information that would be included in this particular type of lease agreement would be the complete address regarding the property's location, the background information of the person who wishes to lease the property, the amount that will be deposited before the lease may commence, etc.
2. Vehicle Lease Agreement
If you've ever wanted to just use a car but not own it, then there always companies that are more than willing to set-up a vehicle lease agreement with you. This typically discusses how the leasor would go about in utilizing the vehicle, being provided with statements as to what he or she can and cannot do. There are also clauses which will talk about how damages are handled and who pays for what should any happen.You may also see purchase agreement
3. Equipment Lease Agreement
This comes in very handy during certain situations such as contrsuction projects where certain complex equipment is to be leased out. This would include details regarding the different types of equipment that has been leased, and information regarding the responsibilities of the leasor. Also, it talks about how compensation is to be applied should any damages happen to the equipment while it is under the care of the leasor.You may also see subscription agreement
Land Lease Agreement Template
Hunting Lease Agreement
House Lease Agreement
Agreement for Residential Lease
Standard Lease Agreement
How to Create a Lease Agreement Form
Much like creating a non-disclosure agreement or a work for hire agreement, a lease agreement will require a specific set of information to ensure that both parties understand what the terms are before they decide to sign the document. So here are the steps that should help you create a proper lease agreement:
1. The Basic Information of the Parties Involved
If you were to make something like a settlement agreement, then wouldn't you want to know information of the people that will be involved in the settlement? It's pretty much the same if you were to make a lease agreement. You'll need to include the basic information of both parties that are involved to ensure that the two are aware as to who the lender and the borrower are. So if one party is a person, then you'll want to make sure that he or she writes down his or her complete name. If one of the parties is company, then the complete name of the company must be written down in the agreement.
Apartment Lease Agreement
Agreement to Rent or Lease
Farm Lease Agreement
Basic Lease Agreement
Agreement for Equipment Lease
2. The Property to be Leased
You can't have a lease agreement if you don't even know what's going to be leased to the other party. You'll want to be very specific when it comes to pointing out what property is to be leased to another party. For example, if you were to lease a residential property, then you'll want to include details such as the property's color, house number, or even the complete address.
If it were a vehicle, then you'll need to point out everything from the vehicle's color, make, plate number and more. You'll need to be very specific to ensure that the lease agreement is enforceable, otherwise you'll be stuck with a document that amounts to nothing as it has no means of protecting the property being leased; all because you failed to properly mention what that property is.You may also see conveyance agreement
3. The Time and Date of When the Lease Will Take Place
Much like a confidentiality agreement or a sales agency agreement, the lease agreement must always contain a date in which the agreement will take place. This way, both parties have come to a general understanding in which all the terms will need to be met, as well as that by that day in time, all responsibilities and duties that both parties have agreed on must be fulfilled.
You'll want to write down everything form the month, day, and year to ensure that there is no confusion in terms of when it will take place; it's also important that you do so as you'll never know when you'll need to provide proof as to when the lease agreement took place.
Lease Commercial Agreement
Vehicle Lease Agreement
Facility Lease Agreement
Agreement for Hunting Lease
Master Lease Agreement
4. The Conditions for Compensation
When you start creating a services agreement, then the person providing the service would expect compensation right? This is also true in a lease agreement where the provider of the property would require an equal amount of compensation for whatever it is that the leasor has borrowed. The compensation would usually come in the form of monetary value and the amount would usually be determined by the value of the property that's being leased. So as you're writing the amount of just how much needs to be compensated, you'll need to be very specific.
5. Statements of the Responsibilities and Duties of the Leasor
If you're going to put a lease on your property, then you'll want to make sure that the person who's leasing it understands what he or she may do with it. Which is why you'll need to provide a statement which talks about how the property is to be handled and what consequences should happen in the event that any damages or injuries take place due to any form of mishandle. You'll also want to provide a clause that protects you should the leasor do anything with the property that damages another's property or injures another; think of it as an added measure of security.You may also see reseller agreement
6. The End Date of the Lease
Even you should know that the lease cannot go on forever, which is why you'll want to put a specific date in which it's going to end. Much like when providing the date of when the lease takes place, you'll need to provide the exact day, month, and year as to when it will end so that the leasor will know when his or her time  with the property is up.You may also see loan agreement
And lastly, be sure that both parties put in their signature into the agreement to make it valid and official.
If you would like to learn how to create other types of agreement documents, then all you have to do is go through our site. We have all the articles that contain the information which can help you in whatever situation you may need them, just be sure to read up so that you can properly utilize them.You may also see commission agreement