It is not far-fetched to say that Apple is one of the most popular companies in the current era. Their branding is making the world a better place by pushing for luxury, emotion, and life. However, they are not only limited to their state-ot-the-art devices. They also have exceptional applications in their operating system. One of those general applications that they use is the Apple Pages. So, if you're new to using Mac and you want to create meeting minutes in Apple Pages, then you've come to the right place. We have examples that you can download and a guide that can help you create one fast. Check it out below!
15+ Meeting Minute Examples in Apple Pages
1. Church Board Meeting Minutes Template
2. Weekly Team Meeting Minutes Template
3. Pre-Construction Meeting Minutes Template
4. Safety Meeting Minutes Template
5. Sales Team Meeting Minutes Template
6. Monthly Staff Meeting Minutes Template
7. Project Meeting Minutes Template
8. Investment Club Meeting Minutes Template
9. Free Social Club Meeting Minutes Template
10. Free Simple Basic Meeting Minutes Template
11. Free Team Meeting Minutes Template
12. Free Sample School Board Meeting Minutes
13. Free Meeting Minutes Format Template
14. Free Multiple Meeting Minutes Template
15. Free Construction Meeting Minutes Template
16. Free Board Meeting Minutes Template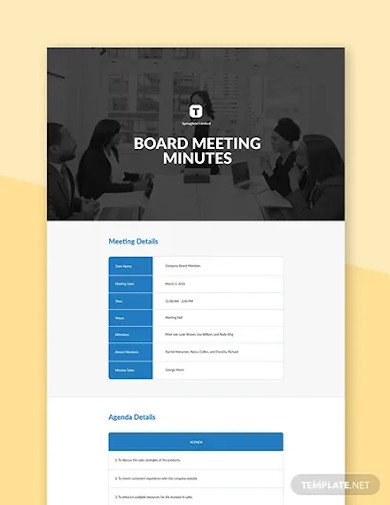 What is a Meeting Minutes in Apple Pages?
A meeting minute is a document that records the decisions and plans discussed in a meeting or conference. A secretary writes these into a paper and that becomes meeting minutes. You can create this no matter if it's a staff meeting, weekly meeting, or project meeting.
What are the legal requirements for a meeting?
Depending on the country where you reside, some of these requirements may not take effect. However, most of these legal requirements are consistent with other countries and are a standard internationally. Listed below are the requirements for Australia's nonprofit organization meetings.
Some companies only designate specific individuals as people with special rights to call a meeting. Maybe in your company, it's only your director or members of the board who are allowed to initiate a meeting. Hence, you need them to call for it first, before you can qualify the meeting as 'legal.'
Another legal requirement that you might have is the notice duration. Some companies and organizations have a rule towards this requirement. It might be a day, a few days, or even a week. However, what's necessary is that you have a written notice before the meeting.
The quorum's minimum number should be present before you can legalize a meeting. However, the number of members considered as a quorum may vary depending on a company's bylaws. Some companies require at least ? of the whole present before they allow a quorum, but for other companies, 50% can be enough. No matter how many it is, it is necessary for you to gather enough members to be considered as a 'quorum' before you can determine that your meeting was legal.
We love to hear this in a meeting. This signifies ending the meeting and eating your lunch or doing something you wanted to do. However, this is also a requirement in other areas. If your bylaws specifically determine only a few people can do this, then if your meeting was a quorum it wouldn't matter as long as you don't have the right person for the job.
In most states in the United States of America, a company's meeting minutes are necessary. It is necessary for a company to keep a record of its meeting minutes. More so, if you're a nonprofit organization as the state may demand the company to make the meeting minutes public. However, private companies' meeting minutes are usually private.
How to Create a Meeting Minutes in Apple Pages
Now that you've learned what you need to ensure to make your meetings legal, we now proceed with how you can create meeting minutes for your company. Although we have a minutes template that you can download. Having know-how in creating one is not a bad thing after all. Listed below are simple steps you can take to ensure that your meeting minutes are right.
Step 1: Details
You should make sure that you have all the necessary details before writing your meeting minutes. If it is a staff meeting, you won't need to write about directors or board members. However, if this is a project meeting, people of higher positions are important. You should also write the date and time of the meeting. If possible, it is precise up to the minutes. You should also make sure that you have the whole attendance of the meeting.
Step 2: Recording
If you have a recording device like a sound recorder or a mobile phone, you should use them to record the whole meeting—from start to finish. In this way, you can be sure that you are missing nothing. Writing meeting minutes can be difficult if you are having a school meeting that spans ten hours, so make sure that you use a recording device.
Step 3: Type of Minutes
Another thing that you should determine is the type of meeting minutes you are writing. There are many formats available, however, there are three main types that people use. These are verbatim, action, and discussion. Verbatim mentions almost everything you've talked about in the meeting. It goes beyond writing the board meeting agenda. You need to write the whole meeting as a transcript as close as possible.
Step 4: Signature
After writing the whole meeting minutes, you need to make sure that you have the approval/signature of the people in attendance. In this way, they ensure that your meeting minutes are precise and right.
FAQs
What should I not write in a meeting minutes?
There are many things that you should not write in meeting minutes. However, the big no-no when it comes to writing meeting minutes is adding your personal opinion. Remember, as the creator of the minutes, your first responsibility is relaying the information, not your opinion.
What details should meeting minutes have?
Meeting minutes should be a concise and summarized version of a transcript. Make sure that it's an easy read for everyone. If possible, make sure also that everyone can get a copy of it whenever they need one.
What is an agenda?
A meeting minutes agenda is the topic that people talk about in a meeting. These agendas usually have propositions and decisions after them. So you should take note of those, as well.
Creating meeting minutes can be both enjoyable and difficult. It all boils down to your idea of how you make one. If you already have a meeting minutes sample, make use of it well. If your Macbook also does not allow you to use Apple Pages you can use Google Docs for it. However, make sure that you write the meeting minutes and don't delay in writing it. Write now.