In the event that one wishes to create a document which discusses terms where members of a particular party will need to agree on, then when would need to know what kind of agreement document should be made to fit the situation. For example, if one wishes to transfer an ownership interest to another party, then a Conveyance Agreement will need to be made.
Partnership Agreement Example
Real Estate Partnership Agreement Example
Limited Partnership Agreement Example
If one were to make an agreement between a franchiser and a franchiseee, then a Franchise Agreement will have to be created. So in the event that a businessman wishes to partner with another, that would mean a partnership agreement will need to be established. This article will teach you how to create a proper partnership agreement.
Simple Limited Partnership Agreement Example
Restaurant Partnership Example Agreement
Checklist Partnership Agreement Example
Web Content Partnership Agreement Example
Custom Software Business Partnership Agreement Template
Partnership Agreement Template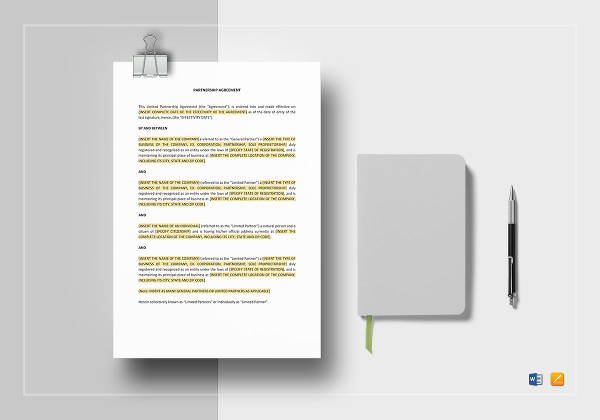 Limited Partnership Agreement
Vendor Partnership Agreement
What Should be In your Partnership Agreement
Much like creating a Confidentiality Agreement or a  Consulting Agreement, a partnership agreement will require certain pieces of infomration that's relevant to the situation that has been established by the party members involved.
To ensure  that your partnership agreement has everything that it needs, here are the things that you should definitely include:
1. The Name of Your Partnership
If you still haven't done this with the other party, then the first thing that will have to be established is the name of the partnership that you will be forming. Many simple partnerships often take the names of their partners, however, you can also choose the option of making your very own business name. In the event that you do decide to create your own business name, then you have to guarantee that the name is available and that no other business is currently using it.
Because if you use a name that has already been taken, then don't be surprised if you run into a couple of legal problems that could very well spell the end of your partnership. Also, try to come up with a name that's catchy or one that's in-line with whatever business your partnership will be establishing in. You may also see agreement examples in word.
Custom Software Business Partnership Agreement
Real Estate Partnership Agreement
General Partnership Agreement
Project Partnership Agreement
2. The Contributions of the Parties Involved
When you're making a Loan Agreement, there's a section that involves what will be done by both parties (basically who's going to be lending the money and who will be paying it back). There's also a very similar section in the partnership agreement where it discusses what will be contributed by the parties involved in the document.
You'll want to make sure that these are all clear right from the start as these are the duties and responsibilities that need to be upheld as not to break the partnership once it's official. To clarify who does what and make sure that the contributions are fair on both sides.
3. The Profits, Draws, and Losses
When it comes to running a business, there's always the matter of how much profit is gained or how much was lost. Since we're talking about a partnership, the legal document will need to discuss how the profits will be split between those involved or how the losses will be allocated. Another question that should be answered is whether every partner will be able to take a regular "draw," a withdrawal from his or her allocated profits, each year,  or whether the partners are able to take all of their profits in one go. Be sure that you clarify on this as a successful partnership will rely on just how much both parties are able to benefit one another, and that usually means how much money can either be gained or lost from the venture.
Highway Partnership Agreement
Community Partnership Agreement
Bilateral Partnership Agreement
Partnership Account Agreement
4. The Authority of the Partners
When you make " Credit Agreements or Promotion Agreements, there's always going to be matters which discuss who has the authority to do what or who will be handling things in what manner. In a partnership agreement, the authority of both partners need to be clearly stated within the document so that those involved will know what it is they can or cannot do, regardless of whether the other party accepts or not. There needs to be a clear definition on this as you want the parties invovled to be aware of their limitations in regards to making business decisions that affects the entire partnership. Because there have been situations where a business goes under, simply because one partner made a decision that the other was not aware of; and the problem is that it's all legal as it was not stated in the document that it cannot be done without the consent of the other partners. This is something that you don't want to happen so remember to be very clear on this in the agreement.
5. Managing
When you create a Maintenance Agreement, you're basically pointing out who will be responsible for providing the services in the manner that both parties can agree on. This is also something that's seen in a partnership agreement where the terms of management need to be decided by those invovled, with the document stating who will be keeping tabs on the business and how that's going to be done. Just remember that it's not exactly a great idea to spell out everything regarding how the partnership is going to be managed (as that can eat way too much time and it's always going to be subject to change), but it's preferable that management duties are assigned to the right people to guarantee that the partnership is properly handled.
6. Bringin in New Partners
There will come a time where a business would want to bring in new partners as there's always the potential for growth and improvement, but that's only if both parties can agree to that. So before you put this in the agreement document, you'll need to discuss with those involved in the partnership as to whether or not it's fine to bring in new partners in the future should the business need it. Take not that bringing in new partners can eventually benefit the business as they may be able to to bring something that the business was sorely lacking, but then they may also potentially make decisions that can make the business sink. So just remember to discuss this with your other partners to make sure that you all agree with the decision regarding whether or not to take in new partners.
Sample Partnership Agreement
New West Partnership Agreement
Mentoring Partnership Agreement
Water Management Partnership Agreement
National Partnership Agreement
Strategic Partnership Agreement
Home Partnership Agreement
How to Deal With the Death or Withrdrawal of a Partner
When you're making a Subscription Agreement, there's always going to be a clause which talks about what would need to be done in the event that the subscriber were to suddenly stop paying for the service. A partnership agreement should also have this in a sense where it needs to discuss what should happen in the event that one partner were to suddenly die during the business venture.
Many partnerships have fallen apart when a situation arises that one partner leaves or even dies. Which is the main reason why just about every partnership agreement contains a buyout agreement that can help deal with these situations; just think of it as a security measure that will be undoubtedly useful when one partner decides to move on or passes away. You may also see business agreement examples.
In the event that you would like to learn more in regards to how a partnership agreement is to be made or if you want to learn how to create other agreements (Payment Agreement, Subordination Agreement  ,etc.), then all you have to do is go through our site. We have all the articles that contain the information which should be able to help you out with whatever it is that you may need. Just be sure that you properly utilize whatever you have been able to gather.