Statements are opinions, comments, or messages that can be conveyed either directly or indirectly by verbal or nonverbal means. In other words, whatever one writes, says, or even does can be regarded as a simple statement. After all, we are all entitled to our own views and opinions.
In a business setting, in order to come up with a feasible solution you need to state the problem. This is different from a beneficiary statement or a mission statement because it focuses on a specific question that needs answers. Let us discuss further what a problem statement is.
Problem Statement Template
Technical Problem Statement Template
Design Problem Statement Template
Simple Problem Statement Template
UX Problem Statement Template
Research Problem Statement Template
Project Problem Statement Template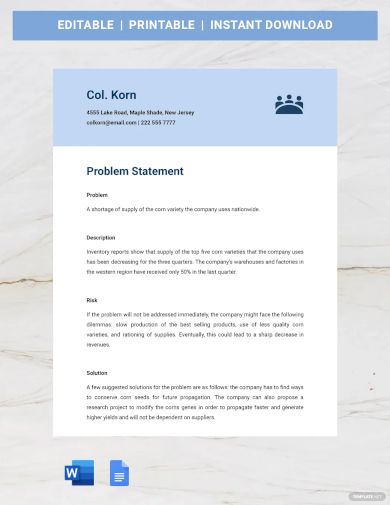 Product Problem Statement Template
Business Problem Statement Template
Customer Problem Statement Template
Six Sigma Problem Statement Template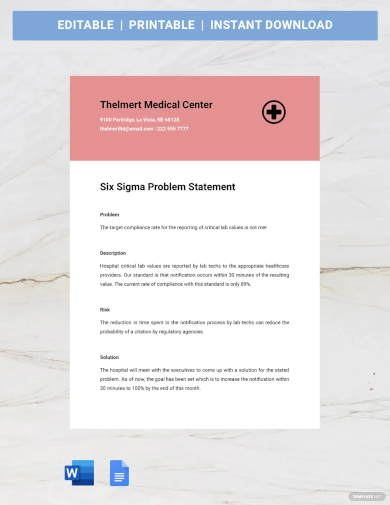 Business Problem
Project Problem Statement in PDF
Marketing Problem
Engineering Problem Example
What Is the Purpose of the Problem Statement?
The purpose of the problem statement is to guide or give a direction. Any statement could provide a sensible grasp of an idea. But the statement of the problem is different. It answers the question: What is the problem that needs analysis to be addressed?
When you have a statement of the problem, it will be easier for you to set your objectives and the necessary steps or actions. It serves as a lighthouse that guides you and leads you in the right direction. You may also see statement analysis examples & samples.
What Is the Problem Statement in a Science Project?
In school or among those who are in the field of science, "statement of the problem" is quite a common term. The reason is because it is an initial step in a scientific study. It serves as a determining tool for a researcher to identify what needs to be worked on and what needs to be solved. You may also like artist statement examples & samples.
In addition to the fact that it serves as a stepping stone, having a problem statement in a scientific research statement draws the attention of the researcher and helps him/her to focus on the main objective statement. It works similar to a project statement because it helps you come up with an efficient result.
Formulating Problem
Medical Statement Sample
Management Problem
How to Write the Problem Statement in a Research Paper
In the field of science, you need to write a research statement first before an actual research can be approved. Once a research is commenced, you need to write a research paper.
The first thing you that need to do on a research paper is to write your problem statement. This is a personal statement which would identify the specific problem that you wish to address. For you to write your problem statement, you have to think of a topic that you think is relevant and requires immediate yet realizable solution.
How to Develop a Convincing Problem Statement
A problem statement is more than a medical statement because you need to work your mind to come up with a very important question or topic. In order to develop a convincing problem you need to think of an issue that is applicable to the current situation. This stirs curiosity and anticipation among your readers.
In addition to that, you need to use the questions what, where, when, who, why, and how. This gives your readers a concrete overview of the whole research program. And lastly, use simple language. Try to match your words to the language of your audience. You may also check out statement of work examples & samples.