After scouring the Internet and scored walk-throughs in and around the city, you will eventually find your dream apartment. But what process comes next? You will then need to sign up an application form; while some properties have online application forms, others will require you to fill out in person. If you plan on having a co-signer or roommates, they will also need to fill out a form. In this article, various rental application form templates and examples are provided for your perusal.
Rental Application Form Templates and Examples
1. Rental Application Form
As a landlord or property owner, it is your responsibility to provide rental applicants a form that they can fill out with their basic information. If you are looking for a template that can take all the necessary information of an applicant, you can download this rental application form template for free. This template has a no-fuss format which is easy to understand and is also easily editable to allow you to include details you think is necessary for you to know.
2. Apartment Rental Application Form
Although every state or city has its own policies regarding renting out an apartment, filling an application form to be considered as a viable candidate is still necessary. Hence, you should be able to provide applicants with an apartment rental application form that can gather all their essential information relevant to the application process. Should you need a form template for this, you can download this editable one for free from this article.
3. Tenant Rental Application Form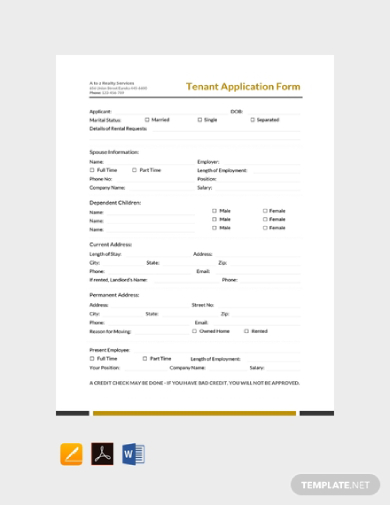 Before a person can officially rent and occupy a property, he or she will need to fill out a form to provide his or her basic information. Doing this will help the landlord do a background check and conduct the overall screening process in the hopes of finding a responsible person to become the tenant. In that sense, you should provide a well-formatted form that will gather all the information that you need. To help you with that, you can download this template.
4. Simple Rental Application Form
A rental application form should be able to gather essential information from the applicant such as his or her complete name, complete address, correct contact number, financial details, preferred housing arrangement, and so on. Ensuring that the form you give out to applicants accounts for all those details will help you achieve an efficient screening process. If you want to get a head start creating the application form, you can download this template for free.
5. Short-Term Residential Rental Application Form
Sometimes, people will only want to rent out a residential property for a short period of time. In that case, it is best to use a different application form that specifies that the application is only good for a short-term rental. Similar to this example, you should have the applicant specify the number of months he or she will be staying on the rental property. Should you need a guide when creating the form, you can download this form example and use it as your reference.
6. Basic Rental Application Form
A rental application form will help you, the landlord or owner of the property, to efficiently screen the applicants to know if he or she has the right credentials to rent the place out. Through the form, you will have access to the information regarding the applicant to help you cross-check. When creating the form, it is important that you consider what essential information you'd like to gather from the applicant to help you have a thorough screening process.
7. Standard Rental Application Form
As an owner or landlord of a rental property, it is important for you to know specific information about your potential tenant. You need to know if he/she has a car, a pet, family members or roommates, etc. This will help you prepare and cater to his or her needs and adjust rental policies and fees accordingly. You can easily gather that information from the applicant through your rental application form; you should create your form similar to this example.
8. Housing Association Rental Application Form
Housing associations give their members a uniformed application form that will suit their guidelines regarding the application process. Similar to this example, the form will ask for certain information from the applicant such as his or occupation, recent landlord, the name of the bank he or she is enrolled in, and so on. Although that may look like those are a lot to ask from just one applicant, that is necessary to ensure that the applicant is capable to rent the property.
9. Residential Rental Application Form
Since the rental application form provides all of the rental applicant's basic information, it will be easier for the landlord or owner to do a thorough background check. As a tenant, you can attach certain documents to the form like a rental reference letter from either your former landlord or employer; this will be used as proof and support to all the information you have provided in the form.
10. Detailed Rental Application Form
It is an owner and/or landlord's responsibility to foster a harmonious and peaceful environment for his or her tenants. It is also his/her responsibility to ensure that the tenant is capable of paying the monthly rental fee. That's why it is very necessary to require applicants to fill out an application form to present all their basic information and credentials as a renter. Should you need a good reference when creating the form, you can download this example for free.
11. Commercial Space Rental Application Form
As much as it is necessary to require applicants for a residential property to fill out an application form, it is also important when it comes to commercial rentals. Since a commercial property is more expensive, it is important for the owner to conduct a comprehensive background check on the applicant. It becomes easier for the owner to cross-check information when it is conveniently reflected on the form; hence, it is necessary to have a comprehensive application form.
12. Application Form to Rent Residential Premises
Specific steps included in the rental application process should be included in a landlord-tenant checklist to help both parties prepare all the required documents. This means that the landlord can prepare the right rental application form, and the applicant can prepare supporting documents. If you are a landlord, you can use this government-sanctioned rental application form to help you create a thorough and comprehensive form for your own rental business.