Reference letters are not only necessary when applying for a job or academic scholarship, but it is also essential when applying for a loan and applying to rent a property or object. The reference letter serves as a certification that you have maintained a good character, qualified financial status, and so on. In this article, various rental reference letter templates and examples are provided for you to use.
Rental Reference Letter Templates and Examples
1. Rental Reference Letter
If you are looking for a template to use when your former tenant requests for a reference letter, then, this is the perfect one for you. This template has a clear format, complete and comprehensive contents, and flexible layout that you can easily edit to incorporate all the necessary details. You can download this template for free from this article.
2. Character Reference Letter for Apartment Rental
Aside from your financial capacity to pay the monthly rent, the landlord of your future apartment will want to know if you have a good reputation with the community or organization you are affiliated with. This also helps them ensure that you have no criminal records that will endanger other tenants. In that case, you will need a character reference letter; you can download this template to have a credible source fill it out with the needed information.
3. Apartment Rental Reference Letter
To help out former tenants get the new place they want to rent out, you should provide a reference letter. The letter should present relevant details about the tenant such as his or her name, start and last date of occupancy in your property along with descriptions or context as to how he or she was as a tenant. If you want to get a head start with that, you can download this apartment rental reference letter template for free.
4. Rental Reference Letter from Friend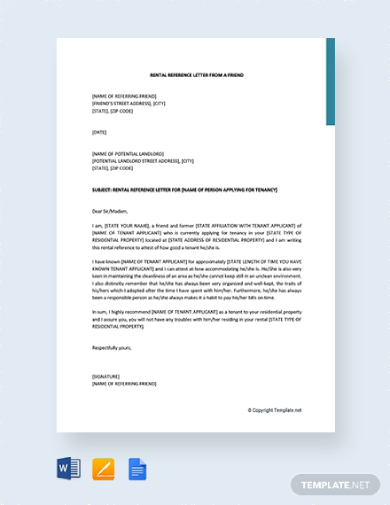 Sometimes, a personal friend or professional acquaintance can be a credible writer for a reference letter. It can be valid given that its contents remain objective and factual. Should you be asked by a friend for this, you can download this reference letter template for free, and edit its contents in Google Docs, MS Word, and/or Apple Pages.
5. Rental Reference Letter from Employer
Your employer can be a great reference person when you want to get your rental application approved. You employer can certify that you have a stable job that can pay for the rental fee required to rent the property. However, you need to formally ask your employer through face-to-face conversation and through a formal reference request letter. If you're the employer, you can use this template to easily provide all the essential details needed to convince the landlord.
6. Landlord Rental Reference Letter
To help your next landlord of your former tenant know that he or she is responsible enough to settle his or her accounts with you, you can use a reference letter. The letter can also confirm that the tenant has, in fact, rented out your property. You can use a form format similar to this example to help you have a uniformed format for all the reference letters you will be requested to make.
7. Rental Reference Letter from Landlord
Although you are qualified enough to provide a reference letter for your former tenant, making sure that all the information you provide in the letter coincides with what he or she has provided can help verify the facts and honesty of the tenant. If you are asked to write a reference letter, you can use this one as a guide by downloading this reference letter example from this article.
8. Rental Reference Letter for Tenant
A tenant reference letter includes information about the tenant such as his or her name and former rental address and is written by a former landlord. The letter should also contain the dates for his or her first and last of occupancy; you can also write the rental fee he or she has paid during the duration of his/her tenancy, and if he or she has unpaid rent and how it was settled. It is important to maintain objectivity and honesty when writing a reference letter.
9. Detailed Rental Reference Letter
In order for a reference letter to be effective, it must contain all the necessary inclusions such as the name of the person to be referred, your relationship with the person, your credibility, personal recommendation along with a brief description about the person, etc. Although it can be written in a brief manner, providing as many details as possible will help the future landlord decide whether the applicant is reliable enough to maintain the property and pay the rent on time.
10. Character Reference Letter for Tenant
How the person is in the organization that he belongs to or the company he or she is employed in will help the landlord determine the integrity of the person when it comes to fulfilling requirements when renting a property. Hence, when asked to write a character reference letter for a tenant, make sure to provide clear contexts as to how the person is as a tenant and payer. To help you out, you can download this reference letter example to use as your guide.
11. Rental History Reference Letter
Sometimes, a landlord will require a reference letter to confirm a tenant's rental history. This means that he or she is interested where the tenant has rented a place before, how much the rental fee was, the tenant's payment history, and so on; this can be used for a variety of reasons be it for a loan application or changing the address currently reflected on an ID, etc. If you are asked for this, simply follow the standard letter format and immediately provide the requested information as seen in this example.