Despite the changes in all parts of the world, providing informative signs will always remain a priority. Ensuring that places, things, buildings, offices, etc. have the appropriate sign surely helps in making people's daily lives easier and more efficient. In addition, it also helps in ensuring everyone's safety since signs will tell you what you should and shouldn't do in certain places and times. If you are looking for the perfect design and layout for the signs you are about to install, you will find quite a few types of sign templates and examples in this article.
1. Emergency Exit Sign
Regardless of the country, there are quite a lot of regulatory agencies and codes that require buildings and establishments to put up emergency lighting and exit sign requirements. And if you are looking for a template you can use for your emergency exit sign, you can download the template above for free. This takes the traditional color red for exit signs in the US; however, if this is not the standard in your country, you can easily change the color of this template.
2. Safety First Sign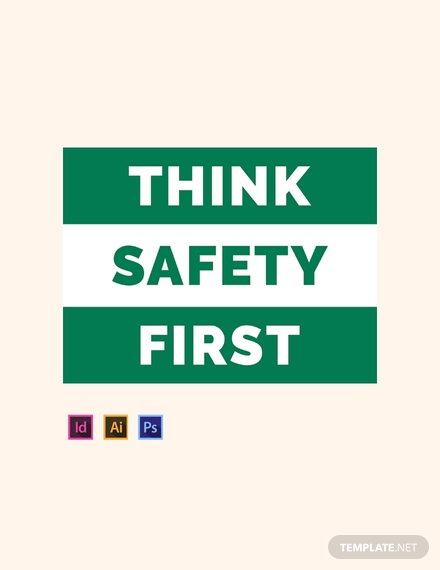 When you visit constructions sites you will see the various signs about safety, this is to ensure that everyone on site is reminded to wear proper safety suits and helmets. Should you follow the American National Standards Institute (ANSI) standard of using the color red for signs, you can change the color of this template in Adobe Illustrator, InDesign, and Photoshop.
3. Restaurant Business Sign
As a competing business, you need to provide clear identification tools and one of that should be a business sign. Your business sign should showcase the name of your business along with your business logo, tagline, and other important details. In this restaurant business sign, you can see how the name is in bold fonts to ensure easy visibility and other texts are still in clear and easily readable font styles and size. You can use this template if you want to get a head start with creating your business sign.
4. Real Estate Open House Sign
Interested real estate buyers wouldn't know if a property is for sale and/or available for an open house if there is no sign on the front that says so. A sign will serve as a simple invitation for the open house which will encourage potential homeowners to check the place out. This template for a real estate open house has the right combination of red and white colors that will surely capture clients' attention.
5. No Admittance Door Sign
Doors are made so that a person can go in or out of a building or property. But if you don't want people to use one particular door, maybe because it's broken, there should be a sign to convey that. This no admittance door sign template will immediately tell people to use the other door, this will lessen the hassle on both the user and management. You can download and edit this template to fit your purpose or goal.
6. School Pedestrian Lane Sign
To avoid accidents in a school zone especially on the pedestrian lane, there should be a sign to tell drivers to slow down. This type of outdoor signage template is specifically intended for the school pedestrian lane. The color, words, and the icon or image used in this template will immediately capture a driver's attention and make the thought easily understandable. Should you prefer to edit and customize this sign you can do so in Adobe Illustrator, InDesign, and Photoshop.
7. Workplace Entry Sign
To ensure there is privacy within the workplace, a sign to tell clients and customers that they're prohibited from entering should be placed. If you are looking for that, you can download this workplace entry sign to convey your policy to clients. Should you want the sign to be more bright, you can easily edit the color of this template.
8. Security Camera Usage Sign
Images of people captured is classified as personal data, and in the UK, there is a need to comply with the requirements of the General Data Protection Regulation (GDPR). There is a need to inform people that images or videos of them will be recorded by the installed CCTV cameras within the establishment's jurisdiction. This sign will surely help you adhere to the provisions of such or similar rules. You can easily download and print this template to put up in your house or business establishment.
9. Holiday Greeting Sign
Convey the Spirit of Christmas with this Christmas greeting sign template. This is the perfect sign to put up in your business establishment to send a sincere greeting to your clients and customers. This template features a simple layout, creative design and illustrations, and an overall lively vibe that your customers will surely appreciate.
10. Wedding Event Sign
Some locations have a couple of halls and rooms that different people can rent out at the same time but for various reasons. To make sure your guests are able to attend your wedding ceremony and/or reception, there should be a sign to indicate you're in this specific hall or room. In that case, you can download this wedding event sign template to put up at your wedding venue. You can personalize this template to suit your theme and preference.
11. Product/Property Sale Sign
If something is for sale it should be immediately evident with how it is presented. This product/property sale sign template will help you clearly inform people that your product or property is for sale. Since this template is editable and customizable, you can change its contents, dimensions, color, etc. to suit the purpose it will be used for.
12. No-Smoking Sign
Should a specific place implement a no-smoking rule, there should be a sign to immediate ward off people who wants to do so. This no-smoking sign template features a high-quality layout, clear design, and original artworks. You can download this template for free and customize it should you want to include a logo or other details that make it more official and legitimate.
13. Warehouse Caution Sign
Places where there is a continuous usage of heavy equipment that makes it accident prone should have proper and clear signs to warn the people. This caution sign template above is specifically designed for warehouses that use lift trucks; however, should you want to use this template because of its good-quality layout, you can easily edit and customize it to fit your purpose and needs.
14. Utah Valley University Digital Sign
This example showcases the simple digital signage of Utah Valley University. As you can see, it settles for a basic and easily readable layout and design. It only uses a border, university logo, and line as the main design elements, and the text element only presents the complete university name.
15. Dogs on Leash Sign
Should you need a sign to prohibit dogs from free-roaming your property, then take inspiration from this sign example. This is an approved sign used in San Francisco, California. As you can see, the icon used is basic and easily understandable, and the appropriate texts relating to the icon is also provided for more emphasis on the rule.
16. Reduce Speed Warning Sign
To avoid road accidents, the government of various countries uses clear and prominent road signs. In this example, the sign warns the driver to reduce his/her the speed, maybe because it is near a junction, corner, etc. This helps in ensuring that collisions and any accidents can be avoided.