If you are hosting an event of any nature, you will no doubt need to design and print professional-looking event invitation cards to formally invite your guests. An event invitation card is a document that contains important details of your upcoming function like date, time, location and name of the event.
The right invitation is sure to create desire and generate interest. Also, it will motivate your guests to RSVP. In this article, we tell you 21+ premium event invitation examples and templates to help you communicate your desire with your invited guests. Also, look at these event invitation examples.
Event Invitation Examples & Templates
1. Event Invitation Card Template
Use this template to create an invitation for any formal event that you organize. Featuring a professional design that your guests are sure to love, this template enables you to create your invites easily even if you have no design skills. It is fully customizable and can be edited with various programs like Adobe and Photoshop.
2. Charity Event Invitation Template
With this charity event invitation template, you can create an invitation card suitable for any event. The template lets you create professional-grade invitation cards that also feature elegant designs.
3. Birthday Event Invitation Template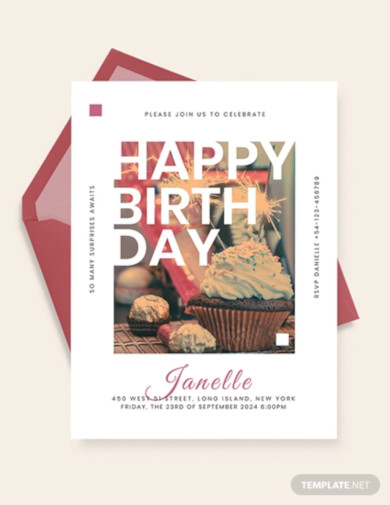 Use this template to create an invitation card to use for inviting people to your upcoming event. Available on instant download, the template uses eye-catching headlines that invitees simply can't ignore. Download today.
4. Opening Event Invitation Template
Do you want to create a captivating and exciting invitation card for your forthcoming event? Just use this opening event invitation template. Pre-created for less hassle, the template lets you easily create your invitation card and is fully customizable. Download it today!
5. Corporate Event Invitation
This template enables you to fully customize your invitation with details that you want to include. You can add sizes or styles, organize layouts, or even remove images. You can use Adobe Illustrator or Photoshop to do editing. The result is that you'll get a professional invitation card that your invited guests will find hard to ignore. Also, see these invitation email examples and samples.
6. Floral Debut Invitation Template
Are you organizing a business event and want a professional invitation card? If that is so, then this floral debut invitation couldn't have come at a better time. This template can be instantly downloaded and customized to suit your own function. The template helps you to communicate specific and very important details about the event. Download it today!
7. Debut Event Invitation Card
This well-designed event invitation card is the first step towards organizing a successful event. This is because without people attending, there will be no event! With this template, you know exactly the information that you need to include and where. Download it today!
8. Free Formal Event Invitation
If you don't have much time left and want to quickly create invitation cards, you might as well consider using this template. It helps you design and create professional-looking invitation cards to send to your guests. To use it, just download the template, add your details and print or send online.
9. Corporate Event Invitation Template
Are you organizing a corporate event? If so, one of the most important elements of planning your function is inviting guests. Corporate guests are usually busy so you must give them a reason to attend your event. Use this professional event invitation template to design and create your invitation cards that communicate all the important details of your event.
10. Free Product Launch Event Invitation
Use this free product launch event invitation template to create your own invitation card. Versatile and easy to use, the template features an attractive design that is sure to wow your guests. Download it today and experience how to save time creating invitation cards.