Signages or signs are schematic figures that are crafted to present specific pieces of information to a particular audience. They have already been surrounding us even before realizing it and aiding us in numerous tasks without even knowing. They take us away from danger, they give us direction, they let us know what is prohibited in such area, and many more.
No matter where you go or where you came from, it is important to keep yourself aware, informed, and directed. Whether you are lost or merely doubtful if either you'll push or pull the door, there's one thing you could always do—look for signs.
Signs Examples & Templates
Though signs have similar functions, they vary in several ways and goals. If you're in need of signs to install or display, this composition will provide you a set of samples and templates that would particularly assess your needs.
1. Double-sided Reserved Sign
Some restaurants offer reservations. Nevertheless, there could be days that their restaurant is visited by several customers; consequently, seats are filled. Thinking about this scenario, you could not simply make more room for unserviceable customers. To inform your newly arrived customers that some tables and seats are already taken, utilize this double-sided reserved signs template that is apparent from two different perspectives.
2. Summer Wedding Bathroom Signs
Some wedding planners or newlyweds are very meticulous in terms of the totality of the event. If you are one of them that is having a summer-themed wedding, this template for the bathroom signs in weddings is a great find for you. Using this, you are able to specify which room is for the ladies and which one is for the gentlemen. Furthermore, you can compliment them with this template as well.
3. Safety Sign
Safety of everybody in certain proximity is one of the obligations of an employer, school head, etc. Thus, to attain such responsibility, reminding employees or students to observe safety at all times via visual representation is commonly practiced. To keep the facilities compliant and your subjects knowledgeable, try putting a safety sign. However, creating one could be a great hassle and frankly, takes time, so utilize this free template to generate one quickly.
4. No Smoking Sign
Prohibition signs are those that particularly notify the audience with forbidden actions or behaviors. Commonly, these signs are symbolized by a red slashed annulus over the black symbol depicting the prohibited action. A popular example of this is the no smoking sign. Needless to say, this specifically tells the audience that fuming with your cigar is not allowed in the area. Place this on your establishment and expect a smoke-free surrounding.
5. Emergency Sign
On the other hand,  an emergency sign shows the nearest location of or directions to emergency-related facilities such as the first aid kits, safety equipment, and emergency exits. To keep your subjects oriented in dangerous events and as a facility compliant, utilize this emergency sign template for good. Kindly attach these to the visible positions, and you can assure that a readable sign is always there to guide everyone.
6. Security Sign
Security signs are commonly used to give additional protection on one's properties. These are utilized to intimidate potential criminals from doing malicious things, even if the signage's content is not really true. Using a security sign, felonious people would definitely be deterred. This template that is exclusively made for that sole purpose enables you to own one for free.
7. Door Sign
Let's admit it, door signs are strangely but really important. Since doors are the entrance and exit of an establishment, we use it every day. With the recurring usage, this registers to one's mind-set with the expectation that a door functions in the same manner; however, not all doors are alike. If you have a door issue with your shop or room, utilize this sign template for free.
8. School Sign
A knowledgeable driver knows how to control the speed of his/her vehicle. Sometimes, especially if a driver is new in a certain place, a driver may not notice. To address this issue, a school sign could be posted to secure the safety of the very young students crossing the road. Take advantage of this free outdoor signage for the school template to let you own one almost instantly.
9. Workplace Sign
In every institution that involves a consumer and provider interaction, there are some areas that are limited only for the employees. However, customers are probably the least knowledgeable about the restrictions of the establishment. This template for a workplace sign could definitely aid you in indicating the places only meant to be entered by authorized personnel.
10. Gate Sign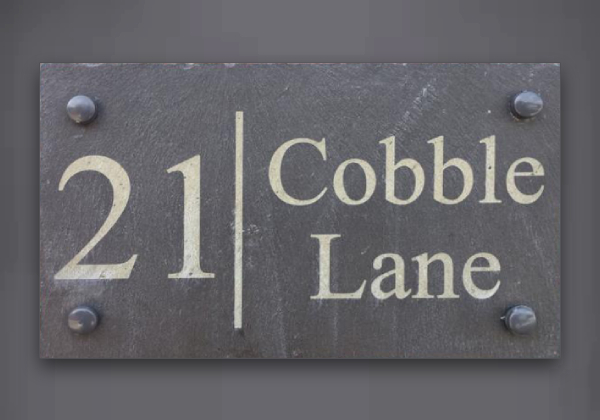 Let's assume that you have ordered your favorite shirt from an online shop and you preferred it to be delivered in your doorstep. This technological development is indeed great and convenient, but there is still no method to help the delivery personnel to specifically locate your home better than putting a gate sign. Place this sign on your gate and help people distinguish your house much easier.
11. Hazards Warning Sign
Areas installed with these signs are seriously hazardous for anybody who comes near it. This warning sign not only informs but also gives a notion for people to stay away from the surrounding and be more careful. Hazardous wastes could be in various forms, and without these signs, it could be dangerous to the public. If your establishment involves hazardous wastes, you can let this sign sample be your guide.
Signs are very beneficial for us to be safe, guided, and warned. These are simple yet effective tools to deliver specific pieces of information and to suggest a particular response or action. Signs could vary and be classified in several ways, but in general, each one of them is important. Just to let you know, these samples and templates are just a few of them. You can always visit our website for more.