If you have received or won a travel voucher then you are lucky because you are about to take on a free or discounted trip! Travel vouchers can also be bought from a travel agency, given by your employer, and it can even be won in a competition. There are a lot of ways in order to acquire a travel voucher. Travel vouchers are beneficial and useful especially in paying for travel costs such as flights, transportation, accommodation, and a whole lot more.
See more examples of travel vouchers in this article as we have provided fifteen travel voucher examples. We have also provided a checklist sample that can save time and can save you from some disasters during any kinds of trips.
Travel Voucher Example
Simple Travel Voucher Design
Printable Travel Voucher Template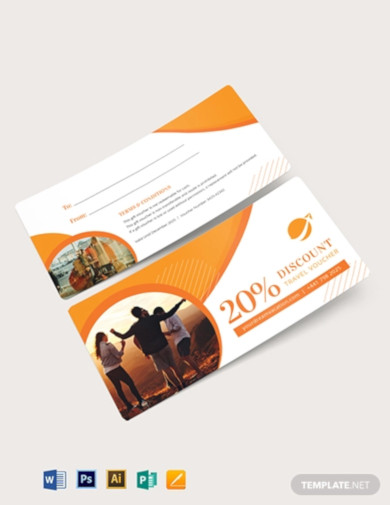 Sample Travel Voucher Example
Editable Travel Voucher Template
Vacation Travel Voucher Template
Business Travel Voucher Template
$1000 Travel Voucher Template
Travel Ticket Voucher Template
Travel Gift Voucher Template
Blank Travel Voucher Example
Cruise Travel Voucher Example
Airline Travel Voucher
Tour Voucher Example
Birthday Travel Voucher
Summer Travel Voucher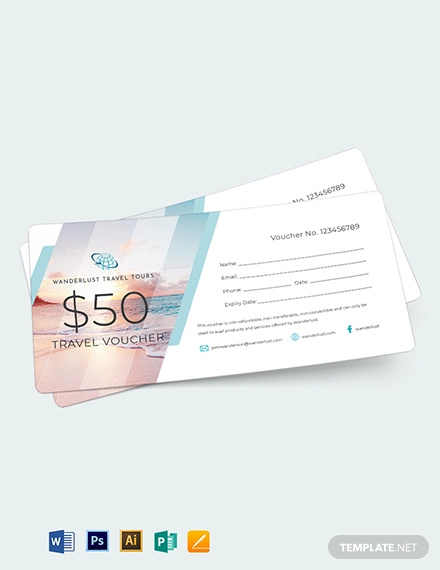 Free Travel Voucher
Free Travel Gift Voucher
Travel Discount Voucher
But first…
Here are a few things you should know before you use your travel voucher:
Ask yourself this one important question first: Can you actually use this travel voucher? The discount might be great but can you actually travel during the given time stated on the voucher?
Consider checking the place where the voucher will bring you to. Look for reviews online or ask around if someone has already tried getting there.
Lastly, ask yourself this important question: Can you afford to go on the trip? It might be free or discounted but then there are other expenses. You have to realistic first before you allow your excitement cloud your judgment.
Gift Travel Voucher Example
Travel Ticket Voucher Example
Paradise Travel Gift Voucher Design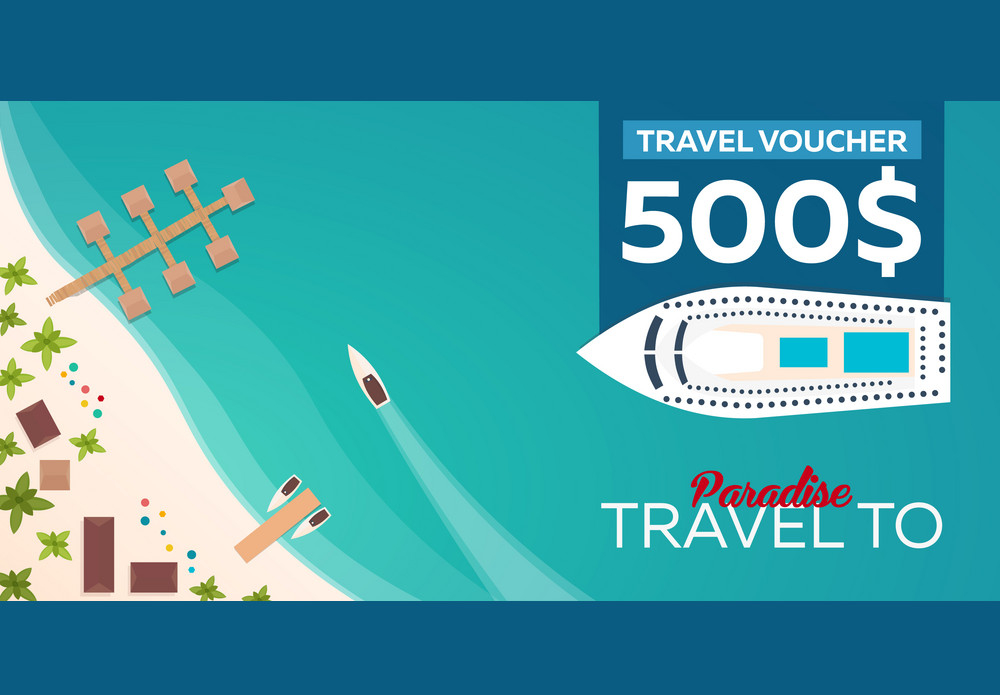 Tropical Travel Voucher Template
Simple Travel Voucher
Colorful Travel Voucher Example
Your Traveling Checklist
So now that you have claimed your travel voucher, what do you think you should do now? Travel, of course!
Whether you are going to travel for the first time or this is just the nth time, you can definitely make use of this traveling checklist to help you from the packing down to the actual traveling. You would not want to forget anything during your actual trip, right?  Make sure to bookmark this article! You may also see Business Voucher Designs
1. Choose Your Kind of Bag or Luggage
Choose the luggage that is appropriate for the kind of travel that you are going to have. If you are planning to just have a local trip, you can just bring a big backpack but if you are going overseas, maybe you could make use of a luggage. The size of your luggage would also depend on the duration of your travel. If you have a trip that would last for almost a month, you can make use of a bigger luggage or a combination of a backpack and a luggage unless if you would just decide to have your clothes laundered on a daily basis if you would much prefer to bring a smaller bag or luggage.
You should also take into consideration the quality of the bag and the luggage that you are going to choose. Aside from ensuring that every single one of your belonging would fit in, also ensure that it is made out of excellent quality and that it would not break down during your trip. You may also see Gift Coupon Examples.
2. What to Bring and How to Organize It
Now, this is the most down and unexciting part of your trip preparation: the actual packing of your belongings into your luggage and bags.
Before you put it in whatever you want into your luggage and bags, you have to identify first the activities that you are going to have and the place where you are going to travel to.
If you have received a travel voucher for a beach trip, you should not be bringing your winter clothes. If you have received a travel voucher to go on a winter, you should not also bring your swimwear unless you want to swim in freezing waters. You may also see Receipt Voucher Examples.
Another thing you should keep in mind when it comes organizing your belongings is to make sure that you have included and bought every single essential you might be using during the trip. For example, instead of bringing one large bottle of lotion, you can just make use of a smaller bottle and transfer some contents of the bigger one.
When organizing, you can make use of the organizers that are built-in into your luggage and bags or you could also buy organizer that will keep your luggage and bags organized during the trip.
Additional tip: place smaller items inside bigger ones. For example, place all your charging wires inside your shoes or your smaller pieces of clothing into your shoes. Shoes tend to eat up a lot of space in luggage and bags, you have to make use of the empty space inside your shoes.
3. Packing Your Essentials
Let's go back discussing the essential items you need to put it in your luggage or bag.
Essentials, such as your toiletry, is something you cannot live and survive without when traveling. Sure, you can always buy those in the place where you are going to go but what if you found yourself in a place where there are no nearby stores? How are you going to survive without them?
Here are the common travel essentials you can choose from (depending on your need and maintenance) that you should never ever dare forget when packing for your travel;
For your dental health: Toothbrush, toothpaste, floss, mouthwash
For your hair: Hairbrush or Hair comb, hair ties, bobby pins, Shampoo and conditioner, Shaving kit and extra razors
For your hygiene: Deodorant, Feminine hygiene products, Facial tissues and/or toilet paper
For your skin care: Sunscreen and face lotion with SPF, Make up packed, Facial wash, makeup remover wipes and q-tips, moisturizer/lotion, Lip balm with SPF, Sunburn relief
Insect repellent/mosquito net/sting reliever, Motion sickness pills or bands, Hydrocortisone cream/antibacterial ointment
Tools: Scissors, nail clippers, and tweezers
Health (Medicines): your medications, personal prescriptions, Pain and fever relievers, Cold medicines and throat lozenges, Diarrhea/laxative medicines, Allergy medicines, Multivitamins
In case of emergency: First aid kit
Vector Travel Voucher Design Example
Company Travel Voucher Example
Summer Travel Voucher Example
Modern Tour Travel Voucher Example
Travel Voucher Sample
Retro Travel Voucher Example
Travel Agency Gift Voucher
Travel Voucher Card
Incredible Travel Gift Voucher
4. Packing Your Carry-On Bag
Now that you have already prepared your bag and/or luggage, you are now ready to prepare your personal item carry-on bag. Your personal item carry-on bag may contain anything you want during the flight or anything you need to immediately use during traveling.
It is encouraging to have an extra outfit and a few essential toiletries in your carry-on bag just in case something unfortunate would happen such as a lost luggage. But do not pack too much inside your carry-on because it might weigh you down both physically and financially. Keep in mind that you are going to carry this bag all throughout, so make no regrets and just put in what you need.
Here is a list of some of the ideal things to consider (depending on what you actually need) when packing for your carry-on bag:
Gadget/ Technology: Chargers for every single gadget you own, Mobile device and charger, Laptop, iPad, or E-reader, Headphones, Camera and Go Pro/video camera, memory card, Electrical converters and adapters
Comfort/ Relaxation, Entertainment, and Information Guides: Travel pillow, blanket, eye mask, and ear plugs, Travel journal and pen, Books and magazines, lightweight games (like cards), Chapstick and lotion, Water bottle, Guidebooks, travel guides, maps, language guides.
Important travel documents (to be discussed further below)
5. Your Important Travel Documents
Even if you have already brought your bags and luggage in the airport but you have left your ticket, passport, visa, and all the documents you need in order to travel, you will have no other choice but to go back home and get all of those because you can never travel without those. You may also see Discount Coupon Examples.
Ensure that you have placed all your necessary travel documents in one place so you wouldn't have any kind of hassle during boarding. Make sure to also prepare your credit card and cash along with those important documents.
If you still have a difficulty in reminding yourself of all the things that you need to secure in order to travel, here is a list of all the things you need to bring, document-wise:
Passport
Visa
Personal Identification (Id) card
Cash and credit cards
Health insurance cards/ documents
Travel insurance information
Printed reservations and itineraries
Hotel and tour contact information
Transportation tickets
Emergency contacts and important addresses list
Optional: If you are a frequent flyer, you may bring your loyalty program card numbers unless you want to lose some points
The day or the night before your trip, you must double check every single thing that is mentioned above. However, months before your trip, you must check the expiry date of your Ids, passport, and visa.
Additional Checklist
6. Preparing your house for your departure
Regardless of the length of your trip, you must always ensure that your house, apartment, or condominium unit is safe from burglary or any kind of unfortunate event such as fire.
Here is a quality checklist you should consider before you get too excited about your trip:
Have pets? Arrange for their care. You could ask a family member or a neighbor to take care of them during your trip.
Pay your bills beforehand.
Empty refrigerator and cupboards of food that will expire during your trip.
Unplug the main switch but also make sure to unplug appliances such as your heater or air conditioner, water heater, washing machine, dryer, kitchen appliances, refrigerator, among others.
Turn off any water taps.
Secure all doors and windows by locking all of them.
Store your valuables in a safe.
Ensuring that your living place is safe from any unfortunate event can save from unnecessary and mindless worrying that can eventually ruin your trip.
Traveling can be a stressful activity only if you would allow it to be so. We hope you have made use of the travel voucher we have provided for you in this article and that the checklist is of great help. Have a safe trip and have fun!