Voucher is a paper that proves that a product or service has been paid for, and when a company decides to invest in it, at the same time allowing it to be gifted to its customers or employees; it can bring a lot of benefit to the company. For one, the vouches which always act as a display of trust and believe in a particular person or organization, can do wonders and increase your company's brand awareness.
As a travel agency or company, you can use vouchers to showcase and promote the different range of tours or activities that you can offer to your targeted audience or consumers. Try out vouchers in your company as a promotional tool and you will see wonders and improvement of your company travel business. Also, check out the voucher designs and example to learn more.
Travel Voucher Examples & Templates
Travel Voucher Template
Relax and enjoy your holiday, don't worry anymore about the expenses, because the travel voucher template is here to aid you. This template that is easy to customize and ready to print can be downloaded from the internet in any file format anytime anywhere. You can also change colors at the same time use the right photo that fits the travel voucher.
Don't be left behind, you can at the same time take a look at the best travel ticket examples and templates.
Simple Travel Voucher Design
Eye-catching title with suggestive contents designed front and back, simple travel voucher helps you promote your business and get more returns and profits. This template with fully customized layouts and graphics file orientation styles is easy to use and you can never go wrong with it.
The editable template allows you to include your company's slogan, name, and even the address. Download it now to have a feel.
Printable Travel Voucher Template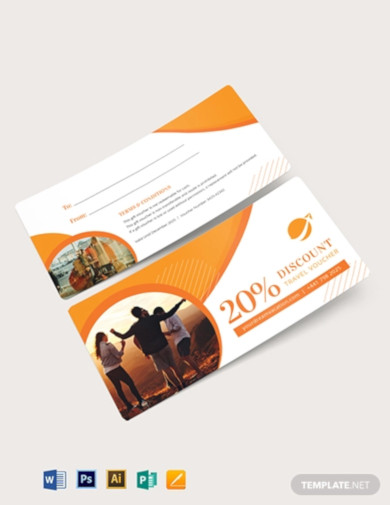 As a company, this template is important to your business because you can download it online, easily edit it and include all the information you need to have on the voucher before finally printing it. This printable travel voucher is quick and easy to customize which will enable you to include color and graphics that would go well with your potential clients or targeted audience.
Sample Travel Voucher Template
If you are busy, have limited time and not sure how you will design the sample travel voucher, then don't worry because you are in the right place. This template is professionally designed and ready to use, don't waste any more time and download it now.
The sample travel voucher is fully customized, easy to use making your job simple at the same time enabling you to promote your travel business to your clients or targeted group. As a company, you can edit this template and include color and theme depending on the company's preference. Don't ask too many questions, go ahead and open the template, you will not be disappointed.
Vacation Travel Voucher Template
We want to help you save time, please download this template because all your tiresome undertaking have been converted to save your precious time and engage in more other activities for your company. The vocational travel voucher template is fully customized and easily editable.
Editable Travel Voucher Template
Travel Ticket Voucher Template
Travel Gift Voucher Template
Your business travel company can invest in this either for both their employees and clients with a discount amount stated in the voucher which will attract more potential travelers to your company.
Business Travel Voucher Template
$1000 Travel Voucher Template
Free Travel Discount Voucher
Download this template now for free in all formats and sizes and have experience with a free travel discount voucher. This voucher's original and suggestive wordings are written by professional writers at the same time can be easily editable which allows your company to change colors since it's quick and easy to customize. It's good to note that the template is print ready.
Free Travel Gift Voucher Template
This editable and printable template is amazingly designed for your travel business company's use and you can never go wrong with it. You can instantly download this free travel gift voucher for free in all file format and sizes without requiring a specific special program. The template is easy to customize and can allow it to include text and images that would go well in promoting your travel business as a company.