It is quite a common activity for students to write something intended for publication. That task can mean writing an article, an entry for a competition, and a review, and all possible write-ups that can be published in an English magazine. It is a good activity to harness the students' writing skills, creativity, attention to details, and many other skills related to writing that can be beneficial to them with any career they decide to pursue.
You may think that writing these kinds of write-ups is simply just a waste of time, but contrary to that belief, this exercise helps your creative juice flowing. Aside from that, it can help improve your techniques and styles when it comes to this activity, it can also help you develop a new approach that will improve your outputs, and overall, it improves your writing skills making you a better writer in the end.
What Is an Article?
How can you start writing an article about anything when you do not have enough information about it? But fret not, this guide is here to help you understand what an article is and basically what it does.
An article is a piece of writing usually intended for publication in a newspaper, magazine, or journal. It is usually written intended for a wide audience, therefore it is essential to be able to attract and retain the readers' attention. However, styles and types for articles have different variations such as straight news, amusing feature stories, opinionated news, and so on. Regardless of the styles and types, there should always be an element of truthfulness to it; it must also contain relevant facts and information to the topic at hand.
In addition, it can either be formal writing and informal writing depending on the audience. Since the article could possibly be published in a publication, it must be informative writing and must be written in an interesting or entertaining manner in order to captivate the readers' attention and retain their interest. If you look at it in another perspective, an article is in a less formal style than that of a report since their are no needs for graphs, does not use bullet points and sections.
An article is usually written to spread information, but more than that, it also describes an event, person, experience, etc. It can also be written with the intention of sharing a balanced opinion about a certain topic. Articles are useful sources of information as well as entertainment. In a journalistic point of view, there are quite a few types of articles namely news articles, feature articles, sports articles, editorial articles, and so on. Although these articles use different approaches and have varying standards, the one thing in common about them is that they are based on facts.
Therefore, articles are factual pieces of writing that can inform, entertain, describe, persuade, etc., the readers. As mentioned, the different types of articles may enforce different standards, thus, it can either be a short or lengthy article. In addition to that, articles are the different writings you usually read in a publication.
Article Review Template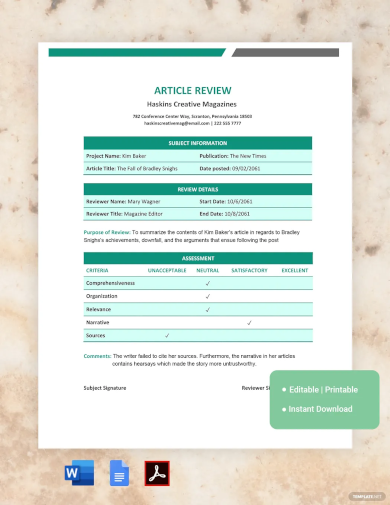 Article Summary Template
Magazine Article Writing Exercises Example
Article Writing Worksheet Example
Feature Article Writing Worksheet Example
Editorial Article Example
Newspaper Article Format Example
Essential Information About Writing Articles
Before you proceed in writing articles, you need to understand what makes it different from other forms of writing first. If you are not able to determine and understand what makes an article an article, you may end writing an essay or another form of writing instead. To help you with that, listed below are essential information about writing articles:
1. The reader is identified
An article is basically a direct conversation with your reader. If a portion in an exam is for you to write an article, the reader may be identified or specified as part of the instructions. That way you can write your article as if you are directly discussing your topic with them. In this sense, the tone, sentences, and words you use in your article must be conversational and easy to understand for your readers. More importantly, you need to remember that the main goal is to cater to your readers; you need to be able to spark their interest and sustain in all throughout the article.
2. It needs to be attention-getting
The main thing that sparks you readers' interest is your title. Since the title is the first few descriptive writing words your readers will be able to read before the content of the article, it must be attention-getting, meaning, it must be catchy but still has substance. The title of your article must represent the entirety of your article, therefore, it must be accurate but at the same time interesting. After establishing a good title for your article, the content should definitely match what is in the title; it must be accurate and at the same time factual.
3. It has to be interesting
Similarly to what has been discussed above, an article needs to be interesting. Aside from being informative and factual, another goal should be to be able to maintain the readers' interest in your content. The article must be engaging from start to finish. If you are writing an article for an exam, you must remember that your teacher has to read quite a few articles of the same main topic. You have to think of a way to make your article interesting and memorable, maybe try a new approach, use more engaging sentences; you have to find a way to make you reader want to read your article up to the last word. For example, you can add humor (if appropriate), real-life or made-up examples, or make up quotes.
4. It should be easy to read
One common mistake when writing articles is being overwhelmed by the topic and writing an entire page of monotonous rambles. Although in some cases it is necessary, like in a news or editorial article. However, there are ways when you can make it a breeze to read for your readers; for example, you can use subheadings to break up the text and make clear paragraphs. Make sure that your ideas are organized in a way that your readers can easily comprehend, you can write in a semi-informal, conversational style; however, you may want to abide to the instructions that you will be given. Remember that in an article, there is no need to reiterate the issue or topic, you really only have to explore and expand the topic to encourage your reader to read on.
5. There should be a good ending
The difference with an essay and an article is that in an essay you need to sum up the point you have made in the entire write-up in your conclusion while in an article, there is no need for that; the best way to end your article is to give the reader something to ponder even after reading the entirety of the article. Most of the time, the best endings link back to the starting point in some way. You can ask a question or some powerful or impactful sentence that will make your readers think about what they have read.
Persuasive Article Example
Article for School Magazine Example
College Newspaper/Online Article Example
Sports and Academic Performance Article Example
Current Events Article Worksheet Example
Tips in Writing Good Articles
By now, you basically have an idea how to write an article. However, there is quite a distinction between a mediocre and good article. To help you produce a good and effective article, listed below are some useful tips in writing good articles:
Your opening or lead should be easy to read. Meaning it should be simple and short, but at the same time, it should also be able to provide a good overview of the article.
Keep your paragraphs short and your text visually appealing.
Provide context on the 5 Ws: Who, What, Where, When, and Why. Occasionally, there might be room for the How provide insightful context.
Give meaningful substance.
Show then tell. State or present your main goal, then explain and expand it.
Learn to quote properly.
Research, research, research! If there is an opportunity or the topic is already given, always do advance research.
It's acceptable to use semi-formal language unlike in an essay.
Always be accurate and factual.
Proofread and edit. Always.
Conclusion
Article writing is an exercise commonly practiced by students; it may not be as easy as it sounds, the skills developed with this exercise is as useful as any other skills. It has the ability to help students develop and improve their communication skills as well as harness their creativity. It may even be the starting point of a student in deciding to pursue journalism or any other course that offers the opportunity to write about significant matters. Although it is quite similar to essay writing, it is still different in a way topics are discussed and presented. We hope that you have learned something about article writing especially when this is a reoccurring exercise in your classes. The examples given above are for your own use. May it give you more knowledge about the fact and inspiration.