Essay writing are compositions which basically includes a general idea or an in depth discussion of a particular subjects or topics. They are commonly written as non-fictional pieces which carry the writer's point of view on a certain topic of his/her choice or interest.
In schools, teachers often assign students how to write an essay composition about different topics, usually in order to assess their writing skills. There are different essay types, which can be written using the standard structure (introduction, body, and conclusion), and through different writing styles.
Personal Narrative Essay Template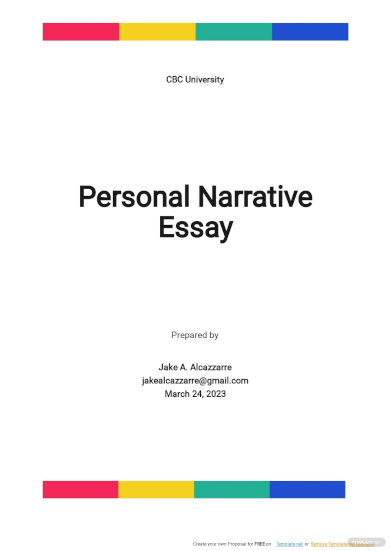 Personal Interview Essay Template
Personal Reflective Essay Template
Scholarship Personal Sample
Personal Narrative
Nursing Essay Example
Personal Descriptive
What Is a Personal Essay?
A personal essay, in the broadest sense, is a written composition which contains information and personal opinions about a specific individual (usually famous and influential individuals).
It is one of the most common essays given as an assignment to students of different levels. In some cases, a personal essay (at times known as a personal statement) may include the writer's personal information, as a requirement for an application. They may be used as basis whether to grant an individual's application or not.
Importance of a Personal Essay
Essays, in general, covers different topics. A personal essay may discuss about prominent people or the writer himself/herself. Like other essays, a personal essay is basically written to inform the readers. You may also see tips for writing an effective essay.
Writing a conclusion for essay helps a writer practice the expression of personal opinion. It also helps in improving the writer's skill in communicating with the readers. Because a personal essay is a mixture of facts and opinions on a particular matter, the readers may be able to learn about such topic while at the same time learning about the writer's opinion.
In an application writing, a personal essay can help an individual inform the admission committee about his/her qualifications for a certain job or school admission.
Personal Reflective Example
Short Personal Essay
Personal Experience
Statement Essay Sample
Tips and Guidelines in Writing a Personal Essay
A personal essay can be written for different purposes. An effectively written personal essay has the ability to inform the readers, while at the same time, inspiring them. In writing a personal essay (or essay examples in doc), a writer must keep the following things in mind.
1. Pick a topic.
Choose a topic that is both timely and significant in your area. Your life story can also be considered as a great topic in writing your personal essay. You may also see personal essay examples & samples.
2. Determine the focus.
You cannot cover everything, so find an angle which you can focus on.
3. Know the purpose.
See if you can satisfy your purpose in writing your composition.
4. Create an outline.
Essay Outlines provide a better division and organization of ideas. This gives the writer a direction on what to focus on.
5. Write the draft.
With a draft, you will be able to write without hesitations or restrictions.
6. Provide the facts.
Research on the topic you want to write about and provide the facts. You may also like samples of formal essays.
7. Share your opinions.
Share what you think about the topic.
8. Be consistent.
Remain focused on your topic throughout your whole composition.
9. Write simply and briefly.
Using simple language will enable you to explain your topic clearly, at the same time helping you to effectively shorten your sentences and paragraph. You may also check out analytical essay examples & samples.
10. Edit your essay.
Improve your short essay by rechecking and reviewing for errors.