When it comes to academic writing, mastering the proper formatting styles is essential. Among the various formats, APA (American Psychological Association) stands out as a widely used and respected guideline for research papers, narrative reports, and other scholarly works. In this article, we will explore the fundamentals of APA paragraph format, providing examples and step-by-step instructions to help you apply this style effectively. Whether you're a student, researcher, or professional writer, understanding APA format will elevate the quality and credibility of your work.
1. APA Style Paragraph
isu.edu
2. APA Paragraph Example
antioch.edu
3. Sample APA Paragraph
msubillings.edu
4. Simple APA Paragraph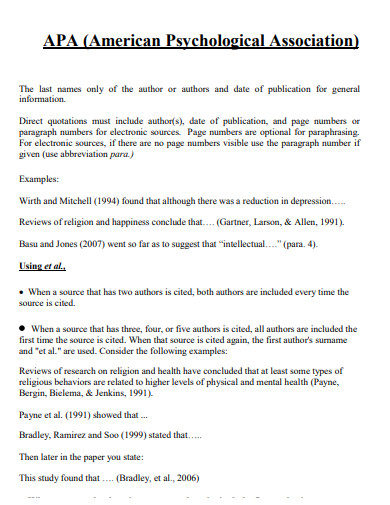 avc.edu
5. Basic APA Paragraph
medicine.wright.edu
6. APA Cited Paragraph
oldi.lipi.go.id
7. APA Paragraph Format
mtroyal.ca
8. APA Publication Manual Paragraph
bibliotecaunisa.com
9. APA Paragraph 7th Edition
rwc.byu.edu
10. APA Paragraph Template
psy-journal.hse.ru
11. General APA Paragraph
stmarys-ca.edu
12. APA Paragraph Citing References
cogitatiopress.com
13. APA Paragraph Guidelines
ich.vscht.cz
14. Standard APA Paragraph
library.westernsydney.edu.au
15. Formal APA Paragraph
nursing.ufl.edu
16. Printable APA Paragraph
canadacollege.edu
17. APA Paragraph Style Research Paper
hamilton.edu
18. Editable APA Paragraph
csun.edu
19. APA Paragraph Outline
office.pittstate.edu
20. APA Paragraph Layout
academics.hamilton.edu
What is an APA Paragraph Format?
APA paragraph format refers to the specific guidelines outlined by the American Psychological Association for structuring and presenting written content in research papers, narrative reports, and other academic documents. It focuses on maintaining consistency, enhancing readability, and ensuring the effective communication of ideas. Following the APA paragraph format involves using standardized margins, indents, font sizes, headings, and citations, among other key elements. By adhering to these guidelines, writers can provide a clear and organized structure to their work, making it easier for readers to navigate and comprehend the content.
How to Format an APA Paragraph
Properly formatting your paragraphs in APA style is crucial for conveying your ideas effectively. By following these step-by-step instructions, you can ensure that your writing adheres to APA guidelines and maintains a professional appearance.
Step 1: Indentation
Begin by setting a 0.5-inch indentation for the first line of each paragraph. This can be achieved by pressing the "Tab" key on your keyboard or adjusting the paragraph settings in your word processing software.
Step 2: Alignment
Align your paragraphs to the left, creating a flush left margin. Avoid justifying or aligning your text to both the left and right margins.
Step 3: Line Spacing
Use double-spacing throughout the entire document, including the paragraphs. This ensures readability and allows for easier review and comments.
Step 4: Font and Size
Choose a clear and legible font, such as Times New Roman or Arial, and set the font size to 12 points. Maintain consistency in font style and size throughout the entire document.
Step 5: Paragraph Length
Keep your paragraphs concise and focused. Aim for four to six sentences per paragraph to maintain clarity and readability.
Step 6: First Line Indentation
Indent the first line of each paragraph by 0.5 inches, known as a hanging indent. This creates a visual separation between paragraphs and helps readers identify new sections.
Step 7: Heading Levels:
Use headings and subheadings to organize your content. APA format provides specific guidelines for different heading levels, ranging from Level 1 (main headings) to Level 5 (subheadings within Level 4 headings).
Step 8: In-text Citations
When referencing ideas or information from external sources within your paragraphs, include in-text citations. These typically consist of the author's last name and the publication year, e.g., (Smith, 2020). Ensure that the in-text citations are properly formatted and correspond to the full reference in the reference list.
Step 9: Reference List
Include a reference list at the end of your document, listing all the sources cited in your paragraphs. The reference list follows a specific format, including the author's name, publication year, title, and other relevant details based on the type of source (e.g., book, journal article, website).
Step 10: Proofreading and Formatting Check
Before finalizing your document, thoroughly proofread your paragraphs to ensure correct grammar, spelling, and punctuation. Additionally, check your formatting to ensure consistent indentation, line spacing, and font style throughout the entire document.
FAQs
How does APA paragraph format differ from MLA or Chicago style?
APA, MLA (Modern Language Association), and Chicago style are all popular formatting styles used in academic writing. While they share similarities, each has distinct features. APA is commonly used in the social sciences and emphasizes clarity and brevity. MLA is prevalent in humanities disciplines and focuses on critical analysis and citations. Chicago style is widely used in historical research and provides comprehensive guidelines for citations and referencing.
Can I use a simple sentence structure in APA paragraphs?
Yes, APA format accommodates various sentence structures, including simple sentences. However, it is important to ensure that your writing remains clear, concise, and coherent, regardless of the sentence type you employ.
How do I cite a letter or a book within an APA paragraph?
When citing a letter or a book within an APA paragraph, you should follow the specific guidelines for in-text citations and reference lists. For a letter, include the author's name, the year of publication, and the page number (if available). For a book, include the author's name, the publication year, the title, and the page number (if applicable).
Mastering APA paragraph format is an invaluable skill in the realm of academic writing. By meticulously following the guidelines, you can create well-structured paragraphs that enhance the overall coherence and readability of your work. Whether you're working on a research paper, narrative report, or any other scholarly endeavor, incorporating APA format will elevate the quality of your writing and strengthen your engagement with the academic community. So, dive into the world of APA formatting and unlock new opportunities for effective communication in your academic journey.