Article reviews are an essential part of academic article writing, providing an opportunity to evaluate and analyze published research. A well-written review can help readers understand the simple subject matter and determine the value of the article. In this article, we'll cover what is an article review, provide step-by-step guidance on how to write one, and answer some common questions.
1. Journal Article Review Form
biausa.org
2. Article Review & Critique
ufv.ca
3. Formal Article Review
lo.unisa.edu.au
4. Article Review Guideline
ethernet.edu.et
5. Book and Article Reviews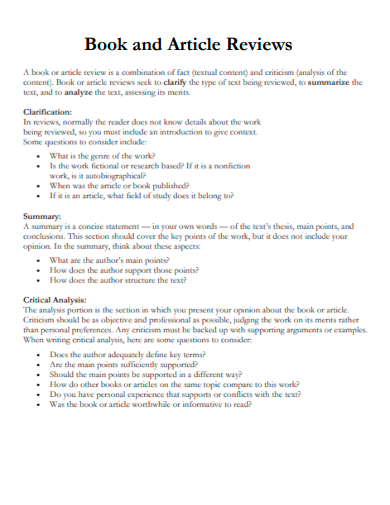 wm.edu
6. Format for Review Article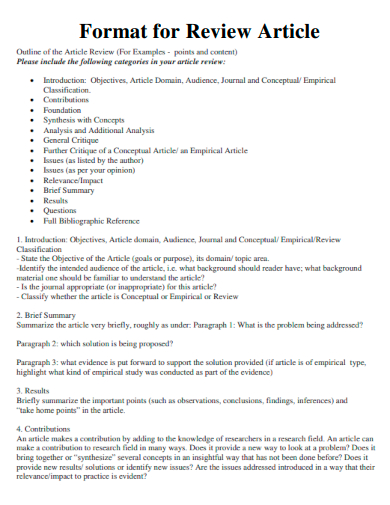 ijirmf.com
7. Scientific Article Review
twp.duke.edu
8. Critical Reviews of Journal Articles
efos.unios.hr
9. Research Experience Article Review
sjsu.edu
10. Review for Article Psychological Bulletin
psychology.yale.edu
11. Article Format Guide Review
nature.com
12. Value Of Review Article
annualreviews.org
13. Articles for Peer-Review Publications
academyhealth.org
14. Law Review Article Selection Process
law.ufl.edu
15. Creative Article Review
med.stanford.edu
16. Club Article Review
aacpdm.org
17. Review of Research Articles
ucalgary.ca
What is an Article Review
An article review is a critical assessment of a scholarly article or research paper. It involves analyzing the content, methodology, and findings of the article and providing an evaluation of its strengths and weaknesses. The review typically includes a summary of the article's main points, an evaluation of its contribution to the subject, and suggestions for improvement.
How to Write an Article Review
Writing an article review can be a challenging task, but it's an essential skill for students and researchers alike. Here's a step-by-step guide to help you write an effective article review:
Choose the article to review
Select an article that is relevant to your subject and interests you. Make sure the article is recent, reputable, and published in a peer-reviewed journal.
Read the article carefully
Read the article thoroughly and take notes as you go. Pay attention to the author's thesis statement, research question, methodology, and findings.
Identify the main points and key arguments
Determine the main points and arguments of the article. Look for evidence that supports the author's thesis statement.
Evaluate the article's methodology and research design
Evaluate the methodology and research design used in the article. Determine if the research methods were appropriate and effective in answering the research question.
Assess the article's strengths and weaknesses
Identify the strengths and weaknesses of the article. Evaluate the quality of the evidence presented and the logic of the arguments made.
Write a summary of the article
Summarize the article in your own words. Include the main points, key arguments, and findings of the article.
Write the main body of the review
In the main body of the review, analyze and evaluate the article. Discuss the strengths and weaknesses of the article and provide evidence to support your claims.
Conclude with a final evaluation and recommendations for improvement
Conclude your review with a final evaluation conclusion of the article. Highlight its strengths and weaknesses and provide recommendations for improvement.
Proofread and edit the review
After completing your review, proofread and edit it carefully. Check for spelling, grammar, and punctuation errors. Make sure your review is clear, concise, and well-organized.
FAQs
What is the difference between an article review and a literature review?
A literature review is a comprehensive analysis of published research on a particular subject, while an article review focuses specifically on one article.
Can I use first-person sentences in an article review?
It depends on the guidelines given by your instructor or the publication you are submitting the review to. Generally, using the third person is more appropriate for academic writing sentences.
Should I include the abstract of the article in my review?
Yes, including a brief summary of the article's abstract is usually a good idea.
How long should an article review be?
The length of an article review varies depending on the subject and the publication requirements. Generally, a review should be between 500 and 1000 words.
Writing an effective article review requires careful analysis, evaluation, and critique of the article. By following our step-by-step guide, you can develop the skills to write a comprehensive and insightful review that provides valuable information to readers. Whether you're reviewing an academic article, book or manuscript, or any other subject, the tips and techniques outlined here will help you write an effective article review.