They say taking risks has been a part of people's routine since the beginning. That it has been ingrained in all of us, and no matter how hard we try to control it, there are some instances where we could not. Just like when we are in danger, our instinct kicks in, and there are always some risks to looking for ways to get out. Even in simple places like a school or laboratory, there are always risks that are simply waiting to happen. Now you may want to ask yourself, how can I avoid these types of risks? To know more, check out 10+ risk assessment examples. 
10+ Risk Assessment Examples
1. IT Risk Assessment Template
2. Workplace Risk Assessment Form Template
3. Financial Risk Assessment Template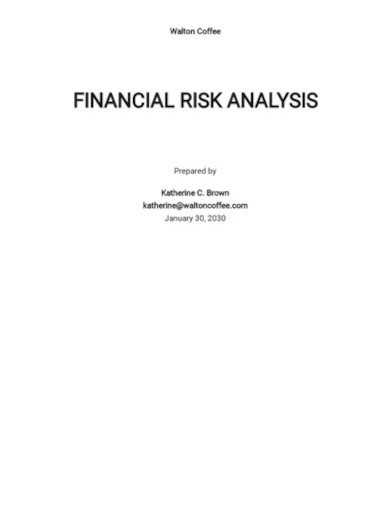 4. Disaster Risk Assessment Report
5. Laboratory Risk Assessment Template
6. Building Maintenance Risk Assessment
7. Office Work Risk Assessment
8. Software Operational Risk Assessment
9. Security Risk Assessment for Public Transit
10. Mental Health Transport Risk Assessment
11. Risk Assessments for Volunteer Template
Definition of Risk Assessment
To begin, we define the terms risk assessment. What is a risk assessment? This is a term that is often used to define the general process of identifying risks. From the name itself risk assessment, we come to the definition of a test that gathers information about its subject, which would be the risk. To understand as well as analyze if these hazards and risk factors may have the potential to hurt you or someone else. To be able to identify them can help you find a solution to the issue. Which in return can also help lessen the problems it may cause.
Importance of Risk Assessment
What do you think is the importance of having a risk assessment? If you have asked yourself this question and have not been able to get an answer, here is a good reason. The importance of having a risk assessment is to assess whether a workplace is safe. As simple as it may sound, it is not as easy as it may seem. The importance of a risk assessment as stated earlier is to assess whether a workplace is safe from all the hazards that may be found. It is to bring light to all the hazards present in the workplace and to ensure that anyone who may be working or attending are safe. Risk assessments do just that. By gathering the data they have assessed and by giving a solution to control these risks and hazards. That way, anyone who attends or works there can be sure that they are safe from the problem.
Tips for Assessment
Some simple guidelines for you when making that risk assessment. Remember, these are simply tips and should only be taken as a simple roadmap to writing. How you do your assessment is solely up to you. To begin:
Search for the things that you think and believe may cause harm – these types of objects could be as simple as a wet floor to a complex thing like chemicals. Always check and double check all the objects. Hazardous things are sometimes just everyday objects that are lying around.
Decide and analyze – Once you have listed all the hazardous things, decide on who can be affected by them. Afterwards, analyze the problems and begin with finding a solution for them.
Do some research and assess the situation – Assess the level of severity of the hazardous situation. By doing your research and gathering evidence from previous data as well.
Record the results and take action – As soon as you are done recording the results, it is time to take action. Better today than later. The sooner the issue gets resolved, the better.
Double check your results and save them for the future – Recheck your results and make sure you have enough evidence to provide. Also, save the current results for future issues to be resolved.
FAQs
Can a risk be avoided in the workplace?
Yes. Risks and uncertainties can be avoided. If you know how to tell the difference, it can make such a huge difference.
What can I do if I have done all my assessments but the result is inconclusive?
If the result does not add up, I highly suggest you do the assessment again. There may have been something wrong when you did the assessment.
Is there another way to do the assessment?
The first thing you do when you are about to do the assessment is to search for the hazardous objects. This is also a way to gather your data for analyzing later in the assessment. Doing your research is an important factor in the assessment.
Are the answers useful?
Yes. When done right, your answers can be helpful for the whole assessment. It is also useful for future research.
People often say risks cannot be avoided, and the fact that some hazardous objects should be left alone. But this is not likely the case. To avoid having to acknowledge these issues would only make it worse. Instead of ignoring it and hoping it goes away, assess the whole situation and see who benefits from the solutions that you are going to be placing. Risk assessments are really helpful and crucial.