Job Career Objective ExampleA lot of thought goes into the resume-writing process, because of the importance of the information the writer decides to relay on their resume. One of the most important parts of the resume is called the career objective.
1. Job Resume Example
2. Professional Resume Example
3. Engineer Resume Example
4. Student Resume Example
5. Fresher Resume Example
6. Creating Career Objective
7. Career Objective Resume Examples
8. Writing Career Objectives
9. Career Objective Template
10. Experience Career Objective Example
11. Career Objective Educational Qualification
12. Fresher Career Objective Example
agrisearchindia.com
13. Resume Career Objective Example
krisat.edu.in
14. Fresh Graduate Career Objective Example
img0cf.b8cdn.com
15. Student Career Objective Example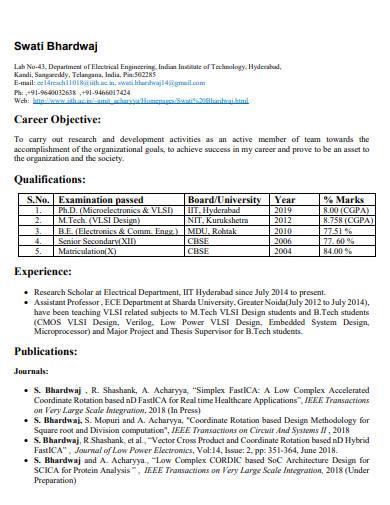 people.iith.ac.in
16. Job Career Objective Example
darden.virginia.edu
17. Sample Career Objective Example
teda.in
18. Career Objective Checklist Example
worksourceportlandmetro.org
19. Professional Career Objective Example
mpf.biol.vt.edu
20. Engineer Career Objective Example
bujhansi.ac.in
21. Teacher Career Objective Example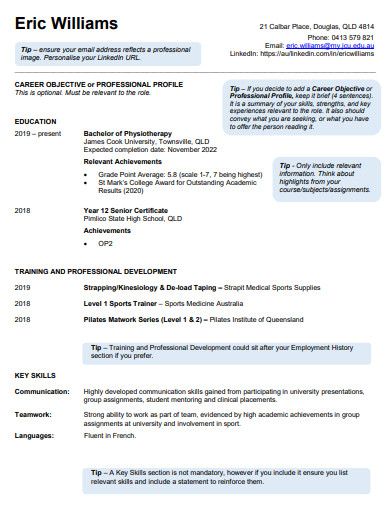 jcu.edu.au
22. Customer Service Career Objective Example
wtamu.edu
23. Career Objective Statement Example
astate.edu
24. High School Career Objective Example
campussuite-storage.s3.amazonaws.com
25. CV Career Objective Example
mgmschool.com
26. Entry Level Career Objective Example
bujhansi.ac.in
27. Beginner Career Objective Example
ardms.org
28. General Career Objective Example
y-east.org
29. Personal Career Objective Example
jobtalk.indiana.edu
30. Computer Science Career Objective Example
pse.umass.edu
31. Formal Career Objective Example
carleton.ca
What Is a Career Objective?
A career objective is a written statement of two to three sentences that will concisely relay one's career directions and goals with the position they have applied for. The information this will relay can be used by the hiring manager or HR to endorse the applicant to the next step of the application process.
How to Create Your Career Objectives For Your Resume
Well-written career objectives can relay specific information and notions to the reader or hiring manager, which can increase your chances of being endorsed into the next step of the application process. If you need a reference or a career objectives example, you may use any of the templates and guides on the links above when you are creating your career objectives to make the perfect resume.
Step 1: Outline the Objectives
Begin by creating an outline of the career objectives you will write on your resume. Note that the objectives should only be composed of two to three sentences.
Step 2: Include Relevant Information Tailored to Your Career
Be sure to include relevant information relevant to the career you are pursuing and creating the resume for. This will ensure that the person obtaining the resume (hiring manager or HR) knows that you have sufficient information and knowledge about the position you are applying for. Doing this will increase your chances of being endorsed as the next step in the hiring process.
Step 3: Indicate Your Strengths
Everyone is unique, therefore you should try your best to make your resume noticeable and exciting to stand out from the rest. Be sure to indicate what makes you unique and why the hiring manager or HR should endorse you to the next step in the hiring and application process.
Step 4: Reread and Edit the Objectives You Have Provided
After you have finished writing your career objectives, be sure to reread its contents and search for any mistakes in the text you have written. You can also opt to have a professional read your career objectives and provide you with their feedback. Edit your objectives accordingly.
FAQs
Why are career objectives important?
Like objectives, career objectives allow the person to bring into perspective the career goal they want to accomplish in a specific period. The career objective will not only bring a direction to the person's career and work but will also improve the person's motivation and dedication. A well-motivated person can easily overcome a lot of obstacles and can creatively apply themselves in their career, which will cascade into a more prosperous and professional career. Therefore career objectives are important for people who want to climb up the corporate ladder and have a well-paid position in the company or business they are working for.
What is the difference between resume objectives and career objectives?
The resume objective is a short succinct statement of two to three sentences that will detail the prospective career direction and trajectory the resume writer desires for themselves. The resume objective statement/s is placed at the beginning of the general resume and can make a person's best resume. A career objective is a personal written or integrated statement of the person, that illustrates the primary goal and steps the person wants to achieve in their professional career. The resume objective is a shorter version of a person's career objective. Therefore all resume objectives are career objectives, but not all career objectives are resume objectives.
Does a Curriculum Vitae or a CV need a resume objective or career objective?
No, a curriculum vitae is a resume-like document that focuses more on the academic or academia-related experience a person has in their belt. This means that a CV is used in a more intellectual or academic field or purpose (Schools, universities, laboratories, and research grants). Unlike a resume, the CV is more objective and no-nonsense, which means that the CV does not have a space for a resume objective or career objective. In conclusion, one does not need to supply a resume or a career objective in their curriculum vitae or CV, unlike a resume.
Career objectives are a set of actions and career goals that all align with specific career-related or job objectives. When properly done, the career objective can succinctly illustrate the steps a person needs to take to achieve and climb the career ladder by supplying the person with motivation and direction. Therefore it is important to know how to create, set, and integrate one's career objectives into their life and focus.