Because College ID cards are very important, for the rest of their college lives, students will be using it to enter the school and use its equipment.  Designing these cards should be part of your college strategic plan. It has to bear all the right information for proper identification. A college ID should have the right size and design. If it is not made properly, all you might end up with is a card with a photo and no real purpose. If you need help making the perfect college ID card, you don't need to scour online to find 'the one', we've got a list of templates you can choose from. Here are 10+ college ID card examples for your ID needs.
10+ College ID Card – Illustrator, MS Word, Pages, Photoshop, Publisher
1. College ID Card Template
Every student needs identification. Schools can and will deny entry to students without IDs. This is to prevent any trespassers from entering the premises. Having a valid college ID proves that you are part of the school community. By having an ID, the school grants you access to facilities and usage of equipment. If you are designing your college ID, you will need this college ID card template. It is easy to use and you won't need to start with a blank sheet. This template is also available in many formats for you to download. Edit it with the right information and the ID is ready to use.
2. University ID Card Format Template
You can't just walk around the university grounds without identifying yourself. Everyone inside the university has to have identification, even teachers. Especially the ones with teacher goals. Your university ID card should have the complete and necessary information because any wrongly place data could lead to misidentification. In making your ID, you can use this university ID card format template. This template lets you edit in all the information you need without the hassle of creating from scratch. It's made by our experienced graphic designers, so you know it's high quality. And with this university ID card format template, you don't have to won't be having any difficulty because we assure you it's easy to use.
3. College ID Card Format Template
A lot of college kids have a strong sense of school pride. They will flaunt their school any way they can. One way they show school pride is by bearing their university ID with them. The proof that they got into that their school. That is why your college ID card format has to have school spirit. Why don't you use this college ID card format template for your school? It's cool, it's professionally made and it's got your student's image right smack in the middle. Talk about pride. Try out this template now!
4. School ID Card Template
College prepares students for the real world. It serves as the corporate training ground before they are released into the world of enterprise. College teaches students to become young professionals that are ready to take over the world. To help them become who they are meant to be, you can equip them with this school ID card template. It looks professional, presentable, and well-made. It makes your students look like career-driven young men and women. This template is editable so you can make it even chicer. Just add the right photo and your ID is good to go.
5. Student University ID Card Template
Your ID shouldn't just have data needed for identification, it also needs a bit of personality. A little creativity in your identification cards never hurt anybody. A pop of color can liven up your simple ID card. If you want a cool ID, you can try out this student university ID card template. You don't have to worry about creating an ID empty-handed because this just needs a little editing. It's super stress-free and barely time-consuming. Customize it to your school colors and watch your students wear it with pride. Check it out now!
6. Free Student ID Card Template
Is your ID not as good as you want it to be? Do you want a high-quality student ID card design? Are you unsure how to make one? Making IDs shouldn't be stressful. Maybe all you need is this student ID card template. It's easy to use and expertly made. It places the ID holder's name in big bold letters for easy identification. It displays all the important details in front while having certain instructions in the back so you don't have to worry about the contents. this can also work for teachers' IDs. Download this template now for free!
7. Free Education Identity Card Template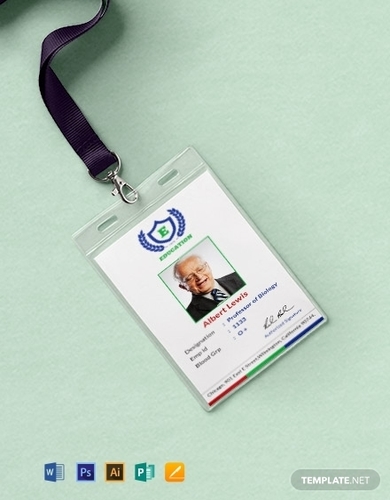 Your identity is very important. That is why you need identification cards for all important businesses and transactions. In an educational institution, your ID gives you perks only ID cardholders can have. From school entry to use of facilities, an ID card is like your VIP pass. That is also why, if it gets stolen, you will need an ID theft affidavit. If you need help making the right ID card, have a look at this educational identity card template. It's simple, no-fuss, and straight to the point. All you need to do is download this free template and you are all set for your college ID card needs.
8. Free Modern ID Card Template
The modern world has embraced the coming of a minimalist future. No longer is over-decorating the standard for creativity. Just like with your college ID cards, straight forward design is much more magnetizing than those funky styles. Your modern ID just needs to be useful. For your ID to be in with the times, you should try out this modern ID card template. It's deliciously simple and painfully professional. It presents all the data you look for in any ID. It's easily editable and absolutely free. Download this modern ID card template now!
9. Free Vertical Blank ID Card Template
Can't be bothered to make an ID card from scratch? Unsure what to do with a blank canvas? Maybe what you need is a template that you just have to fill in and add a photo. Well, worry no more, here is something that can help you with your dilemma. This vertical blank ID card template is the answer to your problems. With minimal effort, you can create a functional vertical ID card that's complete with all the needed information. Skillfully formulated in user-friendly formats for easy editing. Download this template now, it's totally free!
10. Free Simple Blank ID Card Template
If you're in a university, you get thousands and thousands of freshmen coming in yearly. With this ever-growing crop of fresh faces, comes a need to make a boatload of new college ID cards every year. It would be such a pain to make every single one from an empty sheet.  What you need is a pre-made stencil you can just fill out. Why not giving this simple blank ID card template a go. All you need to do is add the data required and you've got yourself an ID. This blank ID card design is especially helpful when you are mass-producing IDs. Download now!
11. University Card
Your identification card has to be one of a kind. You can't just have a generic design for your ID. your university ID card's format should be pleasing to the eyes and informative. It should show the holder's image without blocking any details. If you are looking for a creative ID card to use as a guide, you can use this university card. This card thoroughly uses the space in front and at the back to place data and instructions. What makes this university ID card different is that it uses photos relating to the school as a background.