You are not here on this webpage for no reason at all?you are obviously looking for ways to design an ID card but you, unfortunately, don't know what to do or how to start. But luckily for you, because this article exists especially for the purpose to help out those who are in need of an ID card design without necessarily having an extensive background or skills when it comes to graphic designing.
Ranging from corporate ID cards to healthcare ID cards and event ID cards, the simple ID card examples and templates that we have collected and collated in this article can surely help and guide you all throughout the creative process of making ID card designs.
Simple ID Card Examples & Templates
1. Simple Club ID Card
Organizations such as clubs must ensure that they can provide ID cards to its members, especially that this is useful in providing important identity information in a snap. So, if you are in need of a simple ID card template that you can readily modify to suit your club's needs, then we highly recommend you to download the above simple club ID card template that will surely get the job done for you.
2. Simple Corporate ID Card
Creating an ID card design, regardless of whether it's simple or not, is more than what meets the eye. If you are in need of an ID card design template for a corporation, then you should download our well-crafted simple corporate ID card template that is specifically designed for a corporate entity to come up with an ID card design without any hassle at all.
3. Simple Department ID Card
If you are assigned the task to design an ID card for your department, then you must realize that you have an important and crucial responsibility that you should not treat indifferently. However, with the help of this simple department ID card template that we have here, we can help in making the designing process more bearable on your end. This template already contains suggestive content and an effective color theme that you can further modify to suit your preferences.
4. Simple Emergency ID Card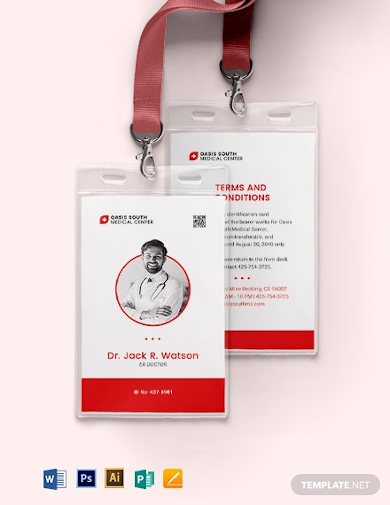 Before designing an ID card, especially an emergency ID card, it is important that you already have the complete list of information that you need to incorporate in it. Keep in mind that the type of ID card that you are going to design is an informative material that is crucial in times of various emergency situations, so you have to ensure that you do not include a surplus of information on your ID card since it will make the overall appearance of your ID card obscure. To help you out in creating an effective and functional emergency ID card design, then do not miss out on the opportunity of downloading our simple emergency ID card template!
5. Simple Healthcare ID Card
Sure, designing a visually attractive healthcare ID card is something you should give priority to, but that should be secondary to your main priority which is to make your ID card layout design as functional and effective as possible. Make sure you have already enhanced its physical security, increased its efficiency, reduced the possibilities of any forms of counterfeiting, and lived up to the organization's brand identity. And when you finally do, you can go ahead and download our simple healthcare ID card that already contains high-quality design elements that you can either use as-is or further customize to suit your design preferences.
6. Simple Medical ID Card
A medical ID card can also play a crucial role when it comes to valuable lifesaving information during emergency situations. This is why, if you are assigned to design a medical ID card, you should not miss out and forget the vital information it should contain such as the cardholder's medical conditions or medication allergies. So, if you are in need of an ID card design template, be sure to get a hold of our simple medical ID card template above that already contains a layout that enables you to conveniently input all the vital details you would need to incorporate in a medical ID card.
7. Simple Office ID Card
Apart from the fact that an ID card can serve as a security device as well as a multi-functional tool, keep in mind that it can also serve as a representation of your organization's brand and image. If you can come up with a well-designed ID card, rest assured that it can effectively reinforce the right message regarding your organization. To help you come up with an ID card design that exactly does that, then do not miss out on this simple office ID card template!
8. Simple Photographer ID Card
As a photographer, it is important that you need to wear a photographer ID card at all times during events that have extreme security measures. You don't have to complicate things when designing an ID card because all you need is a simple that will get the job done for you which is to conveniently provide information to people during both big and small events. With that, consider downloading any of our simple photographer ID card templates to make even things more convenient on your end.
9. Simple Press ID Card
When your employees wear a press ID card, they are not simply representing themselves and their profession as a member of the media, but they are also representing the media company they belong to. So, if you are looking for an effective press ID card design, then make sure that you download our well-crafted simple press ID card template that enables you to come up with a press ID card design that can help in communicating your company's brand and image and can effectively give your employees the authority to gather, write, and report news stories.
10. Simple School ID Card
A school ID card design must contain three important features which include functionality, graphics, and security. These three must always go along together, and the absence of one would only mean that your ID card design is not yet efficient enough to serve its purpose. However, we've got your backs covered by providing this simple school ID card template that already contains the three important features that make an efficient school ID card design.

It is important for colleges to have ID cards as a way of having security measures. Apart from that, it is also used to get access to the facilities of the college, such as making bookstore purchases, accessing laboratories, and accessing other college facilities. If you are looking for a college ID card example that can you can get inspiration from, make sure you download and refer to the given community college ID card example above to be guided.