A note (e.g. doctor's note, promissory note), in the broadest sense, is a document which contains a short record of important information and facts which may be used in transactions between two or more parties.
There are many instances in our lives when we need notes. Notes, in general, are often used as tools to communicate with other people (e.g. thank you note) and are sometimes used by students as a reliable source of information (i.e. taking down notes in class). We are also need doctor notes or medical certificates especially when taking a day off due to an illness.
Editable Sample Doctor Note Template
Sample Blank Doctor Note Template
Simple Doctor Note Template
Blank Doctor Note Template
Sample Doctor Note Template
Doctor's Note for School Absence Template
Doctor Excuse Note Example
Doctor Excuse Note Template Example
Doctor Appointment Notes Template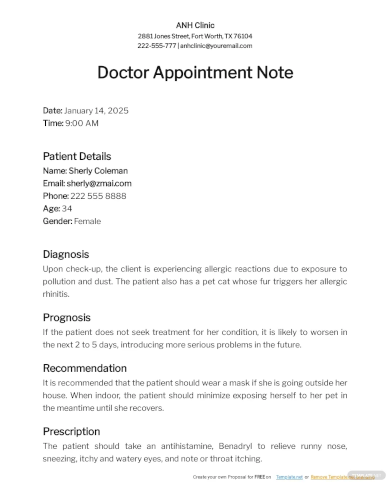 Medical Doctor Note Example
Doctor Note for Employee Example
Diagnosis Note Example
Printable Medical Excuse Slip
What to Include in a Doctor's Note
A doctor's note, also known as a medical certificate is a document containing the medical advice of a doctor or a medical professional about your current medical condition according to the results of your medical examination. It may serve as your sick note in the instance of your absence from school or work– a verification of your excuse. A doctor's notes vary from one another but each one usually includes:
Doctor's name and title or qualifications including his/her registration number contact detail and address
Patient's name.
A written statement of the patient's medical statement condition which may include medications, restrictions and other advice from the doctor.
Date of the medical examination or diagnosis.
Doctor's official signature (preferably by ink) to validate the note.
Basic Elements of a Doctor's Note
Templates of doctor's notes differ from each other. The following are the basic elements found on a doctor's note template:
Information on a doctor's authority in providing the medical certificate.
Information related to the patient's medical condition and needs, validating the patient's reason for absence.
Information on the doctor's contact details and schedule is useful in case of a follow-up question arises from an employer or teacher.
Information on the note's authenticity. Letterheads and hospital logos may serve this purpose.
Doctor Note to Employer
Excuse Note
Employee Requesting Doctor Note Sample
Sample Doctor's Excuse Note
Dentist Excused Absence Note
How to Get a Doctor's Note
One way or another, circumstances might require us to request for a doctor's note or sick note. So how do we get one? Usually, the easiest way is to ask your family physician or the doctor of the clinic nearest to your place on how to get a doctor's note. If circumstances does not allow you to request on your own (e.g. injury from accidents), hospitals usually provide hospital discharge papers (also known as release notes or papers) which proves your stay at a hospital for a certain period of time for whatever reason.
Benefits of a Doctor's Note
As mentioned earlier, a doctor's note is usually needed for the approval of one's leave of absence or a verification of one's reason for absence due to illness or injury. Doctor's notes (sometimes referred to as work notes) allow a person to be granted a day or two off work or to be excused from an unplanned absence. Also, a doctor's note in pdf provides a person a chance to be excused from sanctions. Of course, one needs to be careful not to submit bogus or fake doctor's notes. Not only this will cause you trouble but will also affect your credibility as a person.