Most organizational policies require employees and students to provide a doctor's note to verify one's reason for absence. This type of note is essential for individuals to enjoy certain benefits granted by the institution. Because of its importance, writing the note must be taken seriously. This will help certify a patient's ability to work or participate in strenuous activities.
15+ Best Doctor's Note Templates & Examples
1. Blank Doctor's Note
2. Children's Clinic Doctor's Note
3. Doctor's Excuse Note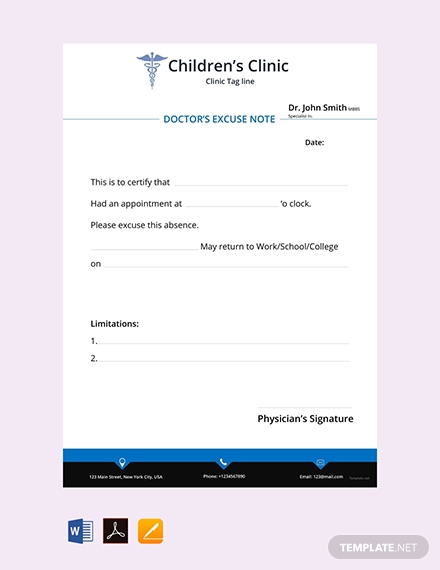 4. Doctor's Note for School Absence
5. Doctor's Note for Work
6. Minute Clinic Doctor's Note
7. Return to Work Doctor's Note
8. Sample Doctor's Note
9. Simple Doctor's Note
10. Doctor's Note for Ability to Work
11. Doctor's Note for Disability
12. Doctor's Note for Patient
13. Doctor's Note to Return to School
14. Medical Doctor's Note for Dental Care
15. School Absence Doctor's Note
What Is a Doctor's Notes?
A doctor's notes are referred to as a sick note and a medical certificate. Many use this if they have contracted a short illness, undergone minor surgeries, or if they have chronic conditions that can cause them problems at work or school. There are also multiple variants, such as an urgent care doctor's note or a fillable doctor's note.
How to Construct a Doctor's Note
If the doctor's notes templates above do not satisfy you, then there's always the option of writing your own. As a medical professional, you are free to describe your patients' condition as you see fit and in any format or style. However, just make sure that these common elements are present:
FAQs
How does one get a doctor's note?
The simplest way to get a doctor's note is to get yourself checked out by a general practitioner or the resident doctor at the time. Patients have to go to their doctors so that they can secure a valid best doctor's note for themselves.
How often do employers check for doctor's notes?
Employers mostly checked for a doctor's notes a day after the employee filed for a leave of absence. The reason for this is to check whether or not if the reason for the absence is valid or invalid.
What can you see in a doctor's notes?
When you ask for a doctor's notes, the details they are going to be adding is the name of the patient, the reason they were present, the diagnosis, the solution, the date, and the doctor's signature.
If you ever find yourself in need of a doctor's note for school or for work, then feel free to use the doctor's note templates free provided.