A doctor's note is essential not only to keep track on our health but it also serves as a requirement at work and at school. Institutions have a policy that requires their employees and students to provide a doctor's written note to verify their health conditions before they could enjoy specific benefits and participate in activities.
Sample Doctor's Note Examples & Templates
The importance of a doctor's note is as important as getting a visa or a ticket to let your institution excuse you for medical reasons. Aside from that, it allows you to know what specific drug to intake or other medications to go through to ward your sickness off. Listed below are a few samples on our best doctor's note templates for you to use on your patients.
1. Doctor's Note for Work
Hospital doctors have a way on informing their patients about their health conditions. It is important that doctors like yourself should have a written prescription specifically for your patients to help them keep track on what they need. This template comes with ready-made entries for your patient's information and prescription, designed to consider your needs.
2. Children's Clinic Doctor's Note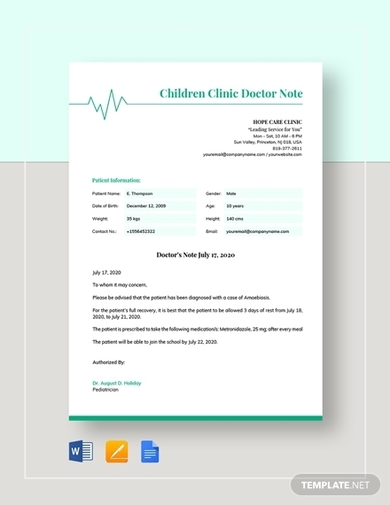 Do you happen to be a pediatrician handling a clinic of your own? If you wish to have an easy documentation of your patient's information and condition, we recommend you to use our children's clinic doctor's note template. This template is designed to monitor your patients' condition and has a well-written content that is customizable according to your preferences.
3. Return to Work Doctor's Note
Sickness is an inevitable experience. We still get sick even after we grow up, especially at work when we all get bombarded by stress and fatigue. There are companies that require us to get a doctor's note to return to work. This note states your patient's information, including the nature of their disease with your advice to allow them to return to work.
4. Sample Doctor's Note
This sample doctor's note can be used in any scenario you could possibly think of. This certifies all types of tests and check-ups your patients have gone through together with your advised medication listed for them. Its generic features allows you to use it for school-, work-, and personal-related prescriptions for your patients.
5. Blank Doctor's Note
Need a doctor's note for your patients at your medical firm? Check this template and see the aesthetics of consistency on how you write your patient's prescription. All necessary information needed for your patients are included with editable features for you to use. Keep your patients in good health and download this template now.
6. Basic Doctor's Note for Work
Filing a leave is one process employees do to excuse themselves from work, but to validate it they would need a note from the doctor stating their medical conditions. Though this may vary from how doctors may prescribe it, here is a standard format on the template for doctor's note for work given to patients who were absent due to medical reason.
7. Doctor's Note for School Absence
Keeping ourselves healthy is one way to keep up with our daily activities, but there are instances when students need to recover from illnesses. Provide them with the note they need for their medical certificate with this doctor's note for school absence. Downloadable for free, this template authorizes your patient to take the time off to recover.
8. Minute Clinic Doctor's Note
Minute clinics are facilities that provide healthcare needs and services to your patients with minor illness and injuries, treating patients who need health screenings, vaccinations and injection services, as well as wellness programs. If your patient wants to have an appointment with your minute clinic, all you need is to fill out this minute clinic doctor's note.
9. Printable Children's Clinic Doctor's Note
Confirm your patient's illness or injury and make a note about it. State the illness and condition your patient is undergoing with the prescribed medication along with your restriction or clearance. Authorize your patients who needs the time to recover to take the time off with this template, which is perfect for pediatricians like you who work at children's clinics.
10. Simple Doctor's Note
People commonly ask for a medical certificate to be excused from work or in school when not feeling well. A doctor's note is perfect to validate your patients' leave at a certain span of time. This well-formatted template will serve as an official medical certificate to excuse your patient from work or school.
11. Classic Return to Work Doctor's Note
Depending on the protocol of the institution, students and employees are required to get a note from the doctor advising them to return to work or to class. Provide your patients the proper care and advice with this classic return to work doctor's note. This ready-made template is easy to download, best for allowing patients to return to work/class after recovering from an illness or injury.
12. Doctor Excuse Note
Is your patient too sick to go to school? Advise them to go to your clinic and have them checked. Attend to their needs and provide them the right prescription. At the same time give them a note for their excuse letter to school. You may use this sample doctor excuse note to communicate with your patients and provide them ample time to fully recover their health.
Keeping ourselves healthy is very important. Without it, we won't be able to do any of our daily activities. Yes, we have doctors to provide medicines for us, but not all the time we have the luxury to pay them. Thus, it is best if we monitor our health every now and then to keep a healthy lifestyle. To be sick is inevitable, but always remember that prevention is better than cure.