A travel itinerary refers to a schedule of events and activities that relate to your travel. It generally includes destinations that you intend to visit at specific times as well as the transportation means to get you to those places. An itinerary simply enables you to plan your trip ahead, which can enable you to get the best deals (flights, hotels, ticket, etc).
This article contains 17+ travel itinerary examples and templates that you can download instantly to create your travel plan. Also, you may want to take a look at these itinerary examples and templates in PDF.
Travel Itinerary Examples & Templates
1. Travel Itinerary Template
This travel itinerary template will come in handy for you if you plan to fly, rent a car or even book a hotel. Professionally-designed, the template is the perfect tool you need for planning a business trip or a holiday. It lets you stay organized throughout your travel, and can be downloaded instantly from the internet. It is a done-for-you document, so you only need to plug in specific information about your travel and you are good to go.
2. Business Travel Itinerary Template
Use this business travel itinerary template to manage your crucial vacation details in one page. It has a flight section where you indicate details about your flight like the date of travel, the airline you will travel with, departure date and information about any stops. This is a great tool for ensuring that you stay organized especially if your trip involves multiple flights. Download it today!
3. Free Travel Itinerary Spreadsheet Template
This free travel itinerary template has been specifically to help you manage your travel details better. It breaks down your travel into simple blocks that you can manage day-by-day. Available on instant download, you can use the template to also keep your travel costs in check because it allows you to see what you will be spending during your vacation.  You can get the template at any time and anywhere by simply downloading it. Also, here are some travel schedule examples and samples to check out!
4. Business Travel Itinerary Checklist Template
Use this business travel itinerary checklist for any kind of travel. The template helps you be organized during your vacation and helps to keep you on track during your time on the road. The template also offers lots of room where you can document your other trip information. The template is a daily trip planning tool, and it allows you to edit columns as you want.
5. Free Simple Travel Itinerary Template
This free simple travel itinerary template can be customized by adding tasks that you will need to complete as well as all the things you need to pack for your upcoming trip. With this template, you can ensure that you have carried all the items you need for the trip and that every detail is taken into account. This instantly downloadable planning tool will take the stress out of any trip.
6. International Business Travel Itinerary Template
With this template, you get a basic format for a trip itinerary and you can customize it to suit your specific trip. Use it to create an itinerary that takes into account lodging, transportation, meetings as well as any other details you will want to track.
7. Free Professional Business Travel Itinerary Template
This professional business itinerary template has the format of a memo and enables you to view the details of your trip at a glance. Using the template to prepare your travel itinerary saves time and also simplifies your work since everything is already done for you. The template is customizable and allows you to remove or add fields and to make it match your specific travel needs.
8. Travel Itinerary Template Example
9. Blank Travel Itinerary Template Example
10. Business Travel Itinerary Example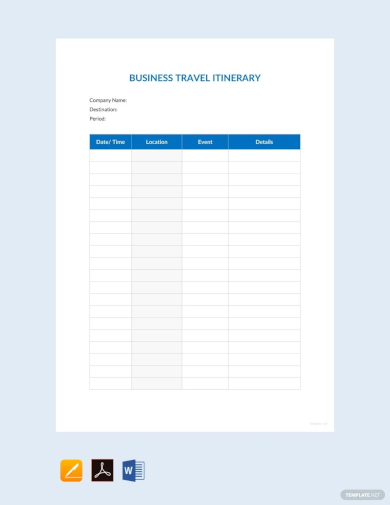 11. Sample Travel Itinerary Template Example
12. Executive Travel Itinerary Template
13. Simple Business Travel Itinerary Template
14. Business Travel Itinerary Planner Template
15. Travel Itinerary Planner Template Example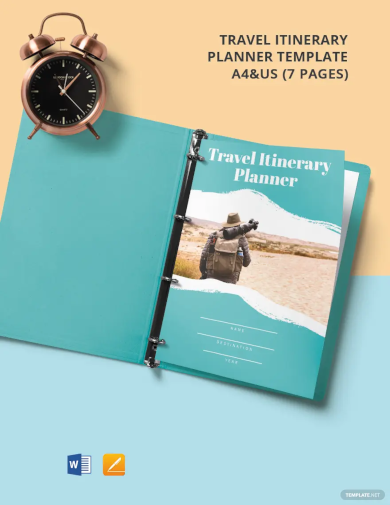 16. Free Sample Business Travel Itinerary Template
17. Business Travel Itinerary Document Template
18. Business Travel Itinerary Format Template
19. Business Travel Itinerary Example Template
20. Corporate Event Travel Itinerary Template
21. Travel Itinerary Record
Use this travel itinerary record template to organize your vacation by including every bit of information that you will need to make your travel successful. The template is editable to allow you to include any other details important for your travel. These might include lodging information, flight preferences and travel insurance options among other things.
22. Independent Travel Itinerary Form
Although planning a trip can be complicated, this simple travel itinerary form prevents you from being overwhelmed. The template helps track your flight information so that you have all the details in one place. It lets you capture details about airport locations, departure times and arrival times for each journey and flight numbers.
23. College Travel Itinerary Form
Use this professionally-designed travel itinerary template to plan your trip. It ensures your vacation is well planned as it lets you set out plans for each day of the trip. It helps you capture details about restaurant reservations, transportation, lodging and entertainment ideas. With the template, you can be able to see a detailed view of your daily travel plans and also a brief summary of the whole vacation.
24. Student Travel Itinerary
Using this template, you can organize all the activities during your upcoming trip easily and quickly. With this student travel itinerary, you have a template for recording the activities you intend to do each day of the journey. If you plan to have several travels or hikes during the day, this template can help you to keep track of each journey.
25. Club Sport Travel Itinerary Form
The best thing about this template is not just its ability to help you plan any kind of travel you are planning to have, but also because of its professional feel and design. The template is available on instant download, and you can access it anywhere and at any time. Use it to track your logistics and ensure that your travel proceeds like clockwork.
26. Tentative Travel Itinerary Sample
To use this tentative template, just open it and fill in the blank spaces in your computer. Also, the template can be printed and filled by hand. It will ensure that you always have a plan to follow during your travel. Download this instantly available template today!
This travel itinerary and contact information template offer a one-stop-shop for planning your trip because it enables you to capture all logistical information regarding the journey. It includes spaces for noting down all the details about your travel, like accommodation, packing list, emergency information and transportation among other things.
28. Request for Travel Itinerary Form
If you need a travel itinerary that you can use to plan your travel, you will be required to apply for this form from a travel agency. This form contains fields about every logistical detail about your trip, so you will only need to fill in the spaces provided. The form is readily available via download and it makes your work of preparing a travel itinerary very easy.
29. Detailed Program Travel Itinerary
If you are planning a longer vacation, you will need a comprehensive itinerary that spells out every important detail about the trip. With this template, you can record everything you will do on each day, right from the time you wake up to the time you go to bed. This way, it ensures you do everything you had planned for.
30. Team Travel Itineraries Sample
If you are traveling in a group, then you know how important having a travel itinerary is. This trip planning tool helps you stick to the original travel plan so that you can enjoy every bit of it. With this template, no one can distract members. The template helps you capture all the logistical information about the trip so that you stay organized during the excursion.
31. Guest Travel Itinerary Example
Use this guest travel itinerary template to plan your trip to the last detail. Capture details about accommodation, flight, restaurant and transportation among other things.