A medical newsletter is the best tool you can use to build a brand for your medical product or service. In order to make your brand familiar and the most selectable one to the target audience, you need to stand out from your competitors. Here, you may wonder what makes your brand stand out? Well, a creative and professional medical newsletter will help you shine among your competitors.
Building a medical newsletter from scratch requires a lot of time and energy. But with ready-made templates and examples, you can create a copy for your medical service. To help you with, we make use of this page by providing a set of best medical newsletter examples and templates. Let's go through them.
Medical Newsletter Examples & Templates
1. Dentist Medical Newsletter
Being a dentist, you can't expect to get a number of clients as a general physician gets. So for a dentist, it is more than essential to propagate and promote their services. You can find medical newsletters as a brilliant marketing tool for your service/ brand. With a newsletter, you can introduce your services, your specialized areas and successful surgeries you have done so far. If you are a dentist, who has been looking for a template designer, then you need to introduce yourself with the ready-made newsletter template attached. The attached template comes in a white with the blue combination. The front page itself gives an elegant look and a spacious area to add a picture of yours or your clinic. Get this easy to edit template customize to your favor.
2. Elegant Medical Newsletter Template
This sample medical newsletter comes with an elegant design. It comprises four unique pages in order to let you add more about your services. This template comes simply to easily edit the content, however, it is your responsibility to make it more attractive. You can incorporate attractive headings to impress the readers to complete the whole newsletter. It is advisable to keep your newsletter covered with all the required information by providing crisp writing. Make sure the tone and context you use don't make your readers feel bored. Provide creative content throughout the end page. For this, you need to choose an elegant template like the one attached.
3. Medical Healthcare Newsletter
Once you are done with the selection of an appropriate template for the medical newsletter, make sure you are using professional content consistently. You may have performed grammatical mistakes or typos while writing it so it is recommended to proofread before finalizing the newsletter. In order to achieve the professional pages, you need to double check the pages. For this, you can use several proofread tools available online. Check the sample newsletter template given here. You can use this newsletter for promoting your medical services, branding or for monthly releases.
4. Health and Medical Newsletter
As a person belongs to the medical field, you can use this type of newsletters to educate your audience. You can list out rising health issues and their solutions. By doing this, you gain a good name from your audience and clients for your service. Use the template shown above and boost up the market for your services. This template is been dominated with green and white combination. However, you can modify the color as per the logo you use.
5. Medical Newsletter Template
This attached template comes in a standard text format with limited sections in the appropriate areas. The newsletter is been left with sizeable space for locating the logo of your services. Right below the logo, there is a section for mentioning the title of the story you are going to explore to your audience. This template has mostly used black and blue colors for the text. Get this template and edit as per the requirements.
6. Simple Medical Newsletter Template
Make sure with the regular distribution of medical newsletters once you are ready with the template and design. keeping the regular release of the newsletters will help you stay in the mind of your audience. Regular distribution of newsletter will fill their inbox, so that, you will have lesser chances for being forgotten. Use this simple newsletter template for your startup service or medical product release.
7. Medical Multi-Purpose Newsletter
This medial multi-purpose newsletter can be used for any well-known hospital. As this template comes in a detailed designed, anyone who wishes to establish their services for the first time can use this.  This template comprises 10 pages in total. You can edit each template and personalize them with your rich content to equal the elegant design.
8. Health and Lifestyle Newsletter
It is apparent that there has been a big demand for the health and lifestyle data among the audience. Usually, these type of data features in medical newsletters and comes on a monthly basis. For delivering health content, you should be keen on the design and template you use so that you will accumulate a range of audience. Get the comprehensive template attached right here.
9. Standard Medical Newsletter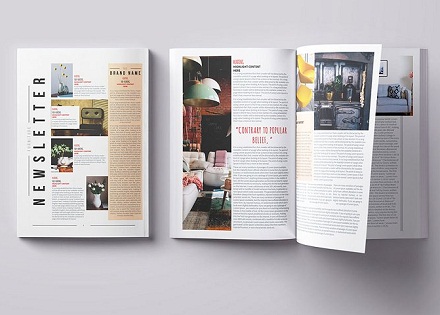 The specialty with the sample template attached here is its format to include maximum pictures in every page. A medical clinic must expose the equipment they use so that they can build a long lasting trust. Here to showcase the equipment and facilities of the clinic, you need to choose the appropriate template like the one attached.
10. Weight Loss Responsive Newsletter Template
If you are a physician or a medical consultant who provides weight loss treatment or consultation, then this template will be a perfect fit for them. This template can be used for online purposes. Its fully responsive and customizable features help you produce a personalized medical newsletter. Get the embedded template using the link provided.
11. Medical Responsive Newsletter Template
Here comes a professional medical newsletter for you to use for your medical services. Your medical service or brand becomes ineffective if you are weak at promoting it. Using a medical newsletter like the one attached is what every physician needs. You can use the sample medical newsletter provided above for its professional appearance.