Congratulating someone for passing a job interview, whether for account manager, sales manager, operation manager, general manager, or any project management position, is obviously the first thing that an onboarding staff would do. But what comes next? Any company's human resource department has a unique way of introducing the new hires to their duties and responsibilities. But the majority of these corporate entities adapt the practice of producing and leveraging a 30-60-90 day plan.
It is a step by step stratagem used to set and achieve short-term goals in all aspects of business development, such as in customer service, information technology, marketing, and other operations. Moreover, it can also act as a corporate training plan for employees, like team leaders and sales reps.
14+ 30-60-90 Day Plan Examples
Know more about the plan by taking a peek on our free 30-60-90 day Plan Examples in PDF, Microsoft Word, Google Docs, and Apple Pages file formats.
1. Printable 30-60-90 Day Plan
2. 30-60-90-Day Project Plan Template
3. Creative 30-60-90-Day Plan
4. 30-60-90-Day New Hire Plan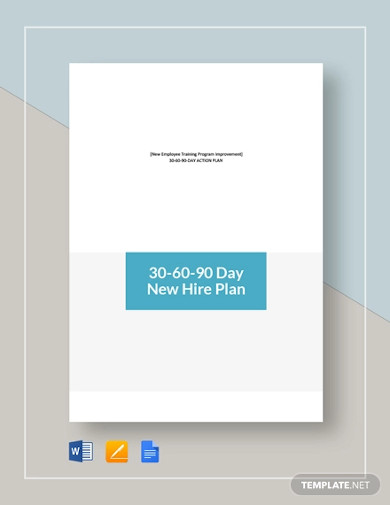 5. 30-60-90-day Executive Plan Example
6. 30-60-90 Days Action Plan Strategy
7. 30-60-90 Day Business Plan Example
8. 30-60-90 Day Professional Development Plan
9. 30-60-90 Day Business Plan
10. Medical Device 30-60-90 Day Plan
11. 30-60-90 Day Marketing Action Plan
12. 30-60-90 Day Game Plan
13. Sample 30-60-90 Day Plan
14. 30-60-90 Day Plan Example
15. 30-60-90 Day Plan for Sales People
What Is a 30-60-90 Day Plan?
A 30-60-90 day plan is a document that thoroughly discusses the course of actions regarding short-term undertakings that focuses mostly on workforce planning. The plan is one of the many parts of a business development strategy. According to Jolene Pilgrim, in her article for Simply Hired, setting goals sets up an individual or organization for better asset allocation for a certain period. In the same article, the plan also binds stakeholders to meet certain criteria. Therefore, a 30-60-90 day plan is an effective tool to have goals and standards organized, leading to the arrangement of relevant activities to achieve an objective or plan successfully.
S.M.A.R.T. Goals
SMART is an abbreviation for specific, measurable, attainable, relevant, and time-related. SMART goal setting is very much applicable to all kinds of plans, considering that they are all driven by their respective goals. But what do these attributes mean?
Specific – The intentions of your plan must be stated clearly and simply.
Measurable – Your plan's goals must be set in a way that can be assessed through quantity or quality evaluations. You may use quality evaluation questionnaires to do this.
Attainable – The desired results of your plan have to be competitive. At the same time, they should be set in consideration of your organization's resources.
Relevant – Each specification of your goal specification has to be in line with one another and with your organization's objectives.
Time-Related – Your goals should consist of deadlines to impart a little bit of pressure to stakeholders in fulfilling their duties and responsibilities.
How To Create a 30-60-90 Day Plan
When creating a 30-60-90 day plan, you have to instill a couple of qualities for you to call it a success. It must possess the concise, flexible, practical, simple, and standardized features. We know you can infuse those attributes by yourself. But to help you make things even easier, we provide you with an outline of the steps you have to take to make your process document comprehensive and standardized. Here's how:
1. Outline Specifications
There are a lot of outline templates to choose from over the internet. But you have to ensure that your choice perfectly suits your needs. And before downloading one of them, you have to understand that doing so comes with a price. If you opt not to, then the next steps can act as your project outline.
2. Specify Goals
In business, corporate goals are maintained and enhanced. However, they do not voluntarily come. They have to be identified according to the results of a company's needs assessment or needs analysis. Moreover, these goals will not be erased in the goal journals but rather maintained and enhanced for the company's growth and development.
3. Set 30-Day Objectives
Focus your 30-day objectives in developing and understanding the scheme of your company's resources, processes, and strategies. In this way, you are preparing to equip yourself with relevant knowledge that will be necessary in fulfilling future activities.
4. Lay Out Your 60-Day Objectives
In this part, you write down your 60-day objectives. They should revolve around the evaluation of the processes and strategies you have set in the previous section. Do this by inputting survey methodologies, as well as research methodologies.
5. Establish 90-Day Objectives
The next step is to establish your plan's 90-day objectives. This section should highlight the initiation and implementation plan activities for the processes and strategies being set in the first 30 days. In addition, this is the part where you designate stakeholders on their respective duties and responsibilities.
6. Stipulate Action Items
In this section, you list down all the activities you have to make right from the creation of your outline up to the presentation of this plan to stakeholders. Just like the previous part, you also have to include activity schedules and designate staff.
FAQs
What is the difference between a goal and an objective?
Goals refer to an individual or organization's desired outcome. Objectives, on the other hand, have to do with specifically defined actions that stakeholders must perform to fulfill the goals.
Are 30-60-90 day plans only for onboarding processes?
No, they are not. A 30-60-90 day plan can also be used in improving existing employees, as well as developing any project that you think can be done in three months.
How long should a 30-60-90 day plan be?
If you have been very eager to make your 30-60-90 day plan document as concise as possible, then you can have it with only one page. If not, it should be longer than three pages.
Entrepreneurs often have their eyes on the benefits that can be provided by long-term goals. Little do they know, prioritizing the completion of short-term goals is a must to make the long ones achievable. As stated above, a 30-60-90 day plan is the perfect tool to get your priorities straight regarding short-term goals. Many people commit mistakes by thinking that it is a document that is used only after an onboarding process, not knowing that it is very much applicable to other plans. Nonetheless, any professional can't deny that having one is more advantageous than having none.