Without a detailed action plan and well-defined strategies, it will be hard for a business to achieve its goals and objectives. This is the reason why it is very important for a simple strategic plan to be developed by corporations and even by small business establishments. With the help of a strategic plan, entities can bridge the gap between the present and desired conditions of their business operations.
Since strategic plans can produce different results, consider the needs and demands of the business for development so you can assess and decide on the kind of strategic plan that you should make. A list of simple strategic plan examples in PDF are available for you to download in this post. Use these examples as your references if you want to come up with an effective, functional, and relevant document. You may also see strategic planning checklists.
High-Level Strategic Plan Template
Event Strategic Plan Template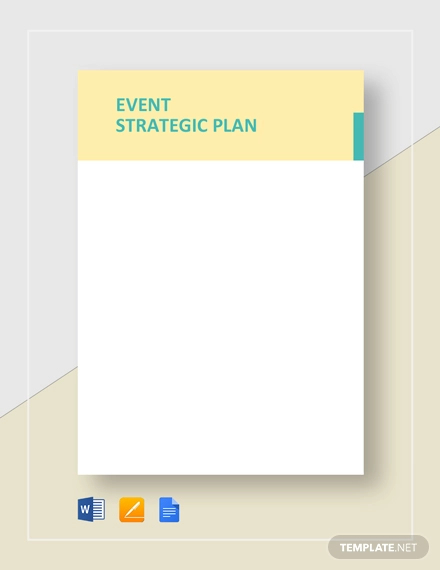 E-Commerce Strategy Plan Template
Educational Strategic Plan Template
Standard Strategic Plan Template Example
Strategic Planning Template Example
Comprehensive Strategic Plan Example
Step-by-Step Guide in Creating a Basic Strategic Plan
Just like when making a simple marketing plan, there are also steps that you can refer to if you want to ensure the completion of all the details that are essential to be found in a basic strategic plan. Following certain guidelines and guidelines can help you have an easier time in developing the document. Here is a process that you can follow if you want to create a basic strategic plan:
Be knowledgeable of the current state and condition of the business especially in areas of consideration where the strategic plan will be used. It is important for you to be realistic when identifying issues that are needed to be addressed as well as the strengths of the operations and the management. The proper evaluation of the standing of the business can help you look into opportunities that the business can take for its growth and development.
Refer to existing strategic plans and look for the strategies that are used by businesses who are in the same condition as you are. You can also research for other kinds of strategies as long as you will refer to credible and reliable sources of data and information. You may also see strategic action plan examples
List all the factors that you think are necessary to be looked into with regards the desired successes of the business. Have metrics and measures that can identify the way that you will evaluate the changes and their impacts to business operations. To come up with an effective strategic plan, you have to be aware of how particular business elements and factors affect one another. You may also see maintenance strategy plans.
Come up with a list of strategies that you think can be helpful to the business especially with regards the success factors that you have initially listed. Each strategy that you will write must directly be for a particular issue of concern. Know which strategies are important to be prioritized. You have to take the timeliness of the action plan and strategy implementation into consideration so you can set your focus and energy on appropriate and relevant activities.
Try to browse through the entire list again and see if your strategic plan has the potential to help the business and its operations grow. Look for things and areas that you need to change, improve, develop, or remove depending on how you would like the document and its content to be used. You may also see strategy memos.
Detailed Strategic Planning Guide Example
Simple Strategic Plan Example
Basic Strategic Plan Example
Elements of an Impressive Strategic Plan
When creating a work action plan, a strategic plan, or a business plan, you always have to remember that there are specific elements that you need to consider so that you can align the purpose of the document that you will make with the aspirations and desired results of the business. If you want to start making a strategic plan, here are some of the key elements that you have to look into:
1. Review the vision of the business.
It is essential for you to give emphasis on what the business would like to achieve and what it aspires to become. Through this, you can align the strategic plan that you will develop with the goals and objectives of the business.
2. Develop a mission and an objective where the strategic plan will be anchored at.
You need to have a purpose so that you will not change directions within the implementation of the actual strategic plan. Knowing the mission of the strategic plan can also help you designate work functions accordingly. You may also see sales strategy plans.
3. Know the resources that you are subjected to work on and work with.
Keep in mind that a strategic plan will not be enough if it will stay as an untouched document. You have to put its content into action so you can assess the effectiveness of the strategies and action plans that you have put together. With this, you have to be aware of the budget, materials, workforce, and other resources that are available for you to work with so you can make a realistic strategic plan. You may also see communication strategy plans.
4. Of course, the strategies that you will plan and use is important to always be regarded.
How would you like to be of help to the business? How can you incorporate the strategies that you thought of in actual operations? What are the steps that you need to execute so you can achieve the goals of the business? How long will the process of strategic planning take and how many people do you need to implement this process? Knowing how to answer these questions can give you an easier time in proving that your strategic plan can give the needs of the business for development. You may also see business development strategy plans.
5. Properly define your action plans.
As much as possible, call-to-actions must be placed within a timeline from the beginning of the strategic action planning up to the culmination of its implementation. With this, the document can serve as a great reference whenever an updated version of the business's strategic plan needs to be created. You may also see procurement strategy plans.
Strategic Business Plan Example
5-Year Strategic Plan Example
One Page Strategic Plan Example
Strategic Plan Guidelines Example
Simple Tips That You Can Follow When Making a Strategic Plan
An email marketing plan, event operational plan, and other plans of and for the business require strategies that can allow the content of these documents to be executed accordingly. Through a strategic plan, the call-to-actions that are necessary to be done by particular entities can produce results that the business can maximize for its advantage. Here are some of the tips that you can refer to if you want to make a strategic plan:
Ensure that your strategic plan is a SMART action plan. You have to come up with strategies, goals, objectives, and call-to-actions that are specific, measurable, attainable, relevant, and time-bound. Being able to do this can help you properly put together all the things that can make the vision of the business become a reality.
It is important for you to hear the opinions and recommendations of the stakeholders of the business. You can also refer to different sources with the help of data gathering activities. This can help you gather appropriate information that can affect how you will develop strategies for the business. You may also see recruitment strategy plans.
Consider the evaluation of all the factors and elements that can affect the business and the execution of your strategic plan. Aside from internal factors, you also have to look into the threats and opportunities present at the moment and those that you can expect in the future. With this, you can be more prepared when it comes to developing strategies that can lessen the effects of threat and risk impacts. More so, you can look out for opportunities that can make your strategic plan more relevant and beneficial to the business. You may also see sales strategy plans.
Use templates if you are having a difficult time in creating the layout of your strategic plan. Select a template that is formatted in a way that is closest to your desired layout. Moreover, do not be afraid to tweak certain areas of content formatting depending on how you would like to present the details of your business's strategic plan.
Always keep in mind that a strategic plan is important for the business, its stakeholders, and its operations. Since this document briefly presents the purpose and goals of the organization, it allows the identification of potential activities and strategies that, once implemented, can contribute to the business's successes. Refer to the downloadable examples of simple strategic plans that we have put together just for you and try developing the own strategic plan of your business. You may also see marketing strategy plans.