A lot of people often find themselves in a situation wherein they are either very comfortable with everything around them or they are not. People who have gone through this would tell you this can be both a positive and negative experience. Especially if you are not sure how you may handle the situation. What I am talking about is a college roommate. Of course there are those who say why this is considered something either comfortable or not when it is only a college roommate. Well, there are those who have not experienced it and may never will. For those who have though, they have a lot to tell you.
Having a college roommate is not necessarily the easiest thing nor the most difficult. Especially if you are already used to it or if you have the right necessities to even have a college roommate. Don't get me wrong, I know a lot of students would want to have someone bunk with them than not at all. To save money on rent and of course to have a companion or a new friend in the long run. But if you are planning on this, you should of course know that there are some things you have to take into consideration. One of which is making an agreement.
10+ College Roommate Agreement Examples
1. College Roommate Agreement Template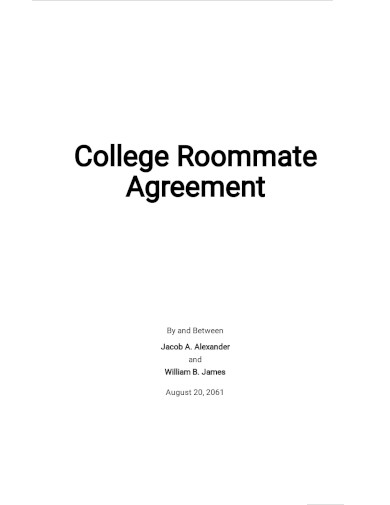 2. College Roommate Agreement Example
3. College Roommate Agreement in PDF
4. Draft College Roommate Agreement
5. College Roommate and Suitemate Agreement
6. Standard College Roommate Agreement
7. College Roommate Agreement Form
8. Messiah College Roommate Agreement
9. Formal College Roommate Agreement
10. Cornell College Roommate Agreement
11. College of the Holy Cross Roommate Agreement
What Is a College Roommate Agreement?
A college roommate agreement is a document that states the information necessary for both parties to agree on. This consists of the following elements like the name and contact information of both parties, the rules and regulations that are discussed, the terms and conditions, the payment and of course the signature. A college roommate agreement does not need to have the presence of a landlord, unlike some other agreements like a lease or rental agreement. This is based only for concerned parties who are most likely students sharing a room until a certain period of time.
In addition to that, a college roommate agreement is also a necessary way to keep the peace between or among students who may be sharing with more than just one person. The agreement helps by emphasizing boundaries, explaining rules, and upholding them. This agreement is made possible for those who are going to be bunking or at least having a roommate outside college dormitories. The agreement would be defined by its legally binding information and should be treated as such.
How to Write a College Roommate Agreement?
Agreements can be a tricky thing if you have no knowledge with what to place or what to write. Let alone making a college roommate agreement with little to no information about it. Here are some good information for you to take upon when you want to write your own college roommate agreement.
1. Get To Know Your Future Roommate
This does not necessarily mean that you are going to ask them too personal questions. This means that you want to get at least some general information about your college roommate. Asking questions like their names, their contact details and the reason for wanting to be a roommate is fine. You need not know too much about them.
2. Emphasize on Your Rules and Regulations
When you are going to be writing your college roommate agreement, remember to add the rules and regulations. This is to make sure that your future roommate respects your boundaries and your space and vice versa. This is also to show them that you are serious and you want them to treat you the same way you are going to be treating them.
3. Write the Information for the Agreement
The information consists of the names of both you and your roommate and their contact information. This is necessary for the agreement to be complete. It is also best to have their information in case there may be some issues that you would need to resolve. By asking their name and contact details, this is enough to complete your agreement. Any other information that may not be a part of the agreement is irrelevant and should not be added.
4. Match Your Terms and Conditions With Your Rules
What this means is that every single person has their own terms and conditions in the agreement. Make sure that your terms and conditions are doable and not too strict. The same goes for your rules. Leave some open ended rules that you and your roommate can discuss together.
5. Let Your College Roommate Sign the Agreement
Of course the last piece of advice but definitely not the least, when all things have been settled, it is time you let your roommate sign the agreement. Make sure to give them a copy of it to be able to remember the discussions and the information they have agreed and signed on. The signature basically seals the deal.
FAQs
What is a college roommate agreement?
A college roommate agreement is a document that shows the information necessary for both parties to agree on. This document, regardless of it being legally binding, does not have to have a landlord present for it to be done.
Is it difficult to write your own college roommate agreement?
If you have little to no idea as to what you may want to write, it may seem so. But all you need to do is to check out the tips and the examples found here to help you out.
Why should you ask your roommate questions?
The only questions you should ask your future roommate is their name and their contact details. This is for signing the agreement. However, other questions that need answers that may not be a part of the agreement are not worth asking.
Having a roommate for college is both a fun and scary experience. You get to meet new people at the same time you are not sure whether you can trust them or not. This is especially true when you do not know them to a personal extent. However, questions that may be related to the agreement you are writing are fine, never mix personal questions with agreement questions. When you're finally done with the agreement, you can of course get to know them at a better level.