A restaurant, a diner or a cafe is just like any other business wherein every business owners' daily goal is to make their customers spend money. It might sound like an easy smart goal to achieve but if you do not have the necessary materials to encourage them to do so, you will be very far from reaching your daily goal.
For you to encourage them to order from your restaurant, diner, or cafe, you have to make sure that you do not deprive them of what they are paying for such as the perfect ambiance of the establishment, and most importantly, an appealing and effective food menu. You may also like cafe menu designs.
Having a menu for your business may be easy because you can hire professionals who can do the job for you. But if you do not have enough resources to do so, you can make use of these templates that we have here in this article for you so you can start your own food menu without a sweat. You may also see printable menus.
Watercolor Wedding Food Menu Example
Vintage Food Menu Example
Thai Food Menu Example
8 Food Menu Types
Here are the eight food menu types that you should know so you may be able to include it on your food menu:
1. À La Carte
This menu comes from French which literally means "by the menu".
À La Carte is a menu in which you can find the individual prices of every food item and it provides greater choices for your customers. You can also order the food items separately and customers can choose his or her combinations. If customers would want to have additional sides, customers would have to pay for it separately. You may also like examples of modern menu designs.
Even though the food items found in this menu can be quite expensive, customers would still love to pay for it because this provides them the flexibility and the freedom to choose pairings of their own choice.
2. Du Jour Menu
This is another French term which means "of the day" or the special dish for the day. These are the food menus that you can often find on chalkboards or digital displays placed outside of the restaurant, diner, and commonly cafes. You might be interested in coffee menu examples.
This menu tends to change daily and would often rely on the availability of seasonal food items. This menu is also often offered at discounts to the customers' delight. Soup is common Du Jour of most restaurants.
3 .Cycle Menu
Unlike the Du Jour menu that is changed on a daily basis, cycle menus offer a complete list of the current menu as well as the upcoming food menu items.
If your restaurant, diner or cafe rotate its food menu items according to what day it is of the week, the availability of seasonal food items, or even just the chef's choice, the Cycle menu is the perfect way to display the ever-changing options you have for your customers.
Common food businesses that have Cycle menus are cafeterias, cruise ships, resort hotels, and hospitals.
4. Prix Fixe Menu
This is another French term which literally stands for "fixed price" and literally, this food menu offers food items that have already a fixed price.
For each course, you are given multiple options to choose from be it the appetizer, salad, soup, entree, and dessert. While you can receive the same number of courses, you will also pay the same standard price for any food items that are found on the Prix Fixe Menu. You may also see dinner menu samples.
Prix Fixe menus are often referred to as the menus served during special occasions, such as birthdays, anniversaries, Thanksgiving, Christmas, or Easter.
Simple Vintage Food Menu Example
Restaurant Food Menu Example
Fast Food Menu Example
5. Table d'hôte
Here goes another French term which means "the host's table". This menu is just similar to a prix fixe menu but it obviously has an upscale turn of phrase as you may have noticed. The difference is that that prices of its individual entree food items can be varied.
This term is also used to refer to the meals that are being shared by the hosts to their house guests where they will dine on a single table and enjoy all of the similar courses. If you are looking for an excellent choice of a menu during the holidays, this menu is what you are looking for, plus, it also encourages sharing with your house guests if you are the host. You may also check out menu card samples.
6. Beverage Menu
If you are offering a wide variety of beverage such as beer, wine, cocktail, juice, and soda, you may want to make use of a separate beverage menu so it would be easy for the guests to identify and order.
There are beverage menus that offer distinct prices especially on the specialty cocktails and craft beer selections. While you already have a separate beverage menu you might as well include information about the ingredients and even the traditions that each of the beverage is inspired from.  You may also like restaurant menu designs & examples.
Aside from the usual beverages, this menu could also include specialty wines, teas, coffees, and cocktails as well as the beverage suggestions that could best accompany a particular meal in your main food menu.
7. Dessert Menu
Who does not want to have dessert after meals? A lot of standard menus offers a wide variety of dessert selections and these selections could be unique to every restaurant. Some restaurants may even have a specialty dessert.
8. Static Menu
A static menu is the kind of menu that offers food menu items that are offered all year-round and this is commonly found in fast food restaurants such as McDonald's, Pizza Hut, and Burger King. Static menus are also the reason why it is easy for this kind of restaurant to have its customers coming back for more. This is perhaps the most common menu type. You may also see pizza menu samples and examples.
Modern Trifold Food Menu Example
Mexican Food Menu Example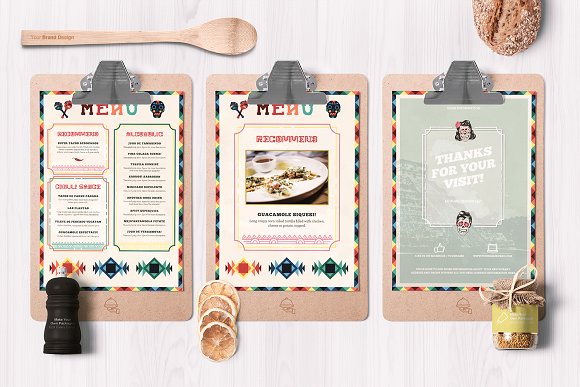 Modern Food Menu Example
Food and Beverage Menu Example
Tips for an Effective Food Menu Design
Even though a food menu design is just that – a food menu design – it is still a factor that affects and determines what your customers are going to order from your cafe or restaurant. You may also see Chinese food menu designs & examples.
The design of a food menu is actually a vital element of the food industry, particularly restaurants and cafes, simply because of the fact that the way things look actually has an impact on the sales.
Here are ten tips on how you can create an effective food menu design that your restaurant or cafe will greatly benefit from:
1. Take note of the placement of design elements
Do you know that the location of each of the food item on your menu can actually have an impact on the sales of that particular food item? Yes, it has; that is why you should make sure that the hierarchy of your food items on your menu should be taken into much consideration when you will be creating a food menu.
Additionally, when you think about the food item placement of your simple menu, you should also consider the natural progressions of the courses, such as a full six-course meal that starts from the appetizer, soup, fish, salad, main course, and dessert. You can also make use of each of the course as categories of your food menu.
2. Use images with caution
Be careful of the images you are going to include on your food menu because this can just make or break the entire food menu design.
The most important images you should include on your food menu is the photos of each food item. If you have the budget, hire a professional photographer; however, if you do not have the budget for that, at least take photos of your food menu items with a high-quality camera and observe proper lighting. You might be interested in spa menu designs and examples.
Make sure that the food items are photographed in a way that with just one look, it can already appeal to the customer. Photograph in a way that customers will find it delicious. Avoid using photos that have a bland color, such as gray, because it is certainly appealing. You may also like salon menu designs and examples.
Even if you do not have a budget to hire professional photographers, do not dare use stock images of your food items because that is what your customers will be expecting and if you would not be able to serve something that exactly looks like what is seen on your food menu, your customers will most likely complain about it. You may also check out barbecue menu examples.
3. Try out bold typography
Typography maintains readability and a bold one makes it look even better. Typography is actually a design element that can help you in selling your food items from your food menu.
If you would use bold typography on your food menu, you can also make use of this as the main design element of your food menu design. Make sure that you will choose the best typeface that can help in carrying the image of your menu. You may also see finest wine menu examples.
However, do not just choose random typefaces because one wrong move and everything will go wrong for your food menu design. Have a strategy when using bold and italicized fonts.
4. Have special symbols for special notes
By special symbols, it means that if ever your menu has additional notes and other standard information, make use of special symbols to indicate it. These additional notes and other standard information may be all about the possible dietary concerns your customers might possibly have. such as It is likely that your menu will contain some form of notes or standard information.
Have a set of special symbols in order to indicate such notes in order to save space on your food menu. These special symbols could also serve as a visual cue for your customers so that they will automatically understand what it means. You may also see free menus.
Additionally, make sure you use the symbols that are common to all. Or to be sure, have a legend table where you will indicate what each special symbol stands for.
Clean and Classic Food Menu Example
Editable Food Menu Example
Clean Food Menu Example
Classy Food Menu Example
5. Have a strategy for price alignment
The tricky part of every food menu design is the price and do you know what is the trickiest part? It is the price alignment. Even if it is one of the trickiest parts of a food menu design, it is also one of the tricks to make your food menu design effective– just make sure that you have done it right in order to do the trick. You may also see beer menus.
You do not want your customers to scan the menu and just be watchful of the prices without even bothering what kind of food they are ordering. Here are some tricks in order for that kind of scenario to not happen:
Do not use the $ symbol on each of the prices of your food menu.
Do not align your prices in a vertical or horizontal manner.
Do not use the traditional way of pricing that has two decimal points. Just make use of one.
Use a subtle font's style and color for the pricing of your food items. Do not put the emphasis on the prices of your food items.
Ranking your items from high to low is a big no-no. Just mix it all up to the attention of your customers would not immediately go to the prices of your food items. You may also like typography menu examples.
6. Know the power of colors
This may be an overused tip but always know the power of colors s you may be able to use it for your food menu design. Make sure that you would opt for colors and hues that match the entire branding and style of your business. You should also think of the meaning of the colors that you are going to choose such as the color red which can stimulate the appetite and the color green which can be associated to the healthy food options. You may also see creative wedding menu ideas.
7. Organize your food menu
Even though it's just a food menu, you will do your customers a great favor if you would be organizing your food menu in a logical manner. By doing so, you have to place each group or category of food items in separate boxes so that when you encounter a customer who knows what food category he or she wants, he or she can save time browsing through your food menu. You may also see italian menu designs & examples.
Additionally, you may have a lot of food items on your menu. It is only right that you should keep it organized and make its organization a priority as well. The organization of your food menu also reflects to the kind of establishment you have.
8. Keep your food menu design simple
The common reason why your customers would go to your restaurant, diner, or cafe is that they are hungry and when people are hungry, they want to get over and done with it. This is why you should ensure that you make your food menu simple enough for them to read without having to go through all the hassle of reading a menu is crammed with a lot of text. Keep it simple and avoid making your food menu too complicated to read and understand. You may also see pasta menu designs and examples.
The details of the food items of your food menu are important but also make sure that you are not adding too much unnecessary information that the customers would definitely not need when they would already be feeding their pangs of hunger away.
Clean and Simple Food Menu Example
Bistro Food Menu Example
Burger Food Menu Example
Famous Sneaky Restaurant Menu Tricks
Restaurants, diners, and cafes are all businesses and that just means that they will always try to make their customers spend for more. This is just normal because, without money, the operations of the food industry will simply not be possible. And with that, they will try all the tricks just to sell. You could also make use of these tricks:
1. Use ridiculous adjectives
Restaurants do not underestimate the power of words when it comes to writing food menu items. They would add adjectives are mouthwatering enough to convince its customers to order. Words like "sweet and creamy" and "tender and juicy" may sound so simple but if you would pair with the food, the such as "sweet and creamy ice cream" and "tender and juicy beef brisket", the way you would hear it is simply glorious to the point that you would already start to imagine that you are eating the food. You might also be interested in Printable Chalkboard Menu Designs and Examples.
2. Do not use dollar signs
Just name the price but do not ever include the dollar signs because this means money to your customers and this also means that they would have to spend money. Make your customers to just think about food and not the price of the food that they are to order. An effective way to do this is to just use the dollar sign or any signs because this will only make them think that they are going to spend a lot. Your customers would likely buy something without the dollar signs. You might also be interested in Vintage Restaurant Menu Designs and Examples.
3. Make use of terms that remind people of home
Nothing beats the warmth and comfort that our home brings that is why there are restaurants who make use of this warmth and comfort feeling to their food menu items in order to sell. By connecting their food menu to something that reminds people of home, such as Grandma's and Ma and these restaurants would invoke your longing for home and because of this nostalgia, customers will eventually order. You may also see sumptuous seafood menu examples.
4. Highlight certain items to make it look special.
Menu items that are usually found under categories like "Chef's choice" or "Chef Specials" will make an ordinary food menu item look special and tantalizing enough to make customers immediately choose this food menu item. This encourages customers to think with their eyes and not to think about how much they will be spending. You may also see examples of lunch menu designs.
5. The placement of your menu items matter
Put your most profitable items at the place where your customers' eyes would land on first once they would glance at your menu for the first time. There are a lot of customers who would order first the first thing they see from a menu and if you have such customers, you will be at an advantage.  You may also like takeaway menu designs and examples.
6. Do not compromise the quality of your dishes
As much as you would want to keep on prioritizing the sales of your restaurant, diner or cafe, you should never forget to put your priority on the quality of the dishes that you are serving to your customers. This is the best trick there is in the book which is to always keep in mind and keep up with the quality of the dishes that you present on your food menu. Your quality is the only thing that will help your business survive for many years. If you fail to serve dishes to your customers that have high-quality, all the tricks mentioned above are definitely pointless and are irrelevant. You may also see wedding menu examples.
Conclusion
If you want to have a successful restaurant, diner, or cafe, you should make sure that you will not miss carefully planning your food menu design because its readability and imagery can totally affect your sales without you knowing.
To get you started with your food menu or even just to improve your food menu, make sure you make use of the food menu examples that we have here in this article and that you should also make sure that you will be able to heed to the tips for designing your food menu.