Whether you are the lessor (oftentimes called the owner or landlord) or the lessee (oftentimes called the tenant or renter), you must see to it that there is a valid and binding contract that stipulates in detail the agreement regarding the rental transaction. With this, the perfect document that you need is a rental contract. We know how overwhelming it is to create a contract from scratch; hence, we are here to help you. Below are some rental contract templates and examples that you can refer to or may serve as your guide when you start creating a contract.
Rental Contract Examples and Templates
1. Basic Rental Contract
With this basic rental contract, you can easily arrange all the conditions and stipulations in your contract as this is highly customizable according to your specific needs. You can edit the document in just a few clicks, and you have the freedom to choose from the available file formats, namely Google Docs, MS Word, and Pages.
2. Gym Rental Contract
Renting the gym you own? Protect your rights as well as the rights of the rental by creating a contract that is binding and enforceable in court. You can use this gym rental contract template for an easy contract creation. Skip the hassle of starting from scratch, and grab this opportunity to create a rental contract in an instant.
3. Apartment Rental Contract
One of the most common properties for rent is an apartment. If you are an owner or landlord, you must see to it that you and the tenant will sign an apartment rental contract before the tenant will use the space. The contract is to ensure that both parties know and understand their rights and obligations regarding the rental transaction.
4. Simple Rental Contract
The basics of a rental contract include the following: who, what, when, and how much. Make sure to incorporate these items in your contract, such as the simple rental contract above, in order for both the owner and the renter to know the conditions so that they can perform their respective obligations whether to pay a sum certain amount of money (as a renter) or provide repairs and maintenance to the property (as an owner).
5. Rental Contract Amendment
There are instances when both parties agree to add stipulations, correct terms, delete items, or apply any modifications to the original contract. In order to do this, you need to write the modifications in a document called rental contract amendment. You can use this professionally drafted contract amendment template to achieve a formal and elegant amendment document.
6. House Rental Contract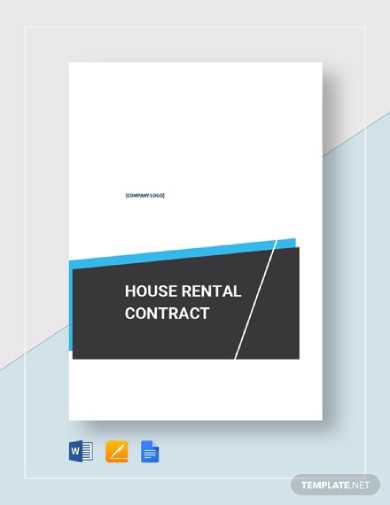 Having a house for rent? Prepare a house rental contract beforehand even if there are no sure clients yet so you can prepare in case there are potential customers who are interested in your place. Grab this easily customizable house contract template, edit the content, and use it as your own.
7. Editable Rental Contract
Download this editable rental contract and incorporate your own terms and conditions regarding the renting of the property. Typically, a contract includes the following terms and conditions: names of all tenant, limits on occupancy, terms of the tenancy, amount of rent, deposits and fees, repairs and maintenance, entry to rental property, restrictions on tenant's illegal activity, pets, and other state laws and restrictions.
8. Gym Rental Agreement and Contract
Typically, a gym rental contract contains the following important details: name of the gym, name of the renter, name and date of the event, contact information, address, equipment needed, rules and regulations, advertising, liability and indemnity, supervision, damages, signage, termination, payment methods and terms, cancellations, and signatures of both parties.
9. Shop Rental Contract
In a shop rental or any commercial space rental, the rent period is generally longer than the residential types, usually three to five years, and the tenant has an option to renew the contract at a predetermined rate. This must be specified in a contract, such as the shop rental contract presented above.
10. Monthly Rental Contract
This monthly rental contract template is perfect for rentals in which the rent payment is due every month. In this type of contract, the usual items included in the list of stipulations are the following: rent and fees, occupancy, pets, deposit, maintenance, privacy, agreement modification or cancellation, and approved occupants.
11. Business Space Rental Contract
Want to be sure that your agreement will be enforceable in court? Put your agreement in a written contract, such as this business space rental contract that is intended for business or commercial space landlord and tenants. This would surely help you at peace knowing that there is a legal document that serves to bind you and the renter in case of disputes and misunderstandings.
12. Booth Rental Contract
Safeguard yourself from any possible conflicts and disagreement when it comes to booth rentals with the use of this booth rental contract template. You can incorporate important booth rental terms, such as the names and addresses of the owner and renter, address of the booth, size of the space, rental period, rental payment, and activities permitted.
13. Temporary Room Rental Contract
In this temporary room rental contract, the following details are essential: the living accommodation, which includes the period of rent and the reason for the temporary rental; rent and other costs, which specifies the amount of payment per month or week as well as the deposit; and all other obligations and rights.
14. Wi-Fi Rental Contract
As can be seen from this Wi-Fi rental contract example, it has stipulations regarding the charges and fees, the delivery of equipment, a list of the equipment provided, condition of equipment, cancellation, rental period, use of equipment, loss or damage, compensation, personal injury, warranty, arbitration, and extended rental date.
15. Residential Rental Contract
The usual rental period of a residential rental is one year, and the parties involved are bound in a contract until the end of the term. It is also common for the contract to contain a checklist of the obligations in the rental agreement which specifies who will shoulder the obligation, may it be the tenant or the renter, similar to this residential rental contract example.