If you own a business, no matter what product or service you are selling, there is one thing you must have for your company to attract more customers and perhaps even investors: a data sheet. A data sheet is a document that highlights and showcases everything your company is about—the things you offer, why the customers should come to you, why you are better than your competitors, everything you can do for your clients. Basically, everything a possible customer or client has to know should be in that data sheet. Though most consider this only as an information document and not a marketing material, it is undeniable that most clients refer to data sheets to determine if a company is worth doing business with or not.
Data Sheet Templates and Examples
1. Real Estate Datasheet
Real estate companies are very particular with their datasheets. These things are what they give out to potential prospects and how a deal usually begins. This real estate data sheet template has easy-to-customize layouts and high-quality images. You can download them for free.
2. Advertising Company Data Sheet
With advertising agencies, writing on your data sheet why a client should do business with you over your competitors is essential. You need to guarantee your clients that you are fully capable of promoting and advertising what they want you to promote and advertise.
3. Health Spa Data Sheet
Let your future customers know what you have to offer in your data sheet. People will go to a health spa to relax, perhaps after a long day or a long week at work. Let them know what your services and expertise are. Give them a glimpse of what is to come when they step foot in that spa of yours.
4.  Financial Planner Data Sheet
A lot of people have quite a considerable amount of wealth but do not know how to handle it properly, so they turn to financial advisers. They will need trustworthy financial advisers with a promising record and one way to let potential clients know that is through your data sheet.
5. Jewelry Store Data Sheet
People buy jewelry for indulgence or for generosity. Since there are a lot of jewelry stores out there, make sure yours can stand out. Utilizing a data sheet can put you at an advantage over your competitors. Let customers know about your high-quality, well-crafted jewelry through this, and welcome them as soon as they step in your shop.
6. Photography Studio Data Sheet
Photographers attract a massive market, as everyone will need a photographer at some point. However, there are also no shortages of photographers out there. A data sheet can be somewhat of a portfolio your clients can refer to while they are deciding on which photographer to hire, so make sure to leave a good impression.
7. Cosmetic Product Data Sheet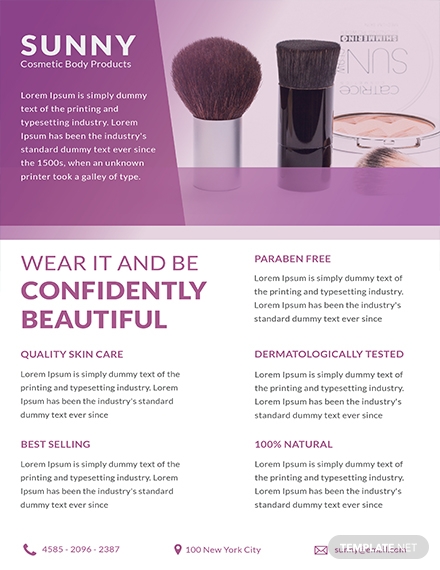 Women are very particular with the cosmetic products they use. They need to know that the company and the products are reliable and safe. Through your data sheet, you can provide assurance that what you are selling is 100% tested and safe to use. And of course, to also let them know about your high-quality materials.
8. General Corporate Data Sheet
Businesses that provide labor and services are sought out in this economy, and it will be easy to find and consider yours if you can easily provide some form of document that has everything a customer needs to know about you.
9. Traveling Agency Data Sheet
People love to travel. But due to tight schedules, some people cannot spare the time to book flights and plan itineraries for the entire trip. That is why they refer to travel agencies. Put your rates, services, and deals on a well-constructed data sheet for customers to read up on quickly so the only thing they actually spend most of their time on is the actual vacation.
10. Law Firm Data Sheet
At some point in some people's lives, an unwanted situation can come around and legal services may be necessary. As a law firm, it will be your job to educate and protect your clients from legal troubles. Assure them their safety by guaranteeing them the best lawyers their money can buy.
11. Advanced Instruments Data Sheet
A data sheet for a product from a laboratory equipment manufacturer company. It lists important details such us product uses, classifications, precautionary statements, and contact information in case of an emergency.
12. Global EQUIS Data Sheet
A comprehensive data sheet for a business and management school. Everything a student applicant would want to know should be found in this thorough data sheet.
13. World Bank Data Sheet
A data sheet for a project from the World Bank. You can see here the things that should be included in data sheets from context to policies.
14. Basic Data Sheet
A sample of a basic data sheet. Not every data sheet should be flashy in terms of design.
15. Personal Data Sheet
You can have your own data sheet too. Whether you are a student or a working person, you can use these for employers and schools.
Having a data sheet for your business, whichever business you are in, is essential if you want to attract customers and clients. It is a great way to spread information on what you do and it is very easy to hand out because most data sheets are only one to two pages long. With that said, you too should be wary of the length and content of your data sheet.