As an event planner, it is already a given that you know how to write your own event planning proposal. Such kind of proposal can help you in grabbing the attention of clientele who are in search of competitive event planners. If you can come up with a good proposal, rest assured that this can put you ahead against your competitors by 95%; hence, it is important that you master this skill in order for your event planning career to take off to greater heights.
Event Planning Proposal Examples & Templates
If you are not yet skillful or confident enough to create your own event planning proposal from scratch, consider the use of a template. Below are event planning proposal examples and templates that you can all use as your guide to getting started with your event planning proposal writing.
1. Corporate Event Planning Proposal
When it comes to planning an event in the corporate setting, you may already know that it will require intensive planning, organization, and follow-ups. If you have what it takes to meet the expectations of the corporate setting, then make sure you use our corporate event proposal template to prove that you can and you have the necessary skills they need. This template already contains suggestive content that is standard-based and is also highly customizable enough for you to conveniently customize.
2. Event Planning Proposal
Event planning proposals serve as the backbone for every successful event, whether it is a batch reunion, company-wide team building, grandiose wedding, or even just a simple gathering of family and friends. So, if you want to have an incredibly successful event, do make use of this event planning proposal template that we have provided here to help you thoroughly describe the event. This template already contains effective content that you can further tailor to suit the specific services your clients need.
3. Music Event Planning Proposal
Organizing music events can be a fun and fulfilling experience especially if you can see people from different walks of life gather and listen to one music event. However, organizing one can also be a nightmare especially if it is not well-planned enough. This is why, if you are planning any type of music event anytime soon, you can greatly benefit from the music event proposal template above that can help you in organizing a music event that is meaningful for those who will support and attend it.
4. Restaurant Event Proposal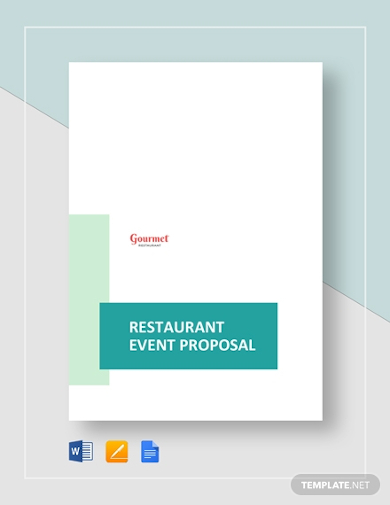 Are you in charge of planning marketing activities in a restaurant? Present all of your plans using this restaurant event proposal template! Organizing events in your establishment is a marketing strategy that helps in boosting its sales, profits, and even its brand image. But before you start executing all your grand plans, you have to come up with a restaurant event proposal first so you can ensure that you are not wasting your resources, such as time, money, and the efforts of the restaurant staff members.
5. Simple Event Planning Proposal
Provide the best services to your prospective clients with the use of a well-written and well-formatted simple event planning proposal such as the template that we have here provided. It is ideal that you tailor your proposal to the needs of your clients and with the use of the template above, you can effectively customize its contents according to the needs and budgets of your clients. You can also personalize the contents of your event planning proposal and keep in mind that your proposal is a reflection of your client.
6. Event Management Planning Proposal
Any plans for an event should be written down in an event planning proposal for a successful and memorable event to possibly happen. With the use of our well-formatted event management planning proposal above template, it will easier for you to write down an effective proposal and it will also motivate you to thoroughly research regarding the details of your events. Plus, what makes it even better is that it also encourages you to tailor your proposal according to the preferences of your clients.
7. Basic Event Planning Proposal
As an event planner, you would surely want to reach a level where you can book many and big clients and collaborate with equally big ideas. But if you are still starting out, you need to come up with a proposal first. With the use of this basic event planning proposal template, it will be possible for you to come up with an event planning proposal that has a maximum impact by building around your plans around your client's needs and desires.
8. Cultural Event Planning Proposal and Budget Request
There are some events where it is best if you incorporate a budget request along with the event planning proposal in order to thoroughly explain what's written in your proposal and also to speed up the planning process. If you have no idea how you can combine the two, we highly recommend you to refer to the example above that does not only contain an event planning proposal for an upcoming cultural event but it also includes a comprehensive budget request.
9. Cultural Music Concert Event Planning Proposal
Planning to write an event planning proposal for a cultural music event in order to raise funds? We highly recommend you to take a look at this event planning proposal as your guide on how to create your own proposal for the event. If you can create your own event planning proposal that is as effective and well-thought-out as the example provided, you cannot only sell your skills and event planner services to them but you can also play a great role in paving the way for a successful cultural music concert event.
10. Launch Event Planning Proposal
In writing any event planning proposal, always make sure that you keep in mind the needs and all the fine requirements of your clients. For example, if your client needs you to create a proposal for an upcoming launching event, your first should be discussing with your clients regarding the needs and requirements that he or she wants to get accomplished during the launching event. Additionally, during your discussion, do take note of your clients' preferred logistics such as the time, venue, date, and more. You may refer to the above launch event planning proposal example to further keep you guided.
11. Library Event Planning Proposal
In need of a proposal guide that can help you create your own event planning proposal for your upcoming library event? Then do check out this library event planning proposal template! This example of a comprehensive document shows you how to effectively outline the details of your event to make success happen. The more detailed your event planning proposal is, the more your clients will have confidence in you and your capabilities enough for them to recommend you to their peers.