Leaving your job is not as simple as packing your things in a box and instantly move out of the company's doors. As a professional employee, there are certain decorums that you must observe even in your resignation. Considering the bond you and your coworkers made within the four walls in your company, it would be rude to abandon with no sign at all. To avoid any negative impression, read through this article to learn more about goodbye letter emails for your colleagues.
It is not really easy to say goodbye to your coworker's face to face, that is why the best way to do it is through writing a goodbye email for them. It becomes easier when you put your whole emotions through writing. Check out our examples here and find an email cover letter that suitable in your situation.
Goodbye Email to Manager
Goodbye Email for Leaving Job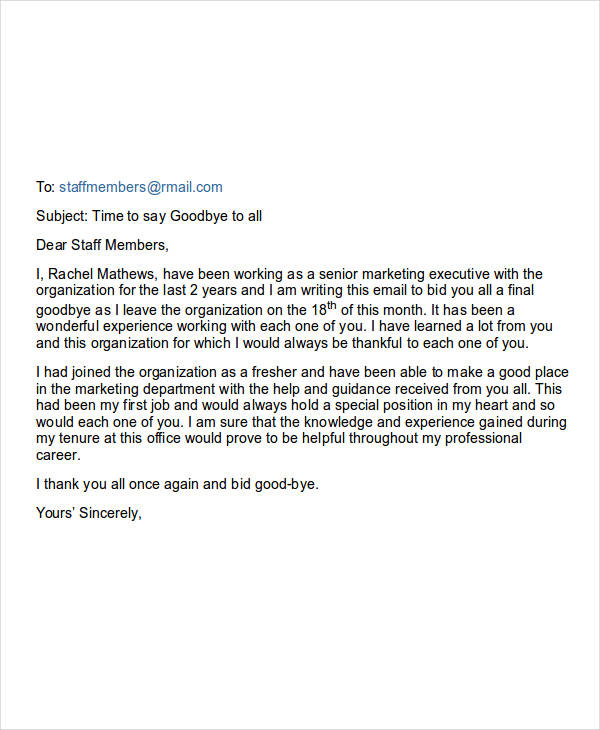 Why Do You Need to Write a Goodbye Email to Coworkers?
Whether you like it or not, separation is an inevitable part of people's lives. It simply means that each human relationship in this world always has a beginning and an ending. Similarly, this applies to your workplace as well. Whether you feel bad or good about your resignation, here are some of the reasons why a sending a goodbye email is a great idea.
1. It lightens your baggage.
Your resignation could be tailed with various emotions and most likely, you have these words in your head that you want to be expressed before you completely move out of the company. Bearing these the whole time could be fussy baggage for you. By writing a resignation letter, you can completely and precisely state the things you wanted to say. No matter if you simply want to thank them or you want to convey a dramatic yet realistic letter, a farewell email is a convenient and easy option.
Likewise, an email of farewell for your coworkers frees your negative social past, too. Assuming that you are that someone who had an untasteful history with one or more of your workmates, and you simply want to inform them that you already have forgiven them, a goodbye email is a good method to mention those kinds of stuff as well.
2. It works best for shy and reserved people.
Emails allow you to express what you feel even without seeing the recipient face-to-face. Thus, this method of saying goodbye is a great choice for people with a shy personality or those that are secretive with their feelings. If you can't simply tell your colleagues about your resignation then at least notify them using emails.
3. It is strategically tactful.
Let's say that you are more driven by your rationality, saying a simple goodbye to your coworkers will never be a loss. As you go out of the company, treat your ex-coworkers as significant contacts of yours. Don't forget that some of these people become your friends as well and could potentially help you in the future. For example, if you still don't have a secured next job to land on, these people may know someone who is hiring and refer you.
4. It helps you leave critical instructions.
This is highly relatable for those who are in management-related occupations. Goodbye emails are also an effective tool for you to notify your coworkers about the important directives regarding your job or workplace. You can also place some guidelines that would support your previous workmates, especially if they are not that independent enough yet.
5. It unchains you from the separation stress.
Especially when you have already been in your job for a very long time, you probably made a strong bond with your colleagues. Because of this, it could be very hard for you to move on to your next chapter. By sending a farewell letter email, you can properly explain and inform them about your resignation. Furthermore, if your coworkers really care, most probably you'll get a response as well. Thus, you can free yourself from being anxious about your separation.
How to Write a Goodbye Email to Your Coworkers?
If saying goodbye to your colleagues face-to-face challenges you, utilize the opportunity that the internet has given to you. You may consider sending them goodbye emails for your convenience and ease. If the idea of email composition still confuses you, here are some steps you can follow to smoothly write your own.
1. Begin with an intriguing but soothing line.
If you want an interesting goodbye email, it would be a great idea to start with something that would intrigue the minds of your coworkers in your email's introduction. However, don't put it in the point where your readers would panic or feel anxious about your resignation. By doing this, you're making your letter appear interesting and worth reading.
Some of the lines you may utilize include:
Here's to all social abuse I escaped
I bid you adieu
A Tender Goodbye
2. State how sad you are in leaving your coworkers.
Mention that it is also a difficult decision for you to leave your team. Remember, you also had a good time within your working days and bonds are made. Consequently, by stating that resigning was not easy will give them the natural idea that you treat your companionship sincerely.
3. Make a punch line for someone. 
Your goodbye email should not be all about sadness; thus, lighten the mood of your readers. You can pinpoint someone with a joke or a punch line that your readers would buy. In this way, you can show that you value the workmates you mentioned. So if you feel humorous, it is truly alright to make fun of someone but don't take it to the point where it already sounds offensive. As a friend, you might already be aware of what's a good or bad joke, right?
4. Mention how long you have worked there.
In order for your reader visualize your words, it is a great factor to include something quantifiable like time. By stating how long you have been in the company, it would seem like you really count each of those days as valuable moments of your existence
5. Tell your joy in your journey.
Since it would sound cheesy for most of the people to hear it from you in person, frankly tell them that you have enjoyed working in the company. It's pretty certain that not all of your days in the office are filled with doomed labor. Hence, mention at least a significant project that really moved you or a specific event of your working journey where you felt happy.
6. Leave your contact information.
Leaving your job does not always refer to cutting the bond between you and your colleagues. If you still want to let your coworkers have access to you, it would be very advisable to state any contact information about you. In this way, it would be a lot easier for your colleagues to reach you. You can also put a call-to-action in this portion.
Goodbye Email Format
Professional Goodbye to Coworkers
Email to Leaving Co-worker Example
Emotional Goodbye Email to Colleagues
Important Things When Writing a Goodbye Email
Here are the important things to consider in writing a professional email to your coworkers.
1. Before writing a goodbye email, think of the following.
When to send the goodbye email. The best would probably your last day in the company. The day that you do not have to come back for some papers to sign. You may also see client email examples & samples
Making it personal. Do you have a list of people that helped you or touch you in some ways? Write them out to give it a personal touch.
Provide some contact details. Leave your phone number or putting your email address in the content will allow people to respond to yourself in email and reach you through your phone number.
Use social media sites. If you happen to forget writing a goodbye email, then your choice is by using social media sites.
2. Follow the tips and steps stated above so you will know to yourself on how to create a very simple yet effective goodbye email to your coworkers. You may also like payment email examples & samples
3. Or you can use our goodbye emails examples in this article so you can create your own formal email and use it as your reference. All of these examples are available for download.
Simple Goodbye Email Letters
Employee Farewell Message in Email
Goodbye Email Letter from Library Director
Plain Goodbye Letter in Email Format
Goodbye Email Message from Manager