Job hunting in a corporate jungle is a struggle most people rarely get excited to experience. It's a competition of skill, background, and a presentation of your personality. If you want to raise your chances of getting hired at a company that you've been dying to enter, express your interest with a letter of intent. While this may not guarantee a definite pass, this introduces you to the company's recruiting agents even when they have no job postings. This helps them with their selection process and in knowing who to choose among the candidates. Because you've already expressed a keen interest in joining them, you'll be among the firsts on their list.
7+ Letter Of Intent For a Job Examples
1. Letter of Intent for Job within Same Company
2. Letter of Intent for Job Opening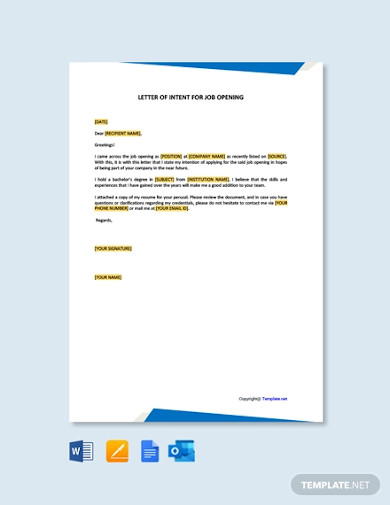 3. Letter of Intent for Job Application
4. Letter Template of Intent for Job
5. Simple Letter Of Intent Job
7. On-the-Job Training Plan for Letter of Intent
8. Sample Letter Of Intent Job
What Is a Letter of Intent for a Job?
A letter of intent is a formal letter submitted to express a candidate's interest in applying for a job. It serves as an aspiring employee's introduction to the company and a statement of his desire to take on a position. A letter of intent for employment is commonly used if a person wants to inquire about a company's open positions when the latter has no public postings.
Why Send a Letter of Intent?
If a resume and a cover letter already have every detail an employer needs to know about you, why bother with a letter of intent?
While other people get jobs through connections and influence, the majority of the aspiring laborers are those who drop by every company and every business to look for an opportunity. As of May of 2019, there are approximately 5.9 million unemployed citizens in America, which recorded a 3.6% unemployment rate. While the percentage has been continuously decreasing since 2010, sharing the job market with millions of others can be daunting.
Sending a letter of intent to your prospective employment helps you get the attention that you need. This introduces you to the job first hand even when there are publicized postings for the position. This sets you apart from your competitors who are likely flocking to job announcements for an employment opportunity, giving you the upper hand.
How to Write a Letter of Intent for a Job
If you're in doubt of how you'll compose your letter of intent, refer to the following guidelines.
1. Make an Outline
Before beginning to write your letter on its final layout, be sure to know what inclusions your letter of intent should have. Know what you'll be putting on your letter's introduction, body, and conclusion and list down these details on a rough outline. This is especially helpful if you're doubtful of what to write in your letter. Start by knowing what details to write and arrange them in a narrative later on. As an example, your letter's intro should contain your introduction and the expression of your interest in applying for a job position.
Research into this and make a list of all the necessary information. This way, you can be sure that you've covered all details that should be in the letter.
2. Include Relevant Work Details
You can send a letter of intent within your organization for a vacant position or even when there's no job vacancy posting. Whatever the circumstance might be, your work details should be relevant to the position you're going for. For example, if you're vying for a marketing assistant's job position, mention credentials and experiences that work towards that objective. If you don't have a professional marketing background, you can still specify your previous employment information.
If you desire to take on whatever open position a company has, do a research of the company's business plan along with their vision and mission. This way, you can customize your characteristics according to their preferences and objectives.
3. Employ a Business Letter Format
Now that you have all the details you need, it's time for you to arrange your letter into a neat business letter format. Now, why is there a need to emphasize what format your letter should take? This is important because your letter will speak about your personality as an employee. An informal letter presentation without the necessary parts would imply that you lack attention to detail, or that you don't put in effort for the most basic tasks. This could be a huge turn off to your employer even before he or she could even meet you.
If you're sending it via email, be sure to have a definite subject line so your employer can recognize what the content is all about right away.
4. Lookout for Corrections
Aside from building a good impression through your letter's format, be sure to have no trace of any grammatical or typographical errors on your letter of intent. More than not having the proper outline, this could ruin you, especially if you're applying for a job opportunity that requires you to take on writing tasks. Before submitting your letter along with your professional resume, ensure that both documents have been proofread thoroughly.
Scan every detail and make sure that there are no mistypes information or misspelt words. Use an online grammar checker to double-check.
FAQs
Is the letter of intent the same with a cover letter?
While they can be similar in many ways, a letter of intent is different from a cover letter. Cover letters are job-centric as they focus on the job and how an aspiring candidate can satisfy the specifications. On the other hand, a letter of interest is company-centric because a candidate will try to align himself to the company's ideals to build a positive impression.
What specific details should you include in your letter of intent?
The following are the necessary details in your letter of intent:
Proper salutation
Introduction
Respond to a job listing (if there's a posting)
Description of the desired position (if there's no posting)
Relevant skills and credentials
Call-to-action
What is a "cold call"?
Cold calling is the act of contacting a company for a job opportunity, even when there are no publicized job openings.
Vying for a position means overcoming hundreds of other brilliant individuals who want the slot as much as you do. The more attractive the position is, the more people are going to go after it. The bigger the competition means you have a limited chance of making it. Take a different path and knock on your desired company's company's doors with the help of our letter of intent templates. Through this, you'll surely captivate your future employer's interest and land on the position that you want.