When a person sends their general resume to their prospective employer they will need to present a letter of intent to accompany their resume. To increase one's chances of being endorsed further in the hiring process, the prospective employee must have a cover letter to accompany their best resume.
Short Order Cook Cover Letter
Cover Letter for a Cost Quotation
Cover Letter Sample for Part-Time Work Template
Cover Letter for Part-Time Job With No Experience Template
Cover Letter Transition to New Career Template
Short Cover Letter Template
bu.edu
Powerful Cover Letter
cdn.cdo.mit.edu
Sample Cover Letter Example
goucher.edu
Cover Letters for Academic Positions
grad.illinois.edu
Dynamite Cover Letter
bcit.ca
Cover Letter Examples
engineering.cornell.edu
Simple Cover Letter Template
hls.harvard.edu
Basic Cover Letter Example
writingcenter.mst.edu
Editable Cover Letter Example
mcgill.ca
Printable Cover Letter Example
ferrum.edu
General Cover Letter Example
marymount.edu
Cover Letter Structure
jhsph.edu
Standard Cover Letter Writing
colorado.edu
Cover Letter Guide
fs.usda.gov
Modern Cover Letter Template
careered.stanford.edu
Creative Cover Letter Example
aub.edu.lb
Popular Cover Letter Template
csustan.edu
Writing a Cover Letter Example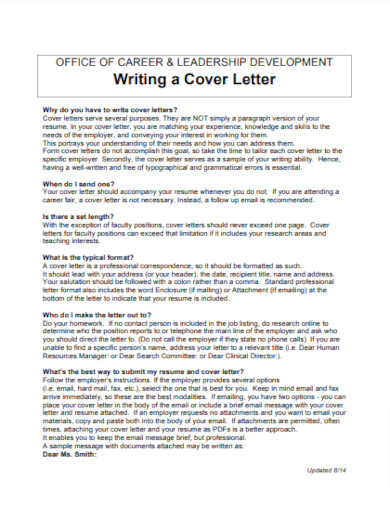 socialwork.columbia.edu
What Is a Short Cover Letter?
A short cover letter is a subtype of a cover letter that only has a couple of sentences that will act as the introduction paragraph, body, and conclusion paragraph. The goal or objective of the short cover letter is to summarize the themes and context of the text in a succinct tone or manner.
How to Write a Short Cover Letter
A short cover letter should be quick and concise when it describes and details the viability of the applicant. If you need references or various outlines, you may refer to any of the short cover letter examples, short cover letter samples, and articles at the links above.
Step 1: Obtain or Create a Short Cover Letter Outline
Begin by obtaining or creating a short cover letter outline or outline format to help out with your cover letter writing process. It is important to have a strong structure or base for a short cover letter as each sentence needs to be succinct without comprising the overall quality of the body.
[/ns_row]
Step 2: Write the Introduction
The introduction or introduction sentence should indicate your basic background information and details like your full name. This sentence should reflect the resume profile portion of your resume and should formally introduce yourself to the hiring manager or HR.
Step 3: Create the Body
The body of the cover letter should comprise the main bulk of the text in the letter. This part of the short cover letter should indicate the reason why you are a perfect fit for the position to the hiring manager or HR. Not only that but it should also indicate or show your genuine interest in the profession and the business or company you are going to work for.
Step 4: Make the Conclusion
The conclusion should try and cleanly close and summarize all the points the introduction and body have raised and created. This part of the short cover letter should be the last sentence of the overall letter.
FAQs
How many sentences should I use in my short cover letter?
A short cover letter should only have one paragraph that will concisely relay all the relevant information to the hiring manager or HR. The paragraph will only have two to four sentences and should include the basic format and parts of a letter.
What makes a good short cover letter?
A good short cover letter will not only need to have all the elements and characteristics of a cover letter but must also include high-quality points and content. One must also ensure that the tone is concise and straightforward.
Do I need to send a short cover letter alongside my digital resume?
The use of cover letters is optional and is not at all a requirement when the person will apply for a position. The same is true for digital applications that the person will send through email. 
A short cover letter is a type of cover letter that will only have one paragraph to introduce and convey the viability and fit of the applicant. If one is planning to write cover letters then one must know how to properly create a short cover letter with all the necessary elements.