Applying a trademark, producing or selling goods, and using patented technology—these are just some of the many uses of a licensing agreement. In this agreement, the licensee submits to a series of terms and conditions regarding the use of the properties owned by the licensor as an exchange for rights to use such properties.
Typically, license agreements are lengthy and complex since they cover a wide range of terms and conditions. Because of this, a lot of people find creating a licensing agreement difficult. In order to help you create a systematized and organized agreement, below are some useful templates and examples that you can refer to.
Licensing Agreement Templates and Examples
1. Music License Agreement
A music license agreement is a right granted by the licensor to the licensee for the use of the licensor's music in different areas, such as in a movie, broadcasting, live performance, among others. Note that the purchaser has limited rights to use the work or the musical composition even without a separate agreement. In order to create a music license with ease, you can use this template, edit the content, and print or save as a legal document binding the parties to the agreement.
2. Trademark License Agreement for Software Template
Marketers know how important it is to have a software trademark since this would also distinguish a product or entity's credibility and branding. When other people would use such a trademark, they must sign an agreement called trademark license agreement for software, which grants them the right to use such trademark for marketing purposes. The licensee shall pay a certain amount of money plus the royalties which are based on the sales of the products sold under such license.
3. Video Clip License Agreement
Creating and editing a video clip can be a tough challenge for the editors and designers, hence are typically subject to trademark or patent. However, when another party would want to use the content, graphics, and photographs of such video clip, they need to sign an agreement called video clip license agreement so that the owner can grant the right to use such clip. Note that the agreement must contain the royalties to be paid by the licensee.
4. Website License Agreement
When you create a website, you would need to include many information in its content, and the most efficient way is to search for topics or articles that are already written and owned by another site. In order to acquire the right to post them on your site, you need to have a website license agreement. In this regard, to save you from hassle, you can use this downloadable website agreement and edit the content so it would fit your desired content.
5. Software License Agreement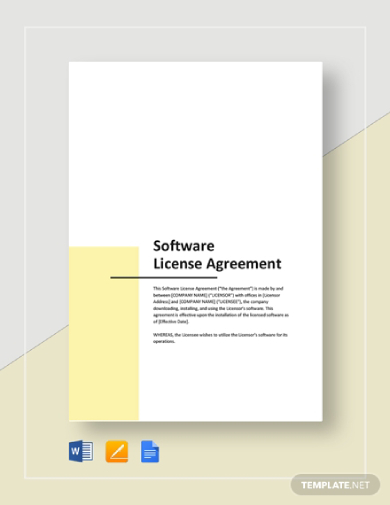 A software license agreement, also known as end-user license agreement, establishes the purchaser's right to use the software. Creating such agreement from scrap may be time-consuming, but with the use of this template, you can immediately create your agreement in a snap. This is very convenient since this is available in various file formats, namely Google Docs, MS Word, and Pages.
6. Sample Licensing Agreement
When you own a patent, trademark, and other intellectual properties, some individuals or organizations may use it for marketing purposes and to obtain sales. In order for them to operate legally, they must obtain a licensing agreement that stipulates the terms and conditions of the agreement. Here is a comprehensive example of a licensing agreement that may help you when you want to create one.
7. Artist Licensing Agreement
Every artist must have an artist licensing agreement in order to grant someone the rights to use their works of art or brand name. The terms must be clearly specified, including the duration of the contract, the terms of payment, and the termination of the contract. Presented above is an example of an artist licensing agreement.
8. Anatomy of a License Agreement
This anatomy of a license agreement contains the basic elements of an agreement which includes opening words of the contract, definition of terms, exclusive or non-exclusive, field of use, licensed patent, licensed product, licensed territory, net sales, grant of rights to licensee, exclusivity and terms of agreement, retained rights, government rights, provisions, financials, upfront payment, annual maintenance payment, earned royalties, milestone payments, patent expenses, warranties and indemnities, patent protection, termination, sublicensing, other provisions, and conclusion.
9. Non-Exclusive License Agreement
In this type of agreement, the licensee is granted the right to use the intellectual property but the licensor remains free to exploit the same intellectual property and to allow of other licensees to also exploit the same property. The terms and conditions of this agreement must be contained in a non-exclusive license agreement, such as the one presented above.
10. Standard License Agreement
Although licensing agreements cover a wide range of topics and there are a lot of types of licensing agreements, they follow a certain standard format and they have elements that are in common. Usually, the scope of the agreement includes the territorial restrictions; financial aspects, such as required down payment, rates of the royalties, and how the royalties are calculates; time schedules regarding length of contract, renewal options, and market dates; lessor's rights of monitoring and quality control; minimum inventories to be maintained; and returns and allowances. All these are covered in this standard license agreement.
11. Publisher Licensing Agreement
When publishing a book or other works by an author, the publisher must obtain the sole and exclusive right to publish such work in all forms during a certain period of time, which can be subject to renewals and extensions. This, and all other terms and conditions, must be laid down in a legal document called publisher licensing agreement, the examples of which are displayed above.
12. End-User License Agreement
An end-user license agreement (EULA) is a binding contract between a software application author and the user of that application. In this agreement, the user agrees to pay for the privilege of using the software, which is subject to restrictions stated in the EULA. Typically, an end-user license agreement accompanies shrink-wrapped software that is presented to a user in which the user has the choice of accepting or rejecting the agreement.
13. Consulting Services License Agreement
Similar to other service license agreements, a consulting service license agreement typically contains the following: scope, retention, performance of consulting services, fees, payment terms, relationship of the parties, termination, warranties, limitation of liability, indemnification, confidentiality, rights to deliverables, waiver, severability, and governing law.
14. Patent License Agreement
Grant your licensee exclusive rights to manufacture, sell, and use your patented invention with the use of a patent license agreement. The agreement will define the amount of royalties the licensee must pay and other important terms and conditions of the contract. To fully understand this type of license agreement, you may refer to the example presented above.
15. Exclusive License Agreement
In this type of licensing agreement, the licensee is granted the sole rights to use the intellectual property of the licensor during a certain period of time of the agreement between the parties. With this, the licensee can produce, sell, and use the property in any manner that they desire, even without the approval from the owner. The document above is an example of an exclusive license agreement.